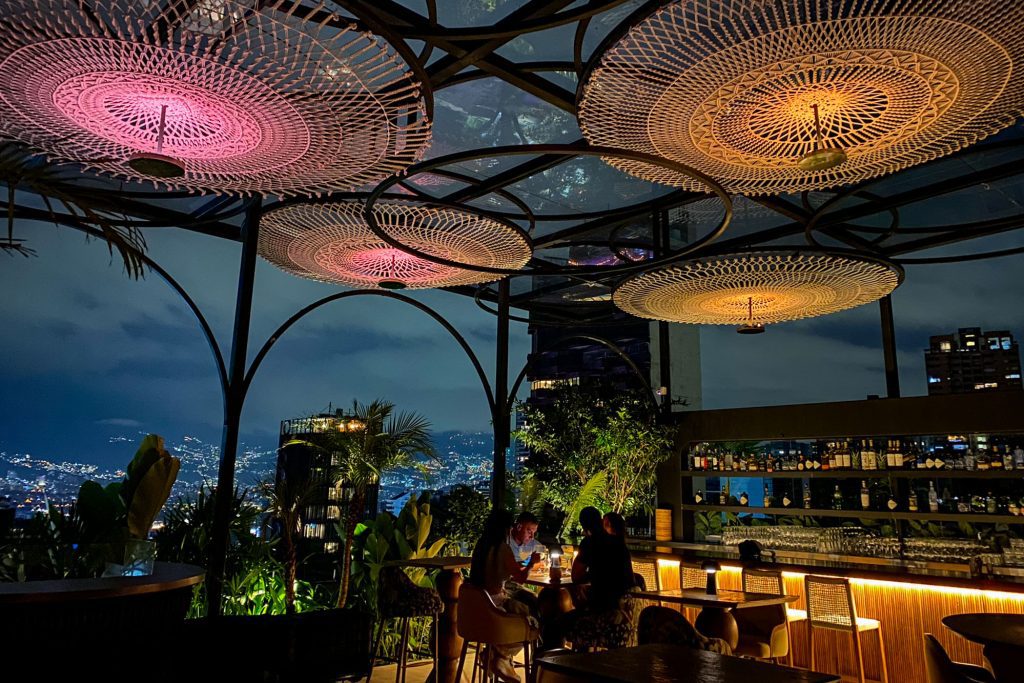 Nestled in a valley in the Andean mountains, Medellín boasts some of the best views in Colombia. Many local businesses have taken advantage of these rolling hills and the temperate climate to take things al-fresco, to the rooftops. Whether you are there to party, drink, or eat, be sure to check out our favorite recommendations for the best rooftops in Medellín.
Something we love about a good rooftop is versatility. A good rooftop bar can literally see you through from brunch to the early hours of the morning. It's great to appreciate a good sunset from a rooftop (and in Medellín, you see the most stunning sunsets). There's also something magical about the city at night from above; thousands of lights twinkling below you like fireflies.
Whether you are visiting Medellín with your partner, with friends, or even with your bachelorette or bachelor group, you are sure to fall in love with this enchanting city and its stunning views.
But where can you find the best rooftop bars in Medellín? Read on to find out or book a Bar Hopping experience with us!
Envy Rooftop (The Charlee Hotel, Parque Lleras)
Envy Rooftop is the place to see and be seen in Medellín. This luxurious rooftop bar is located on top of the gorgeous Charlee Hotel. You can find it in the heart of the nightlife district; Lleras Park, Poblado. Built on two levels with an aquarium-style pool in the middle, the views are just as good inside as they are out. Grab one of the best cocktails in Medellín and some fresh sushi and admire the beautiful people. Then, when the sun starts to set behind the mountains, take in the beauty of the twinkling lights of the city below you. It truly is one of the best rooftops in Medellín.
Envy has something to offer every day of the week; enjoy live music on Salsa Wednesdays and a live DJ the rest of the week. Don't forget to visit Envy on the last Sunday of the month for its famous boozy bottomless brunch. Take the word "brunch" with a pinch of salt, as the kitchen opens from 5 PM onwards, which gives you plenty of time for a lie-in. You can take a dip in the pool or chill at the bar, just don't miss this chic spot on your trip to Medellín.
La Deriva (Click Clack Hotel, Poblado)
Perched on top of the Click Clack Hotel, La Deriva isn't just for hotel guests. Head to La Deriva for cocktails and delicious food in an urban jungle setting. Imagine yourself dipping your toes in the rooftop pool whilst sipping on an Aperol Spritz…yes, this is the lifestyle you deserve! At La Deriva, they have a live DJ who pumps out the best tunes.
Fish and seafood are imported from Isla Fuerte, a nearby island in the Colombian Caribbean. The menu is inspired by coastal recipes all throughout Latin America. Travel, through their menu, from the Golf of Mexico, to the Colombian Pacific, to the coasts of Peru.
We love the unpretentiousness of this rooftop oasis. Make use of their comfy loungers and take in the gorgeous Medellín skyline. La Deriva is open from midday until late, every day of the week.
Mosquito Rooftop (The Somos Hotel, Poblado)
If you want an all-encompassing place that promises excellent quality service from breakfast to midnight cocktails, head to Mosquito Rooftop. From mind-blowing brunches to getting down and dirty on the dance floor, this is the place to be. The rooftop at Mosquito offers panoramic views of Medellín, where you can surely lock in many Medellín core memories. This stunning Medellín skyline is actually the backdrop to the DJ booth. It undoubtedly makes for an unforgettable night as you explore Medellín's nightlife. We love the oasis vibe with the rooftop lined with greenery.
Want to explore more of Medellín's nightlife – come bar hopping with us and then on to a VIP Club Night!
Teatro Victoria Roof Garden (Provenza, Poblado)
Located in trendy Provenza, Teatro Victoria is right in the heart of the action. Victoria Roof Garden has a chic and contemporary vibe. It's our favorite of the four ambiences in the Teatro Victoria nightclub because taking in the freshness of the Medellín night on a rooftop is far superior to being stuck inside a sweaty club.
Don't arrive too late for the chance to dine. They have an extensive menu of mouthwatering dishes. The menu showcases both local and international flavors; from soft bao, to fresh sushi, to exquisitely prepared meat and fish dishes. You can also find an impressive selection of craft cocktails at the bar.
ENE Restobar Hookah Lounge (Provenza, Poblado)
Ene Restobar Hookah Lounge in Medellín is a must-visit destination for those seeking a unique rooftop experience combined with a touch of Middle Eastern flair. It's the perfect place to visit with a Medellín bachelor party group. Pull up a seat and share a hookah amongst friends. It's one of our favorite pre-game spots, but also a place to chill when you don't feel like going "out-out". They have a delectable menu, featuring international dishes and dishes to share. We loved the crab and shrimp nachos and their specialty; the ENE fries with cheese, beef, and bacon. Bring your appetite!
Belisario (Provenza, Poblado)
If you're looking for both a taste of Medellín nightlife and a taste of some of the best food and cocktails in Medellín, head on down to Belisario. The menu is Mexican, but it's so much more than tacos. Sure, you can get some of the best tacos of your life here, but open your mind and imagination to beef tenderloin flambéed in tequila. Or perhaps we can tempt you with a mezcal and hibiscus cocktail. Truly heaven on earth! Afterwards, you can pop behind the bookshelf to the hidden club, La Oculta. We sang its praises in our Medellín Nightlife blog post.
360° Rooftop Bar (Hotel Haven, Poblado)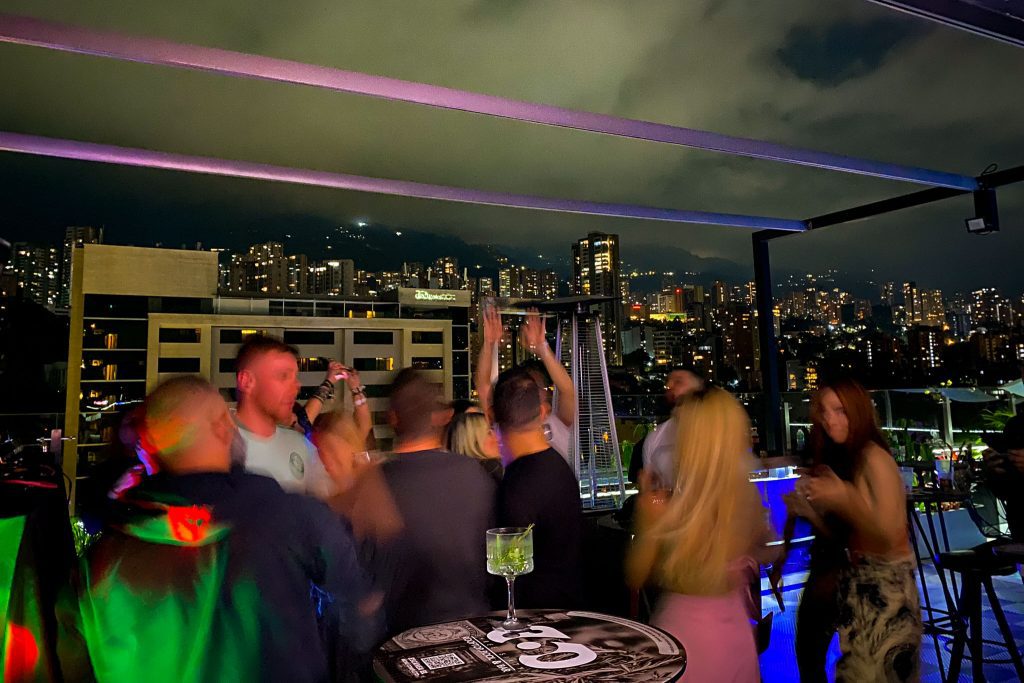 The rooftop bar on the top of Hotel Haven has, as its name promises, a breathtaking 360° view of Medellín. On the 11th floor of Hotel Haven, it's the highest rooftop on our list. 360 Rooftop bar knows how to host a party. They will frequently have pool parties (in the heated pool!), electronic parties, neon nights, and their Sunday Funday brunch. Brunch is a perfect excuse for a party – especially when it's all-you-can-eat from 11 AM to 4 PM! Lounge in the pool, grab some sliders and an artisan cocktail, and put the fun in your Sunday! Brunch is also only 20 bucks, which is an absolute steal.
Even more Medellín rooftop bars!
With so many fun, innovative, and exciting rooftop options in Medellín, it's hard to choose where to visit. But believe us, any of the places mentioned above guarantee you a night to remember. We also wanted to give an honorary mention to Mamba Negra restaurant in Q Tower (el Poblado) for flawless gastronomy and some of the best cocktails in Medellín. To Curacao, a fantastic bar sat atop the Selvario 36 hotel, and NDN (Provenza, el Poblado) for its romantic mountain views, and impeccable service.
From trendy modern establishments to charming hidden gems, the rooftop bars in Medellín provide an unforgettable setting to unwind, soak up the vibrant atmosphere, and create lasting memories against the backdrop of this dynamic Colombian city.
These are just some of our favorite rooftops in Medellín. If you want more personalized advice or you're planning a group trip, get in touch, and we can plan your journey together, or read on for our FAQs on Medellín nightlife.
Medellín Nightlife FAQs
Have a burning question about nightlife in Medellín and didn't know who to ask? No worries, we are locals, and we got you, boo!
How much does a cocktail typically cost in Medellín?
Cocktails in Medellín are a fine art form. Talented mixologists work hard to produce delicious cocktails that satisfy all the senses. Glassware in Medellín is trending, so don't be surprised if you are handed a wooden totem, a bronze goblet, or even a porcelain skull to drink from. Flowers, dry ice, and fruit garnishes add to the extravagance of the experience. Expect to pay from $45.000 COP to $55.000 COP (around $10 USD) for a cocktail.
What time do people go out drinking and dancing?
In Medellín, the nightlife scene typically starts to pick up around 9 PM, especially on weekends. People often gather at bars and lounges during this time to socialize and pre-game. But between 10 PM and 2 AM is when you will see most people in the streets and bars. During these hours, Provenza and Parque Lleras come alive with energy and music. It's common for people to transition from bars to clubs later in the evening, with many clubs staying open until the early morning hours.
What time do places typically close in Medellín?
Generally, bars and lounges in el Poblado close around 2 AM. However, there are also venues that stay open later, particularly clubs that may continue operating until 4 AM or even later, especially on weekends. Just ask us where to go and we'll do the rest – we can even make sure you have transport home!
What is the dress code for going out in Medellín?
The streets of Provenza at night are a catwalk for the young and beautiful – even more so in July and August when the fashion shows hit town. Medellín weather at night is cool enough to warrant a light jacket or jeans, but will also be fine for a dress and heels.
Paisas, or locals to Medellín, love to dress up, and you will often see women with a full face of makeup and a stunning waterfall of shiny hair. Men go for the smart-casual look; jeans or chinos with a shirt or polo. Make sure to bring your A-game, and don't forget that some nicer restaurants and clubs have a strict dress code. That means no caps, no sneakers or sliders, no sandals and no shorts (for guys).
It's always a good idea to check the dress code of a specific venue beforehand. Or, if you purchased our concierge services, you can just double-check with your concierge agent before they make your reservation for you!
Is Medellín safe at night?
Medellín has made huge strides in recent years with regard to safety. However, it's always a good idea to have your wits about you, as with any big city. When traveling, use a reputable cab app such as Uber or Didi, rather than a local taxi, especially at night, or talk to us and we'll arrange a private driver for your whole trip. It will also allow you to skip the language barrier if you still need to brush up on your español.
We recommend you don't use Tinder to meet people. But if you are going to meet up with someone you met on Tinder or a dating app, get a photo of their ID beforehand and keep someone updated on your whereabouts, just in case.
Colombians are known for their phrase "no dar papaya", which literally translates to "don't give papaya". What it means, however, is to avoid attracting unnecessary attention by flashing expensive jewelry or valuables. You can leave that at home and still look fly on the dance floor.
And remember that super fancy cocktail you bought? Don't leave it unattended (it's too good to go to waste, anyway). By taking these simple steps, you can enjoy the vibrant nightlife of Medellín with peace of mind.
Medellín is a city of hedonism and parties. So enjoy all the fun from a bird's-eye view, on top of some of the best rooftop bars in Medellín. Whether you're there for a boozy brunch, or dancing your heart out until the small hours, get some fresh air with those fresh vibes.


Get in touch today to plan your next Medellín adventure!