Cartagena is a party city. Tourists and locals love the Cartagena nightlife, but with so much choice, it's easy to miss the best cocktails. Read on for our 2023 Guide to the Best Bars in Cartagena. From the ever popular Townhouse brunch to Alquimico and El Barón, these are the Cartagena party places not to miss.
The buzzing, vibrant city of Cartagena comes alive at night. When the heat of the day cools down, a new city emerges. And part of what makes Cartagena's nightlife so unforgettable is its many bars. Most of the best bars are located within the picturesque walled city in Cartagena. From Instagram-worthy rooftops lined with palm trees to three-storey mansions serving uniquely crafted cocktails, Cartagena's bars are built to impress – and they don't disappoint. If you're wondering where to find the best bars in Cartagena, look no further. It's been our pleasure to try out every one of the following bars to give you the best recommendations.
Alquimico for craft cocktails
The award-winning Alquimico is a must for any trip to Cartagena. The mixologists are true artists making craft cocktails in minutes. The menu is a treat for the senses and we love how they use local flavors and ingredients, grown on their organic farm in the Colombian countryside. They frequently change their menu, always keeping it fresh!
We guarantee you'll never have another cocktail like this one. Colombian rum infused with borojó (a locally-grown fruit also known as an aphrodisiac), anyone? If you're into dancing, there are two ambiences to choose from. The DJ on the first and second floors plays popular Colombian tunes and throwback classics. Meanwhile, up on the rooftop, you'll be treated to more tropical vibes. No matter what day of the week it is, Alquimico is bound to be buzzing. Get there early to avoid the inevitable queues!
If you're in Cartagena for NYE, get tickets for Alquimico's party here.
Townhouse for Brunch
If day drinking is more your vibe, we couldn't recommend more highly the Boozy Brunch at Townhouse.
On Saturdays and Sundays, for $30 USD per person, you can have bottomless food and drink from 11am until 3pm. Yes, you heard us right. Unlimited mimosas, Bloody Marys, beers and juices, accompanied by delicious bite-sized brunch plates to help absorb the booze. Sounds like the perfect hangover cure to us!
It also helps that the Townhouse rooftop is a super cool place to hang out, with a birds-eye view over the walled city, a cute plunge pool to cool down in, and Instagram-worthy neon signs to pose next to once the fourth mimosa has kicked in.
And if the brunch is so good it turns into sunset drinks, Townhouse also offers an evening menu. The music is always spot on. It's the perfect place to chill with friends or pre-game at the start of your night.
Café del Mar Cartagena for sunset by the sea
A trip to Cartagena wouldn't be complete without visiting the renowned Café del Mar. Perched on top of the historic city wall and boasting some of the best sunset views, Café del Mar is a great option for groups and couples alike. This Ibiza-style upscale lounge has frequent DJ live sessions playing ambient house and Balearic beats with incredible views over the walled city. We recommend getting there early, around 5pm, to grab a good seat for the sunset, which will usually be at around 6pm. Or you can hire our concierge services, and we will make a reservation for you. Alongside delicious cocktails, liquors and local & imported beers, you can enjoy fresh seafood snacks as you watch the sun sink into the Caribbean Sea.
El Barón for artisan cocktails
El Barón, once a tiny hole-in-the-wall, has recently expanded due to its popularity amongst locals and tourists alike. This award-winning Cartagena bar boasts some of the best artisan cocktails in town. It wins the prize for some of the most visually pleasing food and drinks. Enjoy people-watching from one of its outdoor tables in San Pedro Square with a Gin Basil Smash in hand. Or head indoors after dark to peruse their extensive wine menu. We absolutely love the intimacy of this bar, which seems to have it all: great coffee and food for the daytime, and unique, avant-garde cocktails at night. They even have a Cuban cigar menu, where you can match your puro to your rum, Scotch, or Cognac, and enjoy Cartagena to its fullest.
If you're in Cartagena for NYE, get tickets for El Barón's party here.
Mirador Gastro Bar for dancing with the locals
If you're looking for somewhere to get your boogie on, look no further than El Mirador. It's a trendy rooftop bar with privileged views overlooking the famous Clock Tower and towards bohemian Getsemani. This bar has a great mix of Colombian locals and foreigners, which means one thing: dancing is inevitable. El Mirador is an awesome place to visit on a Saturday night and share a bottle of whiskey or rum with a group of friends. Its central location means that it is easily reachable on foot from your villa in the walled city, so you and your group can walk home without needing to split a taxi.
Don't have your villa booked yet? Contact us, and we can hook you up with the best and most exclusive properties in town.
Movich Hotel Rooftop for the best rooftop view
The Movich Hotel has made a name for itself as another one of the best sunset spots in Cartagena. The bar of this swanky hotel is located on the rooftop. It's open to the public as well as hotel guests. Get there early for the best table and enjoy the view over the picturesque rooftops of the walled city. This bar creates a perfect chill ambience with its soft house playlists. Kick back on the comfy lounge furniture and enjoy the soft breeze bouncing off the terracotta tiles of Cartagena. If your sunset drinks leave you feeling peckish, you can enjoy Caribbean-style bites. The menu is paired perfectly with their exquisite cocktail menu.
La Movida for the best party in Cartagena
La Movida Club and Bar is where the beautiful and elite of Cartagena hang out. Often dubbed as the "best party in town", La Movida is a fusion of old-school American Speakeasy and Latino lounge. Make sure you come dressed to impress, as the bouncers on the door may turn you away if you rock up in flip-flops and shorts. Open Wednesday to Sunday until 3am, La Movida really starts kicking off after midnight. Don't forget to ask your Two Travel concierge to book you a VIP table, as this small joint really fills up on the weekends. La Movida Cartagena is a unique experience, so grab a Gin & Tonic, and come and party with us in its colorful courtyard.
La Jugada Club House for the cool crowd
La Jugada is one of the tallest clubs in Cartagena's old town, with four floors in total; three inside, and a beautiful tropical rooftop terrace. If you're seeing a trend here, you're not wrong in thinking that rooftop bars are big in Cartagena. There's never a dull moment in La Jugada Club House, as they like to occasionally set off fountain fireworks from the Pink Flamingo bar on the roof. Why? Because it's Saturday night in Cartagena, what better reason do you need? Its 1920-style art deco decoration is enchanting, and the interior filled with mirrors and wrought iron is a nod to the decadence of past decades. If you were planning a night in La Movida, you should know that they are also the same owners of La Jugada. Their impeccable taste and penchant for attracting the young and beautiful crowds will soon become clear.
If you're in Cartagena for NYE, get tickets for La Jugada's party here.
51 Sky Bar for those that like heights!
The only contender from our list outside the walled city, 51 Sky Bar is a must-see on your trip to Cartagena. This bar is on the 51st floor of the Hotel Estelar Cartagena de Indias in the modern and exclusive neighborhood of Bocagrande, Cartagena's own answer to Miami. It boasts 360° views over the modern skyscrapers, which light up impressively at night, and further on, towards the seemingly endless Caribbean Sea. Enjoy live music and light bites such as sushi and Peruvian ceviche, but stay for the cocktails, which are perfectly crafted and well-balanced. We love to get things spicy with their tequila-based cocktail, Atrevido, shaken with jalapeños and black pepper.
51 Sky Bar operates with a strict reservations policy, so make sure you book before you go. Or let our concierge do it for you, and don't show up late to your reservation! This super modern bar will give you a new perspective on Cartagena, and is sure to take you up to dizzying heights.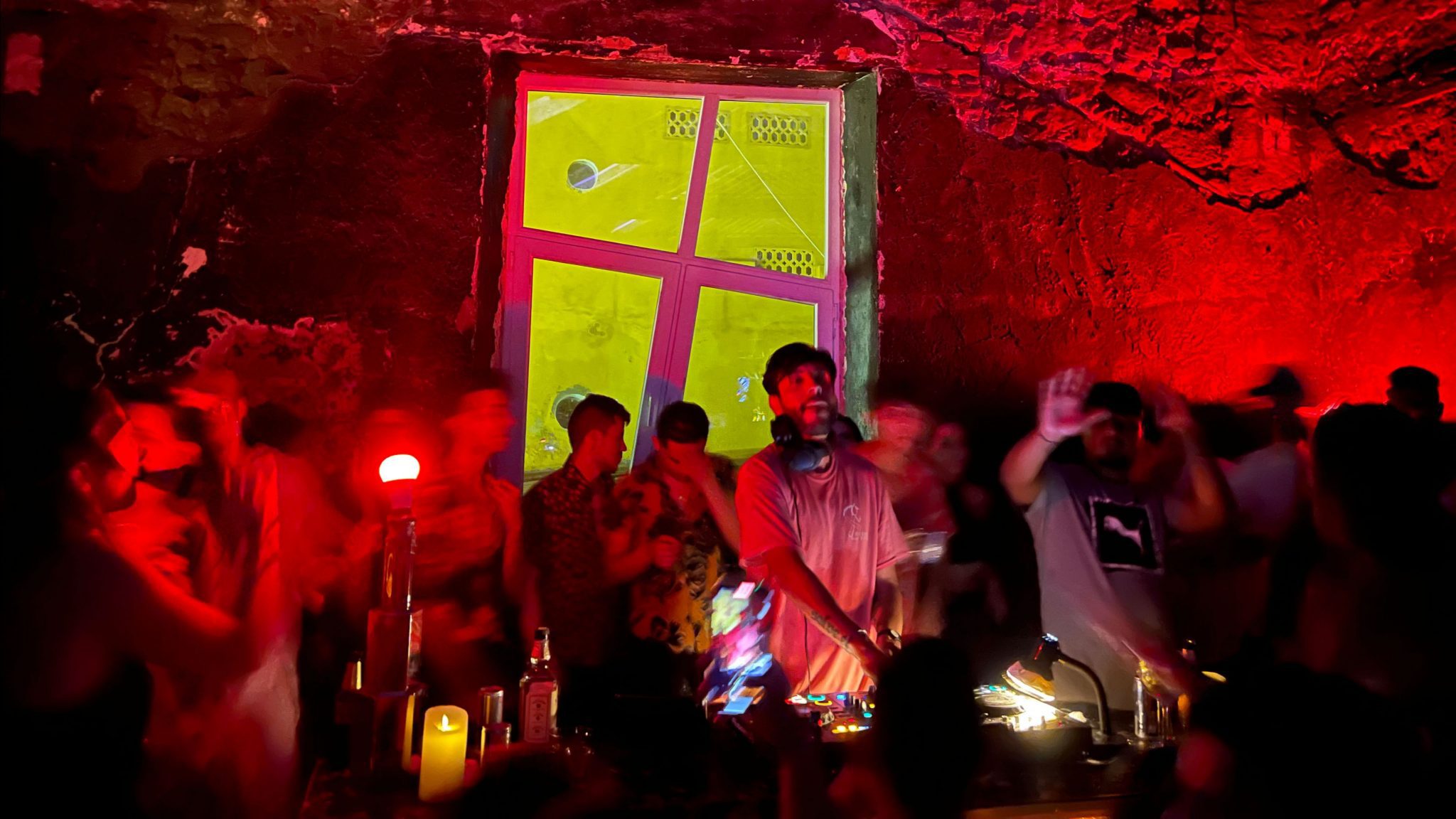 Casa Cruxada for any time of day or night!
If you need to escape from the salsa music and reggaeton that you will inevitably hear in the Colombian coast, head down to Casa Cruxada. Here, you can hear live DJs play minimal techno beats and deep house. This club / bar / restaurant is in an enormous, crumbling Colonial building that feels like it is coming apart at the seams, in the best way possible. Its dark ambience and far-from-flawless decor only accentuate the perfection of its menu and playlists. But Casa Cruxada in the daytime is also a sight to behold. The light illuminates what in the nighttime becomes dark nooks and crannies, revealing the stunning architecture. The Spanish owners have crafted an incredible menu that is a gastronomical treat from breakfast to dinner. This multi-faceted bar is the perfect place for dinner and drinks, and after-midnight cocktail schmoozing, and everything in between.
Find out more about the beautiful city of Cartagena, choose a villa in centro, or contact us craft a special itinerary for you and your group. We promise you'll get the best out of the city.