Known for its warm hospitality, breathtaking landscapes, and lively culture, Medellín offers a unique New Year's Eve experience that you won't soon forget. Explore the best places to go, restaurants to savor, party spots to dance the night away, and nearby towns to visit while also diving into popular traditions. We will guide you every step of the way with tips on what to do, how to book in advance, and how to escape the crowds so you can have a night to remember.
Keep reading to know why Medellín stands out as an exceptional choice.
Why celebrate New Year's Eve in Medellín
Here are some of the advantages of celebrating the arrival of the new year in this vibrant Colombian city:
Perfect Weather
Medellín is known as the "City of Eternal Spring" due to its pleasant climate year-round. Unlike many other destinations that experience cold winter temperatures during New Year's Eve, Medellín offers a comfortably mild climate, ensuring you can enjoy outdoor festivities without bundling up.
Warm Hospitality
Colombians are renowned for their warmth and friendliness, and this extends to New Year's Eve celebrations. You'll feel welcomed by locals eager to share their traditions and joy with visitors.
Stunning Scenery
The city is surrounded by breathtaking landscapes, including lush green hills and picturesque towns like Guatapé, providing the perfect backdrop for your New Year's Eve celebration.
Diverse Entertainment
Whether you're partying all night long and looking for lively nightclubs or someone seeking a more tranquil celebration with the family, Medellín offers diverse entertainment options to cater to every preference.

Dining Options for All
Medellín boasts a thriving culinary scene, offering a wide range of dining experiences from traditional Colombian cuisine to international fusion. You can savor delicious dishes at a fraction of the cost you might pay in more touristy cities.
Contact us today to receive customized guidance on how to plan and book your trip and have a New Year to never forget in Medellin!
How to Spend New Year's Eve in Medellin: Dinner Option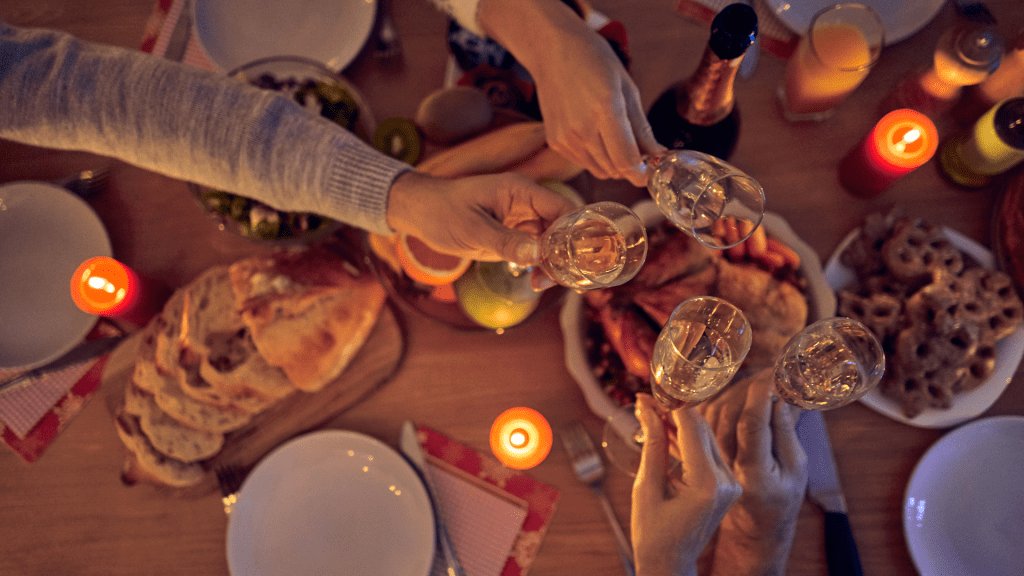 New Year's dinner is an integral part of the festivities, and it plays a significant role in many cultures worldwide. In Medellín, as in other parts of Colombia, this meal is an opportunity for families and friends to come together, enjoy delicious food, and make cherished memories as they bid farewell to the old year and welcome the new one.
If you plan to dine out on New Year's Eve in Medellín, we advise you to make reservations well in advance. Popular restaurants tend to fill up quickly, and having a reservation ensures you have a seat at your chosen venue.
Discover some of the best restaurants here or ask us to give you recommendations. We can make restaurant reservations, create personalized itineraries, and even do your shopping. Get in touch with us today to enquire about Two Travel's Concierge Services.
Midnight toast and party with Medellin locals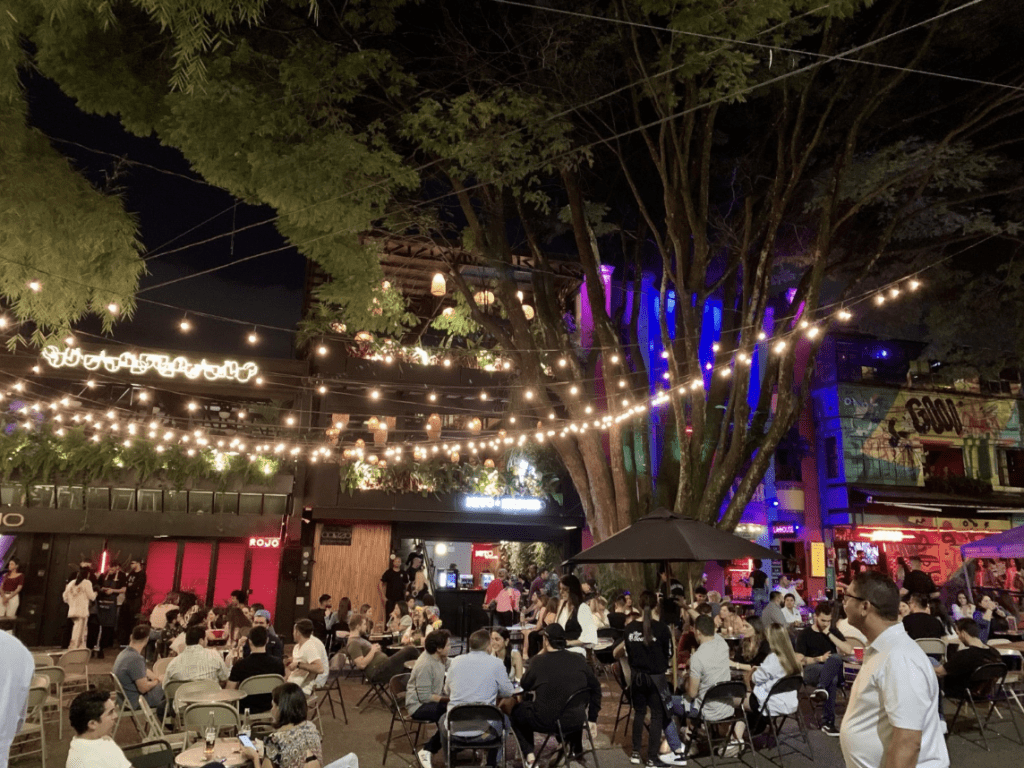 Medellín's New Year's Eve parties offer an electric atmosphere and a chance to dance, toast, and celebrate the start of a new year with people from all around the world. Whether you're into the club scene, prefer a more cultural experience, or want to ring in the new year with a rooftop view, Medellín has a New Year's Eve party that will suit your style and create unforgettable memories.
But with so many bars and clubs in Medellín, it's often difficult to know where to head first.
Provenza in El Poblado is undoubtedly one of the hottest spots for New Year's Eve celebrations. Its surrounding streets are transformed into a bustling party hub with live music, street performers, and a joyful atmosphere. Many bars, clubs, and restaurants in the area host special events and parties, making it a go-to destination for travelers.
We work with many party promoters, bars, clubs, and restaurants in Medellín. As soon as they start to release tickets for the hottest events in October or November of each year, we open access to you.
If you want to be first on the VIP list to access tickets, sign up today!
Best Bars to Enjoy New Year's Eve in Medellin
El Social
The perfect spot for a traditional paisa (as locals are called in Medellin) celebration. You can either stop at their spot in Provenza and join locals and other visitors with a toast, vibrant music, and picturesque traditions, or head to the botanical garden which they have taken over this year to host a party you won't want to miss.
La Deriva
Want a night night in style? This is the place. Perched on top of the Click Clack Hotel, head to La Deriva for cocktails and delicious food in an immersive and scenic experience. Imagine yourself dipping your toes in the rooftop pool whilst sipping on an Aperol Spritz… yes, this is the best way to welcome the new year!
Gusto Nightclub
Located right in central Lleras Park, Gusto nightclub will never disappoint. Nightly escapades at Gusto involve laser light shows, beautiful girls, and expertly poured drinks. It is a great option in this super touristic area that doesn't feel like a tourist trap.
La Oculta
Do you ever wonder where the young locals go to party? What if we told you it was in a speakeasy-style joint, hidden behind a bookshelf? La Oculta is, like its name suggests, hard to find, but a total gem once you get in. This intimate club is small but perfectly formed, and its glittering chandelier adds a boujee touch to your night. Great to share a bottle of whiskey with a group of friends and listen to local Latin beats.
Where to Stay in Medellin for New Year's Eve
Why stay in a hotel, when you can stay in a place of your own and celebrate in style? Make a luxury private villa your home for a while, relax, and welcome the new year with drinks, music, and the best company while not worrying about a thing – our villas come with all the amenities you need and 24/7 security. Just tell us what you need or find your perfect place here.
Special New Year's Eve events are announced in October and November, and we can offer you first VIP access to the best with the best prices too.
Popular New Year's Eve Traditions in Medellin & Colombia
Año Viejo Effigies
One of the most distinctive traditions is the creation of "Año Viejo" effigies. These are life-sized dolls or figures made of old clothes, newspapers, and other materials. People create these effigies in the weeks leading up to New Year's Eve and then set them on fire at midnight, symbolizing letting go of the old year's burdens and starting anew.
Yellow Underwear
It's a widespread belief in Medellín, and Colombia as a whole, that wearing yellow underwear on New Year's Eve brings good luck and prosperity in the coming year. It's not uncommon to see locals sporting yellow undergarments as part of their New Year's attire.
Las Doce Uvas (the 12 grapes)
It is a tradition to eat 12 grapes at the stroke of midnight. As the clock chimes twelve times, people eat one grape with each chime, making a wish for each grape. It's believed that if you successfully eat all 12 grapes, your wishes for the new year will come true.
Walking Around the Block with Your Luggage
You are already traveling but take your luggage for a stroll down the block to travel even more in 2024. In Medellín, it's believed that taking a brief walk around the block with an empty suitcase on New Year's Eve can bring good fortune in the form of travel opportunities, symbolizing a desire for new adventures, journeys, and new experiences.
Lentils in Your Pockets
Another charming tradition involves carrying lentils in your pockets on New Year's Eve. Colombians place a few lentils in their pockets to attract financial well-being and success in their personal and professional lives. This tradition reflects the cultural importance of economic stability and growth.
Other Activities To Enjoy New Year's Eve in Medellin
Watch the Alumbrados
The "Alumbrados" is a beloved tradition in Medellín, especially during the holiday season. Alumbrados, which translates to "lighting" or "illuminations," refers to the Christmas light displays that adorn the city. This tradition has become a source of immense pride for the people of Medellín and is one of the most anticipated events of the year.
The Alumbrados are spread throughout the city, with some of the most iconic displays located in central areas like Parque Norte, Parque de los Deseos, and Parque de los Pies Descalzos. Additionally, many neighborhoods and streets also participate, decorating their homes and storefronts.
Guatape and other towns nearby
Just a short drive from Medellín, Guatapé is famous for its colorful houses and the towering El Peñol rock. Start your New Year's Day with a trip here, go to a coffee farm, or explore other lovely towns around like San Antonio, La Ceja, El Retiro, and El Carmen for a more cultural and outdoorsy experience.
This and a ton of other things to do in Medellin are waiting for you. Get in touch today to plan your next adventure with us!