When the sun goes down, Mexico City comes alive. Mexico City's nightlife offers an incredible array of experiences. From the high-end cocktail bar to the kitschy dance club to the timeless cantina, there are options for any mood, budget, and taste. Read on, get on your dancing shoes, and get ready. Here's how to spend many memorable nights out on the town. This is our guide to the best bars and nightlife in Mexico City.
Plan your night in Mexico City – start off at a casual cantina, followed by a cocktail in a mezcalería or rooftop bar. There are so many to choose from! Then move on to one of the best dance clubs or nightclubs in Mexico City. Scroll down for hot tips, and get in touch if you need help finding a place to stay, or have a group event to plan.
Cantinas (local bars): aka. the Heart of Mexico
Historically, cantinas have been a preferred hangout all over the country. Laid-back and brimming with tradition, cantinas offer affordable drinks and botanas (snacks), and in many cases, full lunch or dinner menus. For centuries, women weren't allowed in cantinas, but today, things have changed. Cantinas welcome patrons from all walks of life who want to gather around the table for hours, usually to the sound of a classic mariachi or trío.
Some of the most iconic cantinas in town are found right in the heart of downtown. Tenampa is a festive spot that's ideal for traditional Mexican food and drinks. Believe us when we say they taste even better when paired with the sound of mariachi music. In fact, Tenampa is located in Garibaldi Plaza, the city's official mariachi headquarters. Another cantina is La Faena, decorated with vintage bullfighting posters and memorabilia. Here, you'll find a super casual and lively atmosphere. Meanwhile at La Opera, gorgeous interiors will take you back to its origins in 1895.
Mezcalerías: Agave bars in Mexico City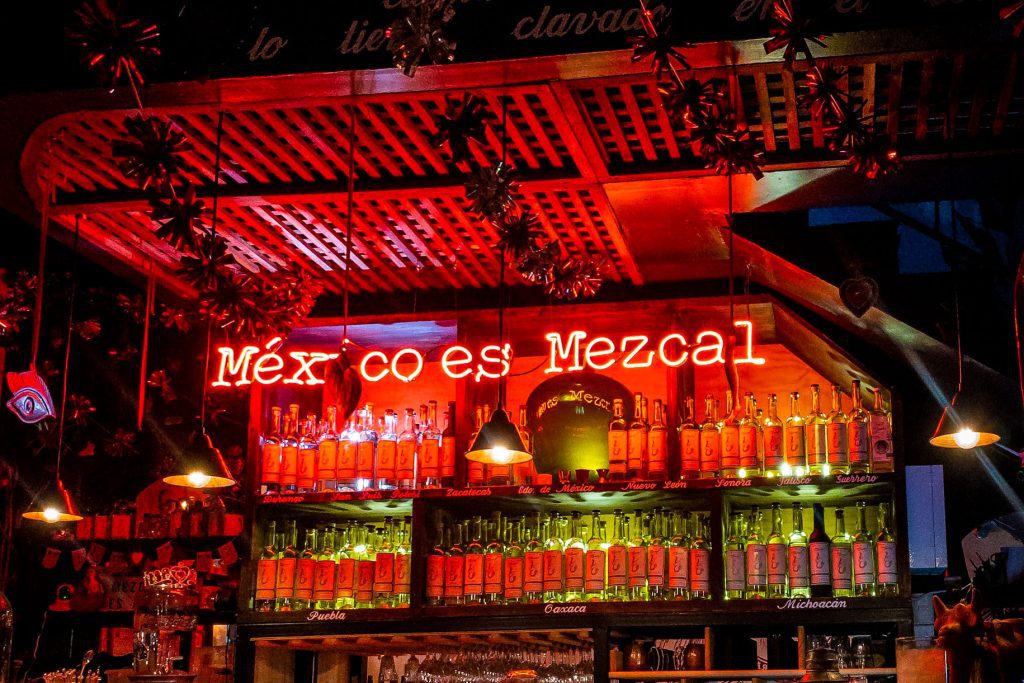 Mezcal has deep ties to Mexican history, culture, and mythology. According to legend, we have the agave goddess Mayahuel to thank for this fascinating spirit. Mezcal is produced in eight Mexican states including Oaxaca (home to most of the country's production), Guerrero, and Durango. Whether you are already a mezcal aficionado or want to begin your exploration of this agave-based liquid, there are plenty of mezcalerías in Mexico City where you can embark on this journey.
Located in Centro Histórico, Bósforo is a bohemian spot dedicated to artisanal mezcal. Here, you'll find a wide array of agave varietals and a knowledgeable staff that is always ready to offer advice. The low lighting and groovy world music will help set the mood. Over at Roma, head to La Clandestina, a local favorite for nearly 15 years. This cozy spot serves more than 20 mezcals, most of them from Oaxaca, including some in tasty cocktails. And for a fun, casual night of mezcal-imbibing, look no further than La Botica. Here, you'll find more than 50 labels on the shelves of its two locations: Centro Histórico and Condesa.
Rooftop bars in Mexico City: See and be seen
Over the past few years, rooftop bars have sprouted up all over the city. Make the most of the city's mild climate (most of the year) and beautiful views across different neighborhoods. Rooftop bars usually offer a chill vibe during the early evening. Then the atmosphere starts to heat up later on – some of these bars turn into full-blown nightclubs. Depending on your plans, you can stop at a rooftop for a few drinks before heading to a nightclub, or spend the entire night there, soaking in the views and energetic atmosphere. Try these Mexico City rooftop bars and you will not be disappointed!
Supra, located in the heart of Roma, boasts modern furnishings, 360-degree views of the city, and a menu inspired by Asian and Mediterranean flavors that pairs perfectly with the house cocktails. Aside from a live DJ, Supra frequently hosts events such as meditation sessions or art shows.
Nearby, Gin Gin welcomes guests with a lively vibe and an extensive cocktail menu that, just like its name promises, features more than 50 gin labels. Pair a refreshing gin and tonic with one of their excellent burgers at any of their five locations (aside from two in Roma, you'll find three more in Polanco, Condesa, and Satélite).
If you're in Juárez, Toledo Rooftop is your best bet. A beautiful building is the perfect setting to enjoy a Baja-Med food menu (Baja California meets the Mediterranean), a long wine, spirit, and cocktail list, and music by live DJs.
Whichever of these Mexico City rooftop bars you choose to explore, remember that cocktails will cost around 220 pesos ($12 USD). Oh, and dress to impress!
If you're looking to plan a trip to Mexico City and need help finding accommodation, things to do, or tickets to big events like the F1 Grand Prix, Lucha Libra or Day of the Dead, get in touch. We'll help plan your journey.
Mexico City's Cocktail Scene: A Toast to Creativity
As varied and exciting as its culinary scene, Mexico's cocktail landscape keeps getting more interesting as time goes by. It's no surprise that many of its cocktail bars are featured in international lists. In this city, you'll find inventive drinks, excellent service, and original concepts.
Cocktail bars in Mexico City usually open around 6:00 PM and get busier as the night progresses. You can start your evening at one of these bars before you head to dinner or a club. Or spend the night exploring their unique personalities and drinks.
Start with an award winner – Handshake Bar, in Juárez is the #2 bar in North America by 50 Best Bars. Inside a luxurious, intimate space, the team serves deceptively simple-looking drinks that hide careful, creative processes. Roma is home to two other exciting cocktail bars: Brujas, a woman-led den with drinks that honor inspiring women and traditional Mexican herbology, and Rayo, a gorgeous rooftop bar in Roma where every premium spirit-based cocktail tells a story. We also love Hanky Panky, in Juárez – a speakeasy whose address is secret, where the bartenders are part-owners. It's an intimate space with incredible cocktails… and we can help you get in. Just ask!
Dance Clubs: Show your moves
Cumbia, salsa, merengue, and reggaeton await at some of Mexico City's fabulous dance clubs. With decades of tradition, these aren't the type of clubs where dancing is optional. Here, people spend hours on the dance floor, moving to the sound of live music with pure joy. From amateurs to true pros with impressive moves, you'll find all sorts of couples on the floor. Don't be surprised if a complete stranger asks you to dance!
In Roma Norte, Mama Rumba is a two-story Cuban bar dedicated to salsa and Caribbean music where a 100 peso ($5 USD) cover will guarantee a night of nonstop dancing. Also in Roma, Club San Luis has been a beloved space for more than eight decades, boasting three live bands per night and an irresistible, old-school feel. Another timeless classic is Salón Los Ángeles, located in Colonia Guerrero. This fun and unpretentious setting has been witness to countless dance contests and parties and has even been used as a filming location in movies and shows. Danzón, mambo, and swing are a few of the genres you can move to when you visit this historic dance hall.
Nightclubs: Party until dawn
Mexico City's energy continues to thrive well into the night. For an evening of dancing and people-watching, its nightclubs offer a variety of styles, from trendy spaces where you can dance to pop and reggaeton, to dark, sexy spots that host world-class DJs every weekend.
Most clubs usually open around 11:00 PM, and booking a table is a good idea if you plan to go with a larger group to avoid waiting in line at the door. We can help you with that – simply get in touch for the best in Mexico City nightlife! Here are our recommendations:
Dinsmoor, located in Polanco, is a favorite among fans of live DJs. The vibes are always high inside this gorgeous space. Make sure to book a table in advance, as it is small and exclusive, so it gets crowded quickly. Also in Polanco, República welcomes a young, glam crowd to dance to today's latest hits and toast with classic drinks. Over in Roma, a house that once belonged to the founder of the Mexican Communist party is now the beloved MN Roy, with an impressive rotation of DJs to dance way into the end of the night.
We know you'll have a great time exploring Mexico City's bars and nightclubs.
For a fully planned itinerary, we're here to help you have the best vacation ever.