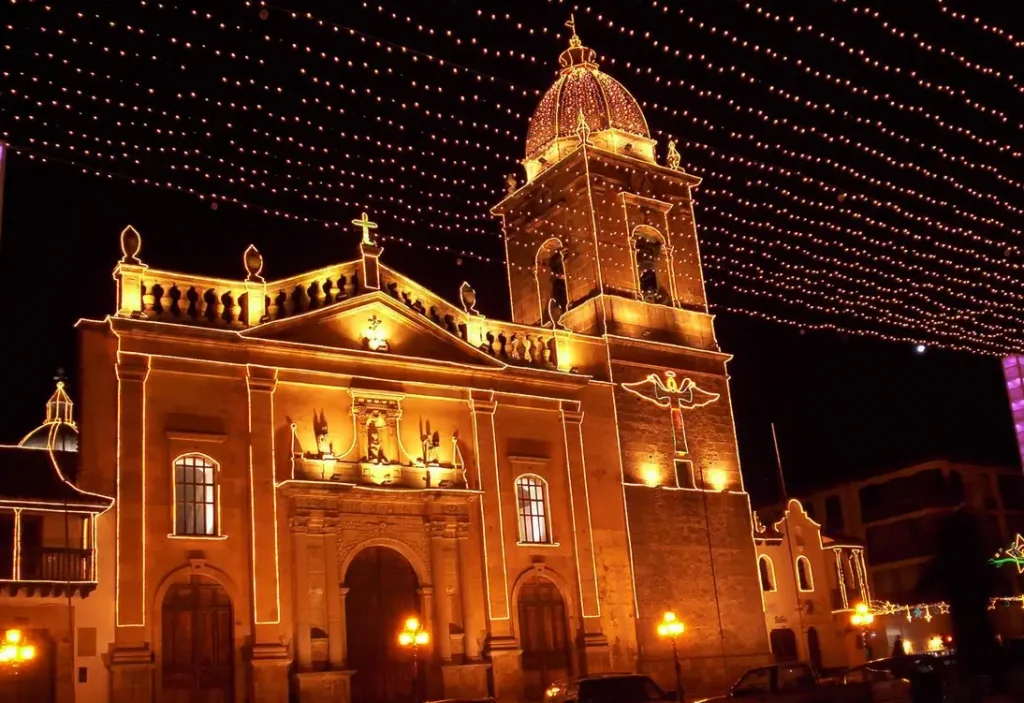 Few countries celebrate the Christmas season with as much enthusiasm as they do in Colombia. For the entire month of December, the entire country is alive with vibrant celebrations that include festivals, dancing, family get-togethers, and of course, lots of eating and drinking.
So, if you're planning a visit to South America or just looking for some alternate ideas for your holiday celebrations, why not consider spending your Christmas in Colombia?
Here's everything you need to know about traveling to Colombia in December, including weather conditions, travel tips, and some local traditions you won't want to miss out on!
Weather in December
Weather-wise, December is an incredible time to take a trip to Colombia. As this country is located near the equator, temperatures in the region tend to be fairly even year-round. However, visiting Colombia in December means the notoriously rainy skies will start clearing up and you'll be able to enjoy mildly warmer temperatures and typically dry weather.
Travel Tips
Considering the holiday season and Colombia's more travel-conducive weather during December, it's no surprise that travel costs do rise during this time. Be prepared for higher prices for your flights and accommodations, as well as a minimum stay of 3-4 nights imposed by most hotels. There are many fun things to do in Colombia in winter, but you may have to pay a little more for some of the top attractions as well.
Colombian Christmas Traditions
Tradition has always been an important aspect of Colombian culture, and this is particularly emphasized around the Christmas season.
As Catholicism is still the main religion in Colombia, many of the traditional values expressed over the holiday season carry a strongly religious tone. You'll find festivals in honor of the Virgin Mary, midnight masses, and nativity scenes displayed throughout the country. But while Christmas is a time of expressing religious values for Colombians, it's also a very important time for connecting with family and friends.
Colombia has some amazing traditions that help them make the most of the convivial holiday spirit! Let's take a look at three of the most beloved Colombian Christmas traditions: food, decorations, and celebrations.
Christmas Food in Colombia
Christmas just wouldn't be Christmas without traditional culinary specialties. And, as in most cultures, cuisine definitely plays an important role in Colombian Christmas celebrations!
There are a variety of delicious Colombian Christmas foods that are specifically prepared over this time of year. While there are a number of tantalizing savory plates that are typically served, desserts are the most looked-forward to dishes in most families.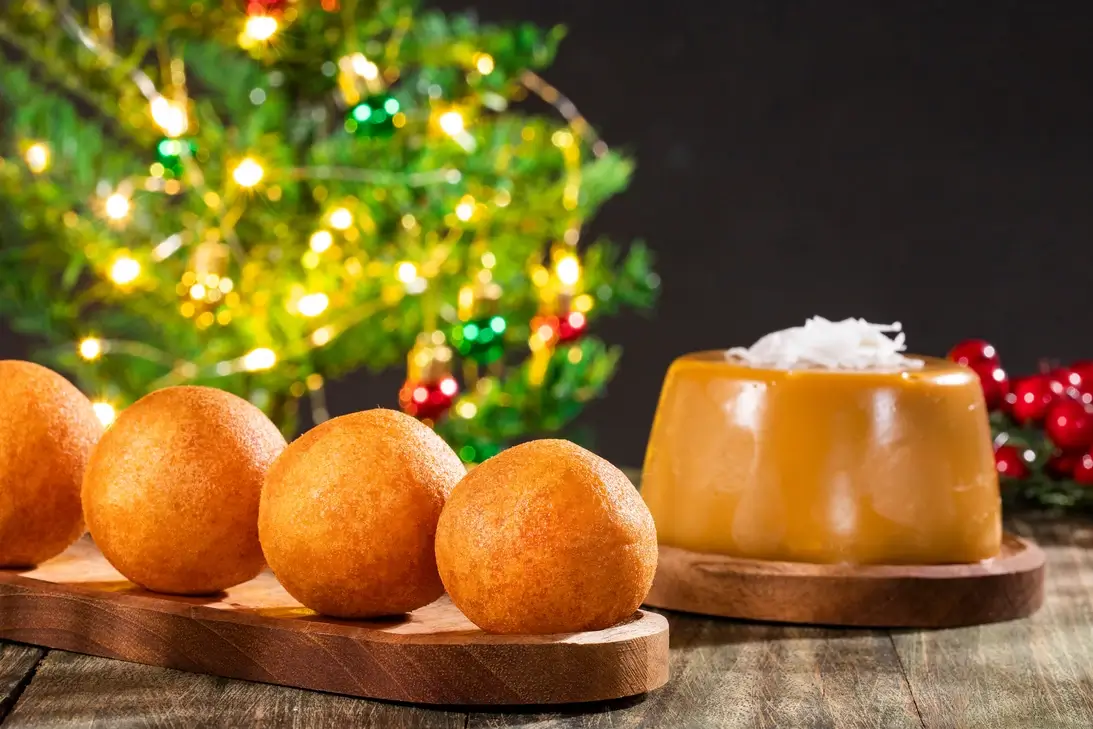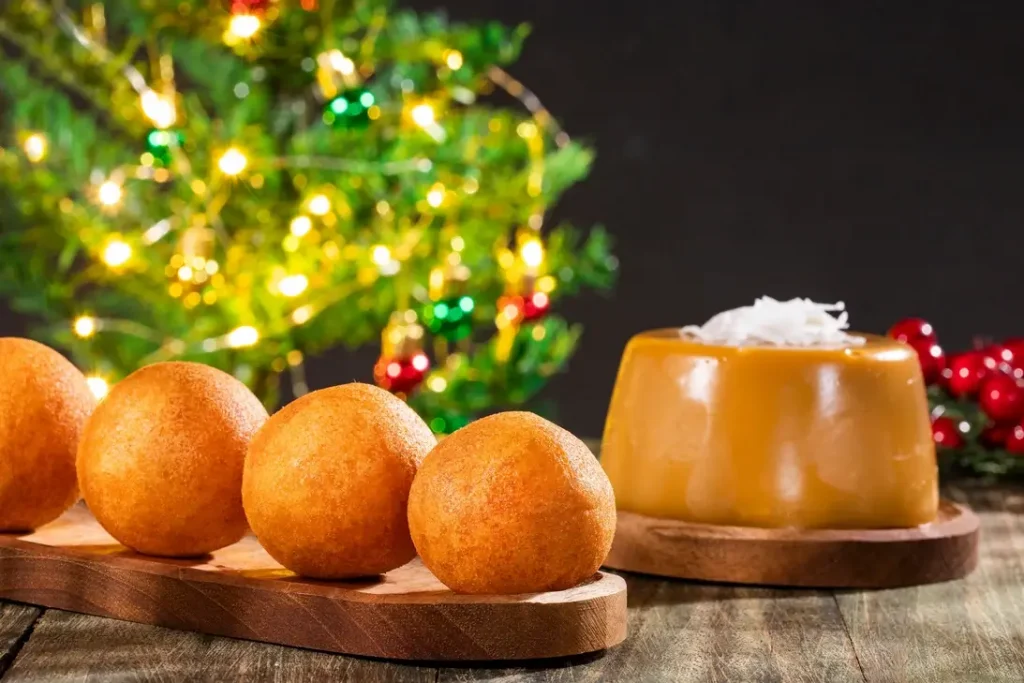 The local favorite is natilla, a sugary cinnamon and coconut custard that is usually paired with buñuelos, fried cheeseballs. If natilla isn't on the menu, arroz con leche, a rice pudding topped with raisins and cinnamon, or hojuelas, hot fried pastries sprinkled with powdered sugar, usually are.
During the primary Christmas celebrations on December 24, Colombians often serve lechona, pork stuffed with peas and rice, for the main meal. Some common alternatives to this dish are ham, turkey, or other year-round favorites like Tamales or Ajiaco.
Colombians host dinners and parties with family and friends throughout most of December, especially in the nine days leading up to Christmas. So, if you're traveling through the region over the holiday season you'll be almost certain to try one or more of these sweet and savory dishes!
Decorations
If you've been to Colombia in December, you'll know one thing for certain: Colombians love Christmas decorations! Throughout the cities and in almost every home, you'll find decorated Christmas trees, exquisite holiday lights, figures of Santa Claus or snowmen, and plenty of decorative candles.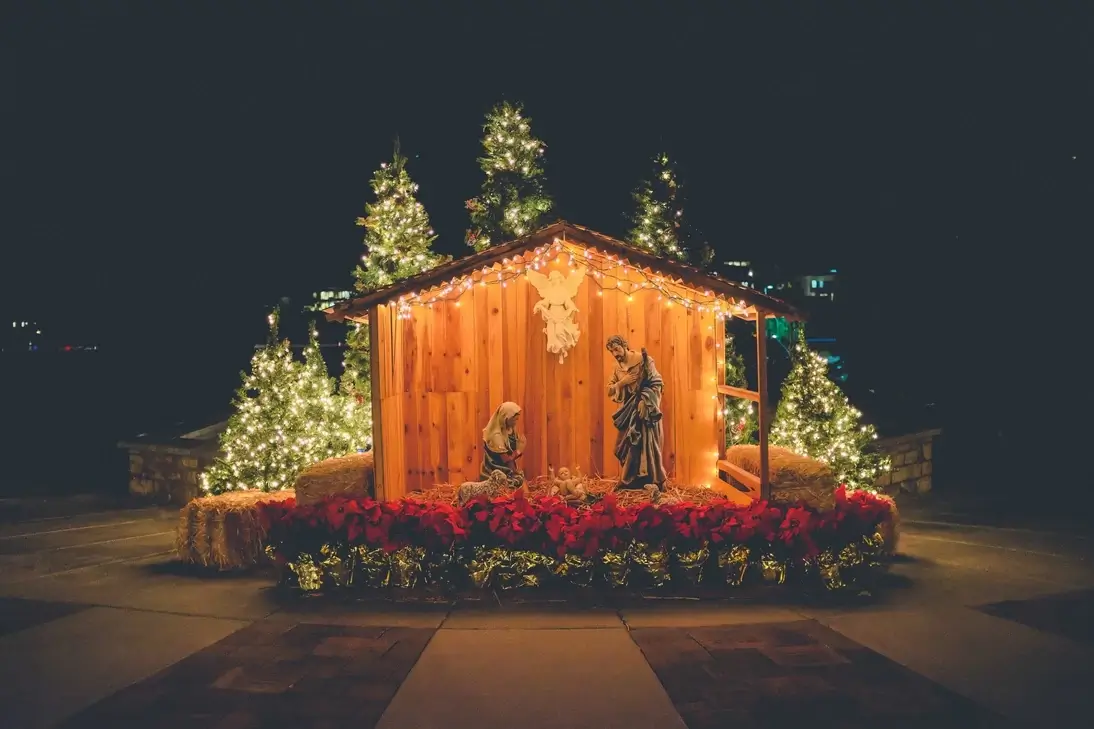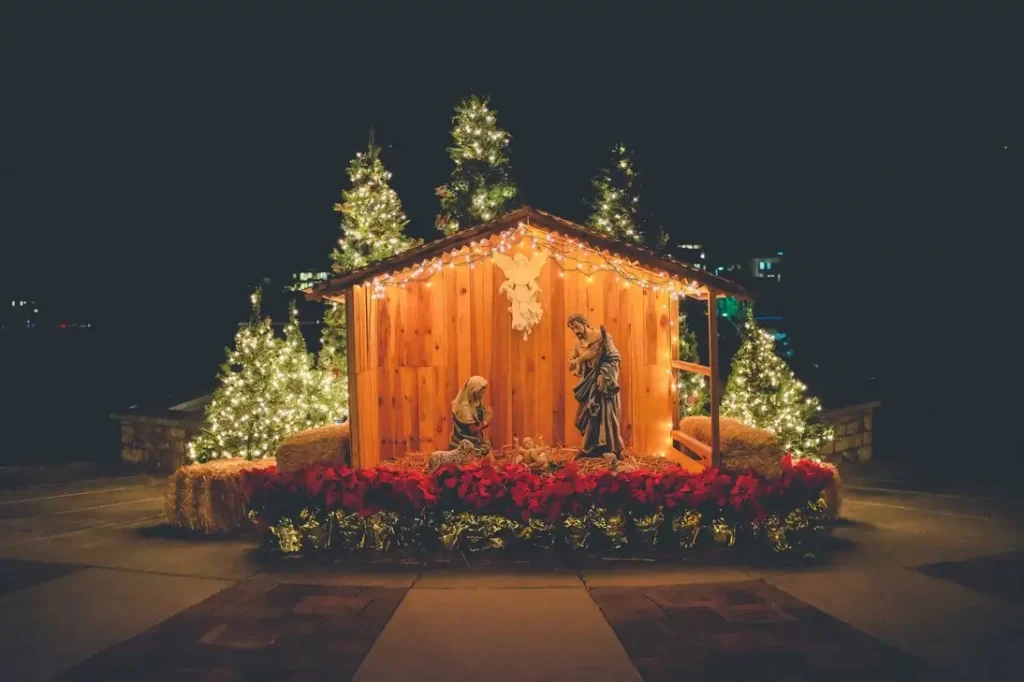 One of the most central Christmas decorations in Colombia is known as El Pesbre, or the nativity scene. Hotels, apartment complexes, and restaurants go to great lengths to design impressive scenes that sometimes include water features and planted flowers. El Pesbre also plays an important role in Colombian home decorations.
In early December, most children will write letters to niño díos (baby Jesus) asking for specific gifts. They place these letters in the nativity scene and hope that baby Jesus, not Santa, will bring them gifts on Christmas Eve.
Colombia Christmas Celebrations
Leading up to the final Christmas celebration and gift exchange, it's common for friends and family to play aguinaldos. These are silly games or challenges that must be completed in order to "win" gifts. Some examples are "three feet," where you have to keep your opponent from placing their foot between yours, and "straw in the mouth," which involves keeping a straw in your mouth all day. These games provide a lot of laughs and, of course, you usually "win" your gift even if you lose the game.
The most important celebration of the holiday season takes place on Christmas Eve in Colombia. On this day, the entire family gets together for a meal, games, and a gift exchange. After all the festivities of the day, families usually go to a midnight mass and some people will stay up all night continuing their celebrations. After an entire day and night of celebrating on the 24th, Christmas Day in Colombia usually finds people relaxing, eating delicious leftovers, and spending time with the family.
If you're planning to stay for New Year, don't miss our New Year's Eve post about what is one of the best nights of the year in Cartagena. And of course, get in touch with us if you're looking for the best prices on villas and yachts, because the holiday season can get expensive without local contacts.