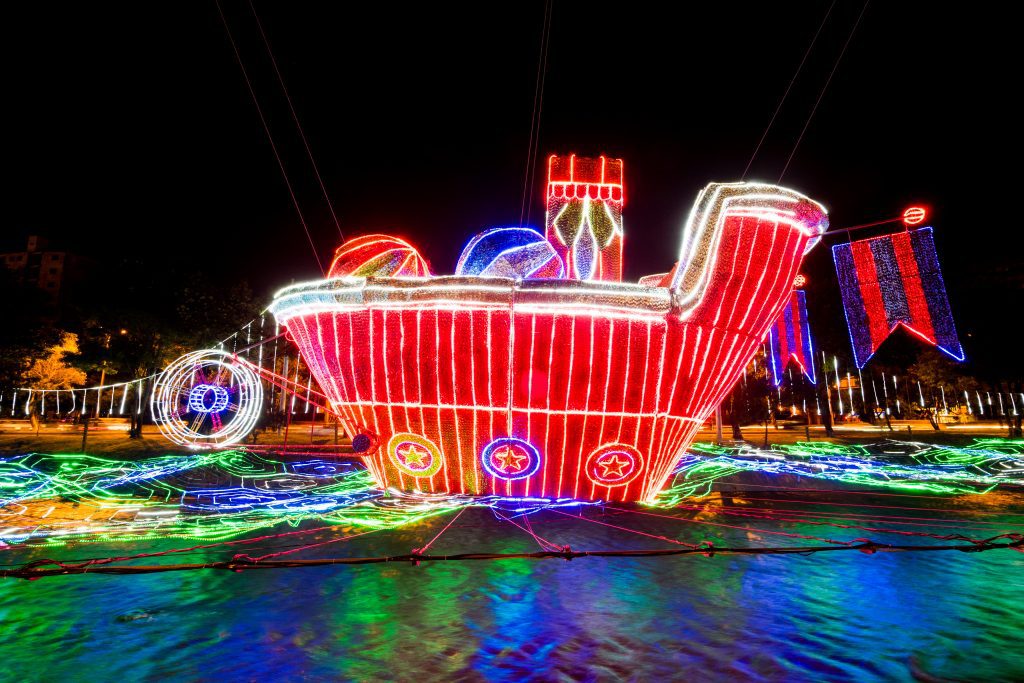 Chrstimas in Colombia is a special time of year. Few countries celebrate the Christmas season with as much enthusiasm as they do in Colombia. For the whole month of December, the entire country is alive with vibrant celebrations that include festivals, dancing, family get-togethers, and of course, lots of eating and drinking.
So, if you're planning a visit to South America or just looking for some alternate ideas for your holiday celebrations, why not consider spending your Christmas in Colombia?
Here's everything you need to know about traveling to Colombia in December, including weather conditions, travel tips, and some local traditions you won't want to miss out on!
The Weather in Colombia in December
Weather-wise, December is an incredible time to take a trip to Colombia. As this country is located near the equator, temperatures in the region tend to be fairly even year-round. However, visiting Colombia in December means the notoriously rainy skies of Medellín will start clearing up and you'll be able to enjoy mildly warmer temperatures and typically dry weather.
Cartagena also has some of the best weather of the year in the months of December and January. Peak rainy season (usually October and early November) has passed, and visitors can enjoy blue skies, light breezes and temperatures in the high 80s and low 90s Fahrenheit (that's low 30° Celsius for the non-Americans). Perfect weather for visiting the nearby Rosario islands!
Travel Tips during the Holidays in Colombia
Considering the holiday season and Colombia's more travel-conducive weather during December, it's no surprise that travel costs do rise during this time. Christmas in Colombia is one of the busiest times of year for local and international tourism. The season runs from December to mid-January, so expect a higher volume of people everywhere. You should also be prepared for higher prices for your flights and accommodations, as well as a minimum stay of 3-4 nights imposed by most hotels. During this high season in Colombia, it's imperative to book ahead.
Don't leave it up to luck, make use of Two Travels' concierge services and let us help you plan your journey, so you don't fall into any tourist traps.
Coming to Cartagena? Book your yacht with us as early as possible.
Heading to Medellin for the holidays? Let us make your itinerary, so you can make the best of this beautiful city.
We can also make restaurant reservations for you at the top restaurants in the city; a must-do to avoid disappointment. Finding a private villa for you and your group can also be a struggle during peak season, so let us pull our contacts to get you the best accommodation in town.
Colombian Christmas Traditions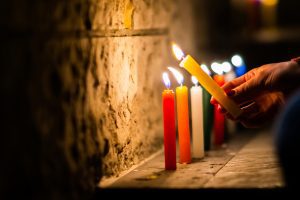 Tradition has always been an important aspect of Colombian culture, and this is particularly emphasized around the Christmas season. Christmas in Colombia officially kicks off on December 7th, on Día de Velitas, or "Little Candles Day". It's a magical time to stroll through residential streets, as many families and houses will line the streets with candles they light to bring good fortune. Share a warming shot of aguardiente and light a little candle for good luck. Then, from December 16th, "Novenas" will begin. Novenas are a Catholic tradition that include everything from quaint carol-singing to huge feasts or full-on liquor-soaked parties (depending on who is the host, of course).
The most important celebration of the holiday season takes place on Christmas Eve in Colombia. On this day, the entire family gets together for a meal, games, and a gift exchange. After all the festivities of the day, families usually go to a midnight mass and some people will stay up all night continuing their celebrations. After an entire day and night of celebrating on the 24th, Christmas Day in Colombia usually finds people relaxing, eating delicious leftovers, and spending time with the family.
If you find yourself in Colombia on this date, make sure you soak up the Christmassy vibes by heading out to a restaurant on the evening of the 24th. Not sure which restaurant to head to? Check out some of our favorite restaurants in Cartagena, or our blog on the best restaurants in Medellin!
Travel Itinerary for Colombia during the Holidays
Christmas in Medellin
Medellin is renowned for its famous Christmas lights show. The National Geographic called them some of the best in the world – which makes it a bucket-list item for sure. Each year, the lights follow a theme and tell a story, and the city has a budget of up to $10 million USD to do so. Whether travelling with children, a partner, or friends, the beauty of Medellin's Christmas lights is not to be missed. In 2022, the lights are inspired by Disney's movie Encanto, and looks to be a spectacular show! The entire city will be transformed with millions of LED lights into the Disney story that captured so many hearts this year.
Explore the Pueblos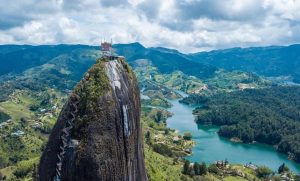 After Christmas in the city, it's time to check out the pueblos – the charming and traditional towns of Colombia. Close to Medellin you have Guatapé, Jardín, and Santa Fe de Antioquia. All three of these towns are picturesque and during the holiday period will be full of lights, color, and food. You can also travel to the coffee region (eje cafetero) to explore the postcard-pretty towns there. Salento and Filandia are two must-see towns in the area, and they also put on colorful light shows in the central squares and parks. You can even enjoy a spot of hiking if you want to burn off some of the calories from all those buñuelos. The Valle de Cocora is a stunning national park just a stone's throw from Salento, where you will find some of the tallest palm trees in the world – they grow up to 200ft tall!
New Year's Party in Cartagena
After taking in the wholesome traditions of the interior of Colombia, it's time to fly north to the Caribbean coast. Cartagena boasts tropical temperatures all year round, which makes it the perfect place to enjoy a rooftop bar, pool party, or yacht party in December! After all, there's never a better time to work on your tan than in the middle of Winter.
The events on New Year's Eve in Cartagena are some of the most epic in the country, and we at Two Travel have our names on the VIP guest lists for all the best parties. Make sure to book early to ensure your spot at the hottest New Year's Eve parties in town. You can also check out our post on NYE in Cartagena for some inspo to book those flights now.
New Year's Eve is truly one of the best nights of the year in Cartagena. And of course, get in touch with us if you're looking for the best prices on villas and yachts, because the holiday season can get expensive without local contacts.