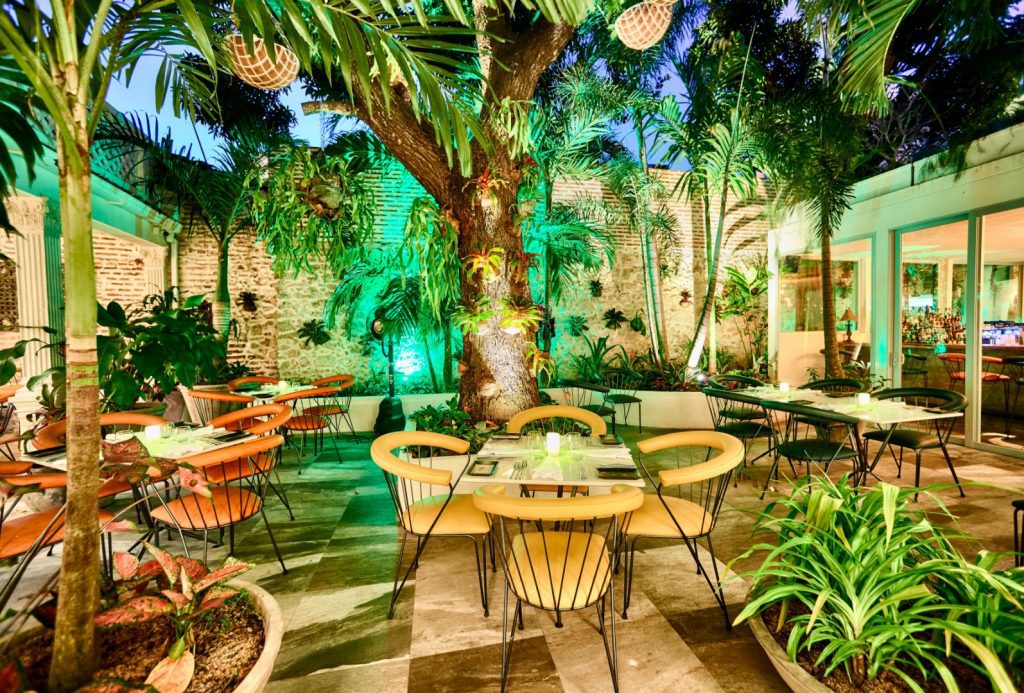 Foodies, rejoice! Gastronomy in Cartagena is BIG. Hidden amongst the cobbled streets of the walled city are some of the most talented chefs in Colombia. Wining and dining is our passion. We know all the best restaurants in Cartagena, from the classics to the new kids on the block. Read on for our definitive guide to the best restaurants in town.
Cartagena, being a touristic city, is a gastronomical melting pot. You can find an abundance of traditional dishes from the Colombian coast such as coconut rice, fried fish, and patacones. However, you can also find a varying range of flavors like Asian, Italian, Lebanese, Spanish, and everything in between. Due to its privileged location on the Caribbean coast, you can also expect some of the best (and freshest!) seafood of your life. It's possible to eat at a different restaurant for lunch and dinner for every night during your trip to Cartagena, and still not even scratch the surface of the incredible restaurants that are on offer.
Along with the enormous variety of cuisines, Cartagena also has a huge variety of prices. From haute cuisine fine dining experiences at Alma or Carmen, to casual courtyard dining at La Cevichería, to $2 street pizza at Zazzy's, there is something for everyone on the Cartagena restaurant scene. Some finer restaurants do have a dress code, so keep this in mind and save your sliders for the poolside, and get your long pants pressed! In Cartagena, high season is almost all year round, so make sure to make reservations in advance, especially if you have a bigger group and are looking to dine out on a weekend.
Don't speak Spanish, or simply don't fancy spending your well-earned vacay on hold? We got you! Just hire our concierge services. We can call in for you and make any and all reservations you need.
Best Restaurants in Cartagena's Centro Neighborhood
Cartagena's historic center – known locally as Centro – is a hub for restaurants, bars, and villas. It is usually here where you can find some of the more high-end establishments. Most restaurants in Centro can be found inside beautiful 17th Century colonial buildings. They are rustic and visually stunning – often boasting internal courtyards, exposed brick arches, and palm trees. Dining in a colonial house adds to the irresistible charm of the Cartagena experience.
Carmen Cartagena – Best for fine dining Colombian fusion
Head chefs Carmen Angel and her husband both studied at Le Cordon Bleu, the most prestigious culinary institution in the world. Their experience and passion for local, fresh ingredients make Carmen Cartagena stand out above the rest. The restaurant is situated in an intimate and elegant colonial house downtown, and the menu is a celebration of local flavors, many of which are unique to Colombia. At their Cartagena restaurant, they also serve freshly caught lobster, octopus, and crab, presented in unique and creative ways. At Carmen, every plate is a work of art. Their à la carte menu is your best option for an optimal dining experience. Every tiny detail is executed to perfection, from the attentive service to the award-winning wine list and the innovative craft cocktails. For anyone looking to impress – think proposals, anniversaries, or milestone birthdays, Carmen is the place to come. 
Price: $$$
Dress code: Smart 
Reservations needed?: Yes
La Cevichería – Best for seafood and people-watching from the plaza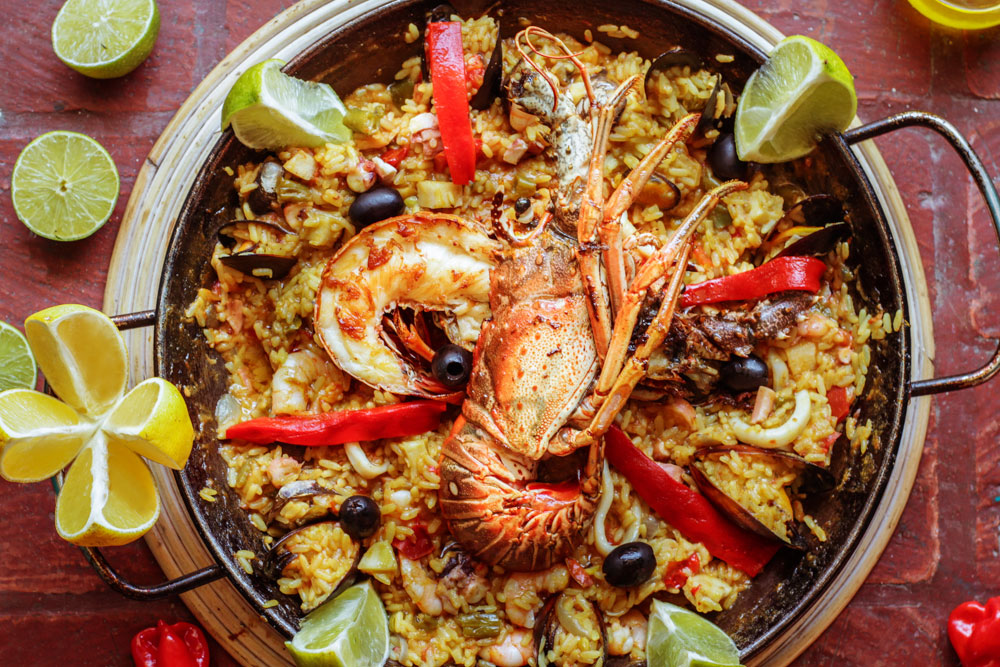 If you went to Cartagena and didn't pass by La Cevicheria, did you really even go to Cartagena? This cute seafood restaurant perched on the corner of Plaza San Diego may seem small and unassuming, but don't underestimate it, as La Cevichería is infamous in Cartagena. It even appeared in restaurant magazines and TV shows when Anthony Bourdain visited on his show 'No Reservations'. Its blue and white color scheme and outdoor dining tables give off a Mediterranean vibe, with a Caribbean twist. The food is also fresh, healthy, and Mediterranean-inspired with a distinctly Colombian flavor. The use of coconut gives a strong nod to the Caribbean, and its homemade hot sauce is unbeatable. So grab a seat, and enjoy the spectacle in the plaza put on by the famous Cartagena street performers (here, Michael Jackson is well and truly alive and comes out to dance every night).
Price: $$
Dress code: Casual
Reservations needed?: No reservations accepted, get there early and queue!
UMA Cantina Peruana – Best for authentic Peruvian
Come join us for a Pisco Sour at UMA restaurant in Hilton's Hotel Nácar inside the Old City of Cartagena. This remarkable Peruvian-inspired restaurant will soon also be opening doors in Medellín and Miami. There will be no need to travel to Lima as you can find the best Peruvian gastronomy right here in Cartagena. From traditional ceviches to tiraditos (fish sashimi) and anticuchos (beef heart), it couldn't get more authentic than this. The food is fresh, colorful, and visually stunning. We loved the grilled octopus with bok choy and shiitake mushrooms. It was truly some of the best octopus we have tried – and we know our seafood! We also still salivate thinking about the black spaghetti with tiger milk and prawns. You can even get the famous Inka Kola (if you've been to Peru, you will recognize this fluorescent green soda). UMA is perfect for a romantic night on a special occasion, or for exploring the majestic flavors of Latin America with friends.
Price: $$$
Dress code: Dress nice
Reservations needed?: Recommended
Restaurante La Única – Best for authentic Mexican food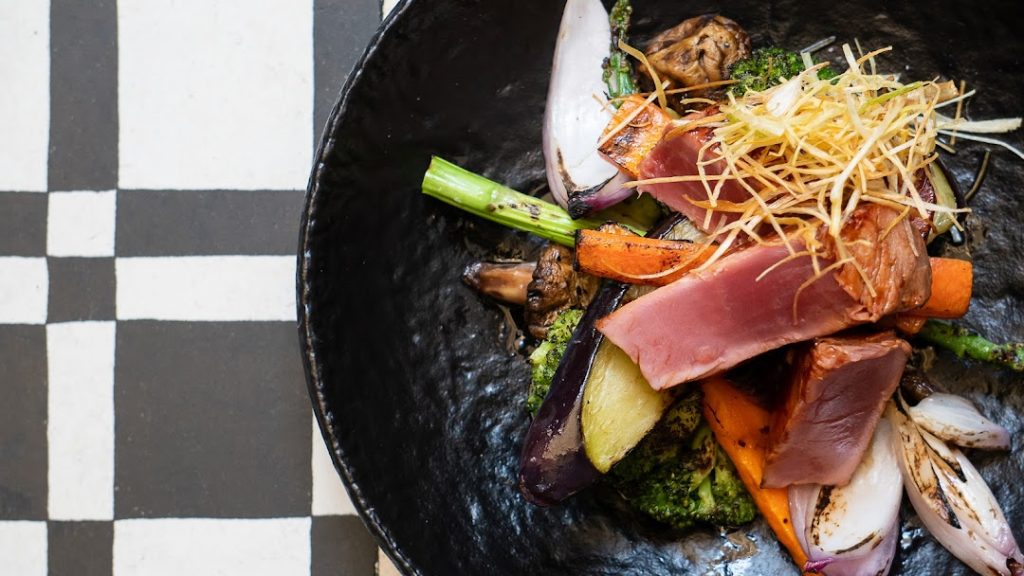 If, after a few days in Cartagena, you have eaten yourself into a ceviche and lobster stupor and want to try something different, we absolutely love La Única. It's a Mexican restaurant that actually has branches in Mexico – so you know it's legit. This modern cantina will take you far away from the stereotype of a Mexican restaurant and allow you to focus on the quality and artistry of its food. From tacos and guacamole to grilled octopus and juicy steaks, La Única Cartagena will not disappoint. This restaurant is the perfect place to come with a group of friends, as it has a fun, playful vibe and has great music – from in-house DJs to live mariachi bands. Share a tequila or two with friends and let the good times roll!
Price: $$
Dress code: Smart/ Casual
Reservations needed?: Highly recommended 
Lobo de Mar – Best for Mediterranean fusion with style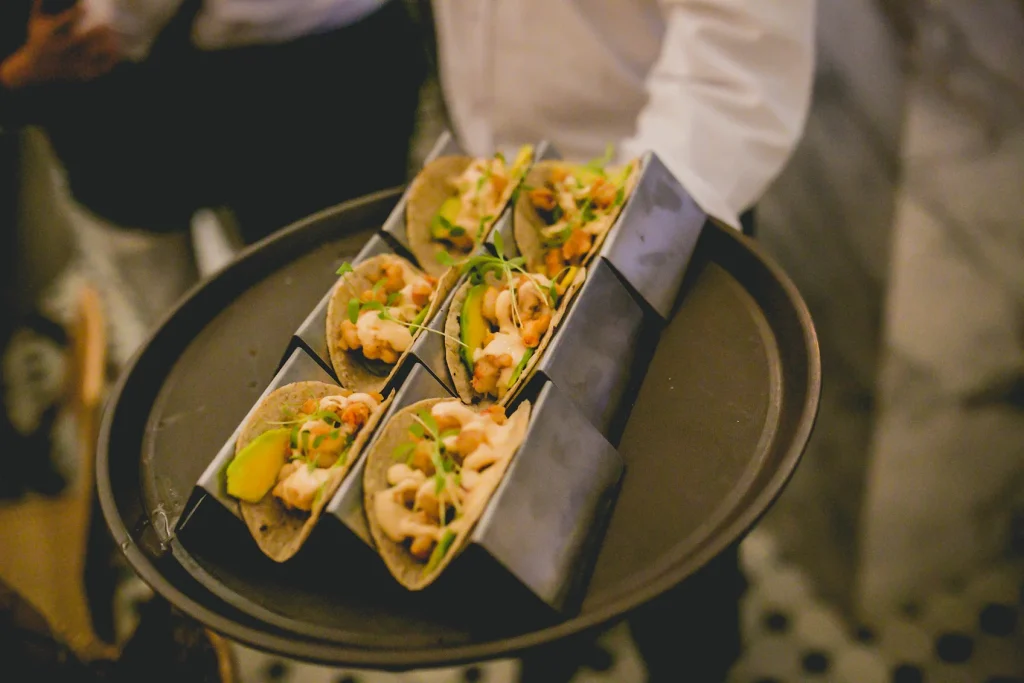 The owners of one of our favorite clubs in Cartagena – La Movida – also have a restaurant in the center of Cartagena. We knew their taste was impeccable, as we always have an amazing time at La Movida. So it was no surprise to find Lobo del Mar quickly becoming one of our go-to options in Cartagena's gastronomy scene. The menu is extensive and varied, but everything is exquisitely prepared. From fish and seafood (the tuna tartar is unmissable) to burrata pizza in their wood-fired oven, to pork belly bao, everything is spot on. The décor is distinctly Cartagenian; you will be charmed by their high ceilings, vintage tiles, and indoor plants. And don't leave without trying one of their signature cocktails, which are a celebration of local liquors, fruits, and flavors.
Price: $$
Dress code: Dress chic to go out clubbing afterwards
Reservations needed?: Not always needed but definitely recommended for bigger groups and peak times
Want to learn more about La Movida club and our other Cartagena faves? Check out our Best Bars in Cartagena blog!
Buena Vida Marisquería – Best for cheat day and good times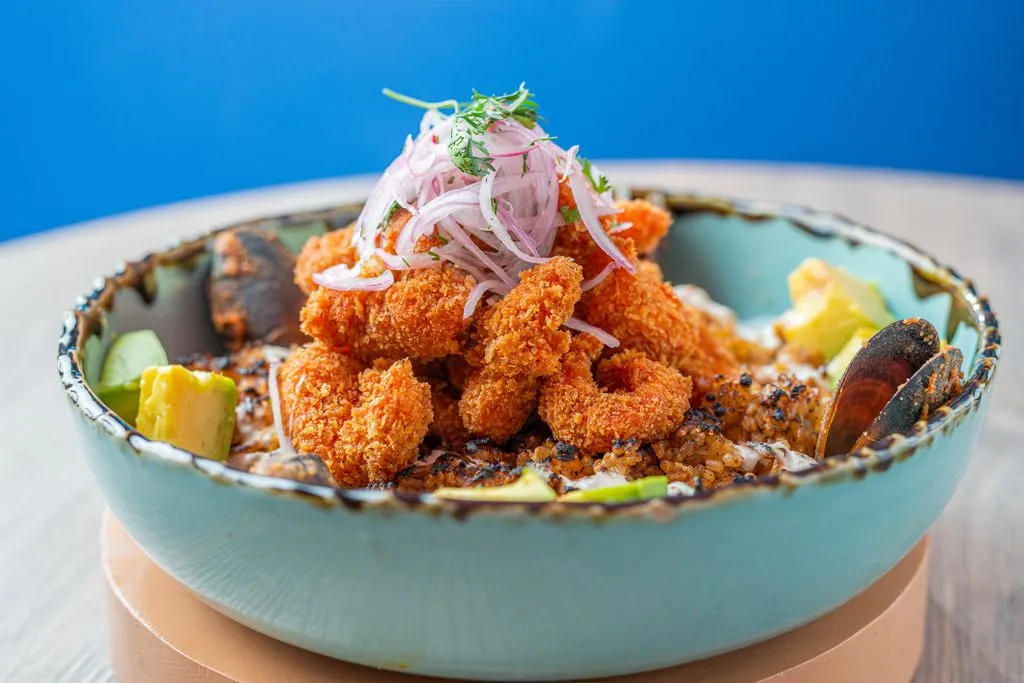 Everything about Buena Vida Marisquería – from the decoration, to the music, to the menu – characterizes the Cartagena we know and love. Colorful, fun, and irresistible are three words we would use to describe this seafood restaurant. While its dishes, such as the crab nachos, seafood mac and cheese and desgranado de camarones aren't light on calories, they sure are full of flavor. It's no coincidence that this restaurant's name means Good Life, as you are guaranteed to have a good time at this restaurant, which consists of 3 floors of deliciousness. The first two floors are for the seafood restaurant, and the top floor is an adults-only rooftop bar with an impressive cocktail menu and smaller snack options from the restaurant. Come with a group of friends to start off an unforgettable Cartagena night. 
Price: $$
Dress code: Casual chic
Reservations needed?: Highly recommended at peak hours
Candé – Best for an immersive Cartagena experience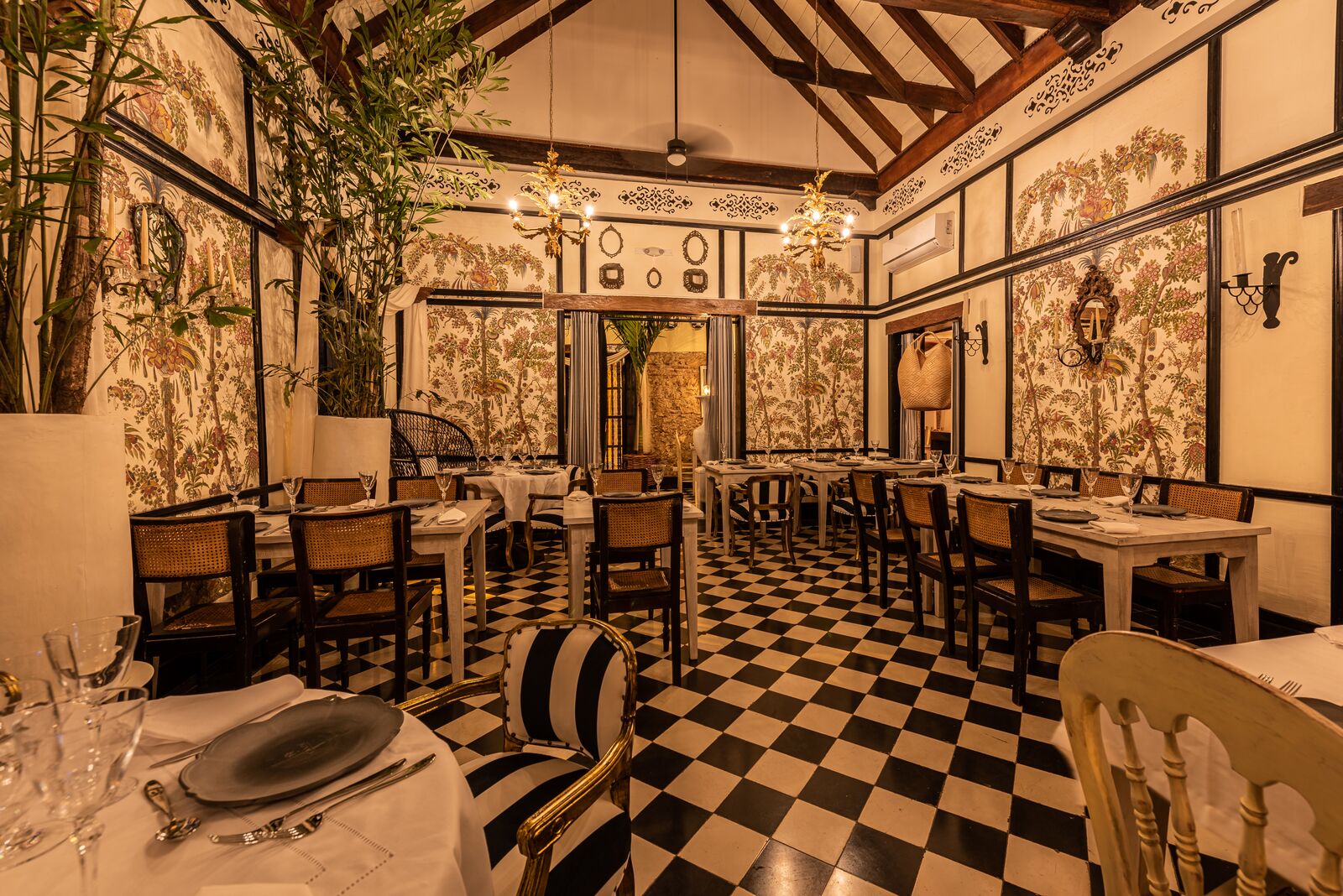 If Cartagena were a restaurant, she would be Candé. A lot of the culture of a city may come from its gastronomy, but we mustn't forget about the rest. Music, dance, and traditional dress are all things that Candé incorporates into its dining experience to ensure that its diners are fully immersed in the Cartagenero experience. Enjoy the live musical show at both lunchtime and dinner time, and watch professionals dance the Mapalé and Cumbia, traditional Colombian dances. Stimulate your senses whilst you tuck into some incredible food. Make sure you leave room for dessert, however, as their menu features local delicacies you won't find anywhere else in the world. Culture, music, and tradition all come together at Candé to provide an unforgettable experience for families, groups, and couples alike. 
Price: $$$
Dress code: Dress smart!
Reservations needed?: Yes. Make sure to request a table where you can see the show.
Cuzco Cocina Peruana – Best for Peruvian fusion
Feel free to cancel your upcoming flight to Peru, because Cuzco Cartagena has everything you need. Cuzco has really put itself on the map as one of the best restaurants in Cartagena. However, it is so much more than just good food. The entire experience offered at Cuzco Cocina Peruana makes for a fantastic night out. Enjoy live music by the glowing pool, some of the best ceviche in the city (and that's saying something!), and romantic moments below the Colonial arches. Make sure to try chicha morada, a traditional Peruvian drink, but stay for the lobster risotto, a Two Travel favorite. The three varieties of sangria are enough to give you a merry start to your night.
If you're looking for a lively restaurant with a youthful feel, you can also go next door to Baruco by Cuzco. There, you're also sure to find awesome food and great cocktails to boot.
Price: $$
Dress code: Smart chic
Reservations needed?: Book a couple days in advance
Agua de Leon – Best for sophisticated Colombian fusion
Agua de Leon is also a local designer brand for adults and (extremely stylish) kids. Their restaurant is on the same vibe as their clothes. Visually stunning, perfectionist by nature, and great to show off on a Friday night. Their Colombian dishes are a sentimental ode to traditional local flavors, but with a contemporary twist. The fried costeño cheese with truffle is the perfect example of this; mixing the familiar, salty flavors of any Colombian childhood with the sultry umami of truffle. The restaurant itself is an architectural beauty, reminiscent of some of our favorite restaurants in Provenza, Medellin. Understated yet elegant are the words to describe the experience at Agua de Leon, an unmissable experience on your trip to Cartagena.
Price: $$$
Dress code: Dress to impress
Reservations needed?: Yes
Alma – Best for a romantic gourmet meal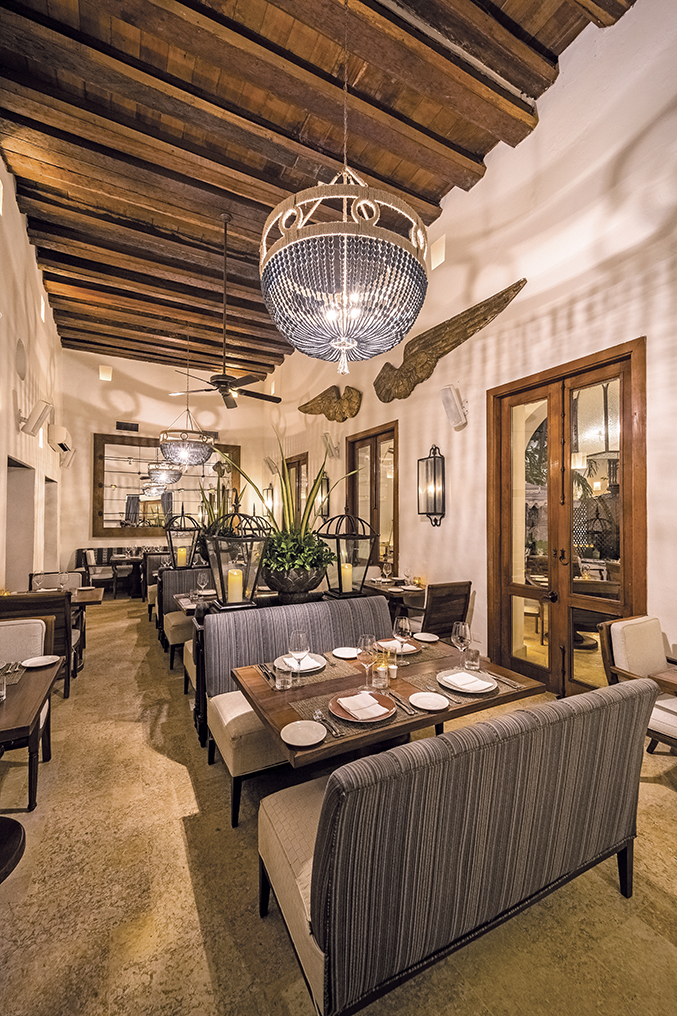 Situated in the super stylish boutique hotel Casa San Agustín, Alma is fast-becoming known as one of the unmissable culinary experiences in Cartagena. Its gastronomic concept pays homage to Caribbean Colombian cuisine and its traditional flavors, with a high-class and contemporary twist. We love going on weekends to enjoy the live Cuban son music, and the atmosphere is always warm and inviting. It's the perfect spot for a romantic meal. Although fresh fish and seafood are the stars of the menu, Alma also offers vegan options and premium cuts of meat.
Price: $$$
Dress code: Smart. Long pants and closed shoes for men are a must.
Reservations needed?: Yes. Reservations are tricky so book ahead.
Best Restaurants in Cartagena's Getsemani Neighborhood
Getsemani is Centro's younger, cooler sister. It's the nightlife district where you can find the majority of the clubs and bars. People also gather at a central square, Plaza de la Trinidad, at night, to drink beer and watch street performers. It has a lot of incredible restaurants tucked away inside the colonial arches of its cobbled streets. Read on to find our favorite restaurant recommendations in Getsemani, Cartagena.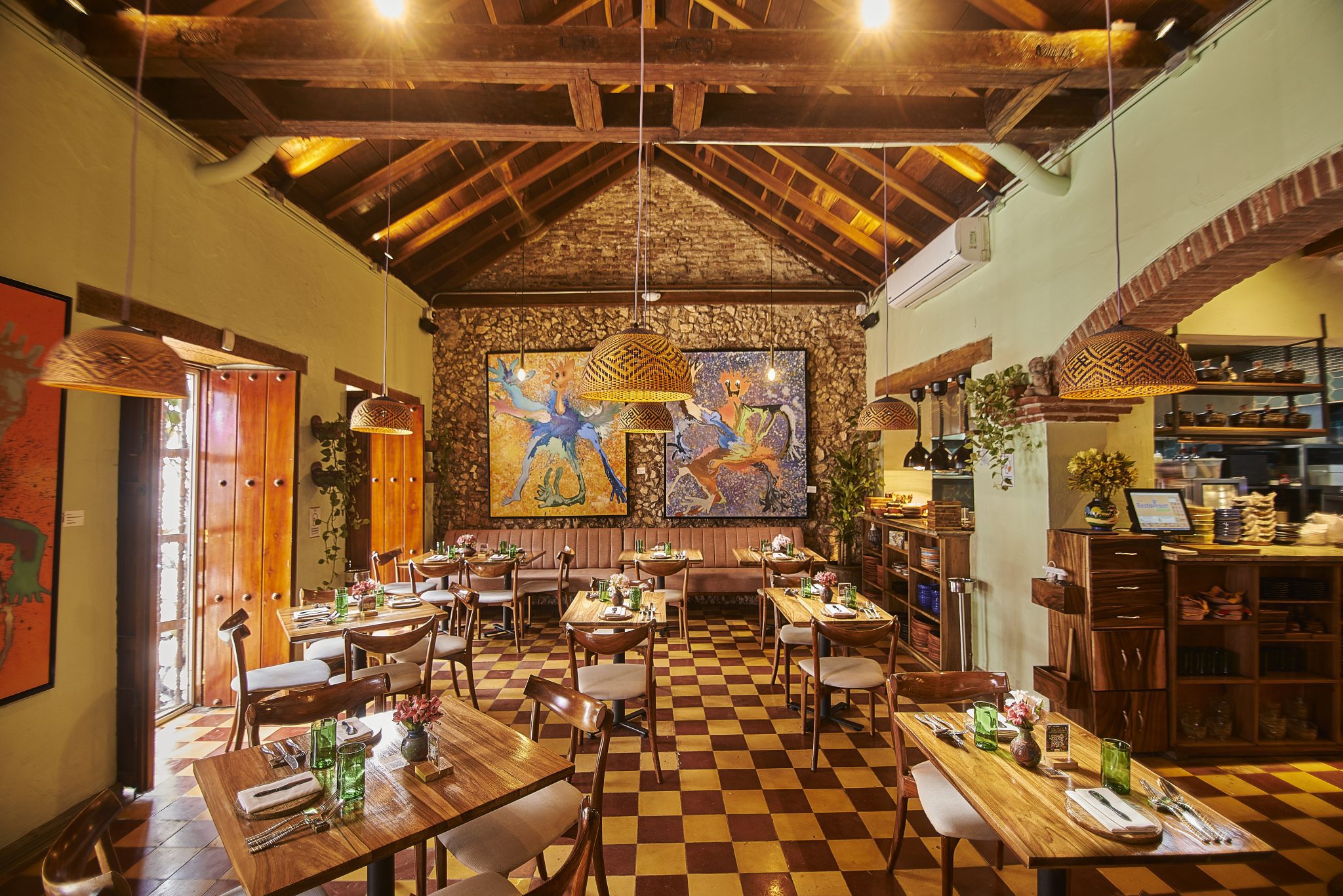 Celele by Proyecto Caribe Lab – Best for a gastronomical experience 
Hidden away in an unassuming colonial house in Getsemani, the bohemian neighboring barrio to Cartagena's walled city, lies Celele. Voted as one of the "50 Best Restaurants 2020" and winning multiple other awards for their innovative menu and concept, chefs Jaime Rodriguez and Sebastian Pinzón have really hit the nail on the head. Celele is more than just a restaurant; it is a study of gastronomical anthropology. The chefs have travelled Colombia, talking to indigenous peoples and rediscovering long-forgotten flavors and methods. The food is visually stunning, and each dish has a profound cultural significance behind it. Celele restaurant celebrates the rich biodiversity of Colombia, taking humble ingredients and giving them a high-class spin. 
Price: $$$
Dress code: Smart casual
Reservations needed: Yes
Want to know more about bars in Cartagena? Check out our Guide to the Best Bars in Cartagena!
Calle Dragones – Best for a trip to Cuba's Golden Age
If the streets of Cartagena remind you of Cuba, Calle Dragones bar and restaurant will transport you straight to 1950s Havana. This charming joint is perched on top of the famous salsa club La Habana in Cartagena's buzzing night district, Gesemani. It was designed with an old cabaret in mind, evoking the golden age of Cuba. Everything about it exudes luxury and glamour; and you can enjoy food, drinks, and music in all of its three ambiences. Cuban chef Luis Pous explores, through his food, Cuban gastronomy and its Asian influences. We loved the pork dumplings with kimchi alioli and truffle essence and the New York steak matured in Colombian coffee beans. The flavors are revolutionary for Cartagena, a city dominated by fish and pizza.
The cocktail menu doesn't fall far behind, and in Calle Dragones you can find some of the best cocktails in Cartagena. Certainly the best Old Fashioned. And, in true Cartagena style, you can enjoy the fresh air and live DJ from the rooftop terrace, while you watch the night revellers below you. And, of course, if you fancy joining them, you can pop downstairs to La Habana and dance the night away.
Price: $$$
Dress code: Smart chic
Reservations needed: Not necessary but recommended for busy dates
La Cocina de Pepina – Best for comforting Colombian home cooking
If you want to feel like you have been invited to the kitchen of a Colombian abuela, head down to La Cocina de Pepina. Located in a yellow Colonial house in Getsemani, this unassuming restaurant has won multiple gastronomic prizes. La Cocina de Pepina has local, fresh flavors and really captures the essence of local fare from Cartagena. Be prepared to try something new – whether it's the tart corozo juice – a local berry a bit like a cranberry – or the mote de queso. Mote (pronounced mo-tay) is a cheese soup thickened with yam and yucca – new comfort food unlocked!
You will soon be eating like a Cartagenero (local to Cartagena) as you fall in love with the diverse flavors of the Caribbean. With African influence and of course the influence of the offerings of the Caribbean Sea on its doorstep, Cartagena has a world of flavor. Come for lunch – but be prepared to wait for a table at this popular local spot!
Price: $
Dress code: Casual
Reservations needed: No reservations accepted. Be prepared for a short wait at busy times
Even more great Cartagena restaurants!
With so many restaurant choices in Cartagena, and new ones popping up every day, this list really could go on forever. We feel the need to make a few honorable mentions for some old favorites of ours with the Two Travel seal of approval. For those days when you really need a great steak, Quebracho Argentinian Grill is your best bet. They offer prime cuts any Argentinian would approve of. If Italian is your thing, Don Ignazio will transport you to the backstreets of Florence. Don't forget to stop by Verona for some of the best pizzas in Cartagena. If you loved Cuzco and are craving more Peruvian food in your life, definitely check out Gran Inka Gastro Bar. And finally, if you had a long night out on the town and dinner feels like a long time ago, head to Zazzy's Pizza in the Clock Tower Square to get an authentic New York slice until 3am.
Dining in Cartagena is nothing short of a cultural experience. Don't forget that we are here for you to make life as easy as possible. We can call and make reservations on your behalf, as well as resolve any other issues or questions you may have!
Don't work harder, work smarter, and let Two Travel Concierge take care of you and your group!