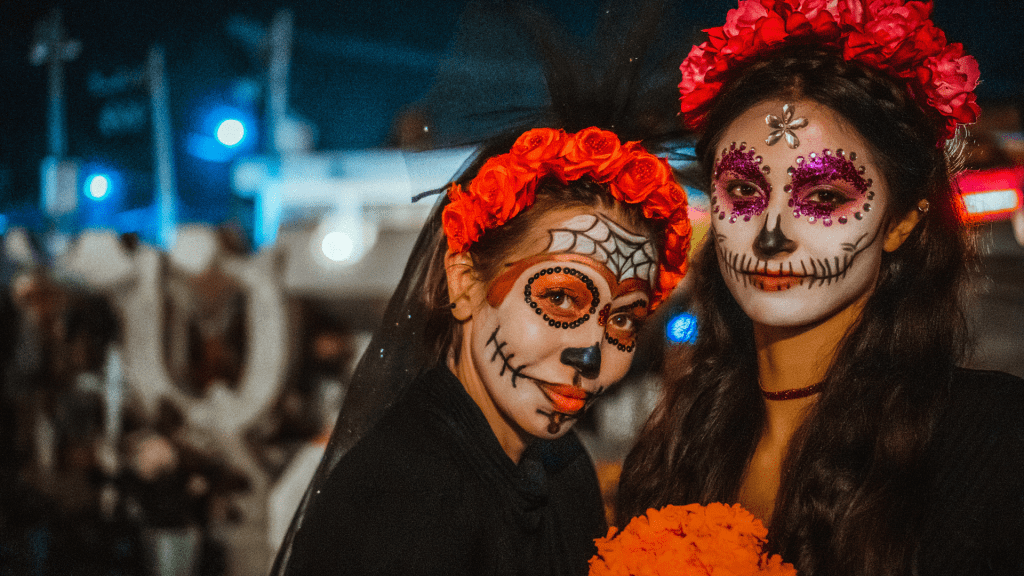 Mexico City is a bustling metropolis filled with history, culture, and vibrant traditions. And comes alive during the first days of November as it prepares to celebrate Dia de los Muertos. This captivating and deeply rooted Mexican holiday is a unique and exciting experience that allows you to connect with the country's rich heritage and celebrate life and death at its fullest. Here is our guide on what is dia de los Muertos, its importance, where to go and how to make the most of it.
Prepare yourself for a journey into a world of vibrant colors, exciting traditions, and an electrifying atmosphere unlike any other. Dia de los Muertos, the Day of the Dead, is a celebration that invites you to Mexico City, where life and death dance together in a kaleidoscope of hues and emotions. This captivating and deeply rooted Mexican holiday is an explosion of culture, a celebration of life, and a joyful remembrance of loved ones who have passed away.
Get ready to be swept away by the colorful and exciting world of Dia de los Muertos in Mexico City!
Start planning this amazing experience and let us be your local Mexico City guide even before you arrive. Two Travel can help build your journey – from accommodation to day trips to restaurant reservations and more.

Understanding Dia de Los Muertos, When and What to do
Dia de los Muertos, or Day of the Dead, is a Mexican tradition that honors and celebrates loved ones who have passed away. Far from being a sad occasion, it's a lively and colorful festival that reflects Mexico's unique blend of indigenous and Catholic traditions. The celebration spans from October 31st to November 2nd and is marked by various customs and rituals.

Ofrendas (Altars)
Families create ofrendas, elaborate altars adorned with photographs, favorite foods, and mementos of their departed loved ones. These altars serve as a way to welcome and honor the spirits of the deceased back into the world of the living.
Calaveras (Sugar Skulls)
Sugar skulls, intricately decorated with vibrant colors and elaborated designs, are a hallmark of Dia de los Muertos. These are often given as gifts or placed on ofrendas.
Marigolds
Bright orange marigold flowers, known as cempasúchil, are believed to guide the souls of the departed to the ofrendas. You'll see them everywhere during the celebration.
Catrinas
Elaborately dressed skeletons known as Catrinas are a prominent symbol of Dia de los Muertos. You'll find people dressed as Catrinas in all the parades and festivals.
Traditional Foods
Traditional Mexican dishes, such as tamales, pan de muerto (bread of the dead), and mole, are prepared and shared among families during this time.
The Importance of Dia de Los Muertos
Dia de los Muertos holds immense cultural and spiritual significance for Mexicans. It's a time when families come together to remember and celebrate their ancestors, reinforcing that death is not an end but a continuation of life. This celebration showcases Mexico's rich indigenous heritage, blending it seamlessly with Catholicism, creating a unique and profound experience for both locals and visitors.
If you need help planning your trip to Mexico, get in touch. We'll help you create a whole Mexico experience – helping you find accommodation, organizing transport and tours, and getting you that sought-after reservation.
Best Things to Do in Dia de Los Muertos
Parades and festivals are some of the most exhilarating and visually stunning aspects of Dia de los Muertos. These events provide a unique opportunity to witness the lively and colorful traditions associated with the holiday. Here are some of the most prominent parades and festivals, along with tips on when and how to enjoy them:
Desfile de Día de los Muertos (Day of the Dead Parade)
The main parade typically takes place on November 2nd, the culmination of the Dia de los Muertos celebrations. Arrive early to secure a good viewing spot along the parade route, which usually runs at Avenida Reforma. The parade features elaborate floats, giant Catrina puppets, marching bands, and people dressed in stunning Catrina costumes. Join in the festivities by wearing your own Day of the Dead-themed attire or face paint.
Mega Ofrenda at Zócalo
The Mega Ofrenda, a massive altar dedicated to the deceased, is on display in the Zócalo, the main square of Mexico City, throughout the Dia de los Muertos celebration.
Visit the Zócalo during your stay to witness this breathtaking ofrenda, which often has a unique theme each year. It's a free and accessible attraction that allows you to appreciate the artistic and cultural aspects of Dia de los Muertos.
Festivals and Other Traditions in Dia de Muertos
Festival de las Almas (Festival of Souls)
This multi-day festival typically takes place in late October and early November.
Check the festival schedule for events like live music, dance performances, art exhibitions, and workshops held at various venues across the city. It's an excellent opportunity to immerse yourself in the artistic and cultural aspects of Dia de los Muertos.
Coyoacán's Dia de los Muertos Festival
Coyoacán, a historic neighborhood in Mexico City, is renowned for its Dia de los Muertos celebrations. Stroll through its streets adorned with ofrendas, join in the festivities, and enjoy delicious traditional foods and drinks from street vendors.
Xochimilco's Day of the Dead Traditions
Xochimilco, famous for its picturesque canals and colorful boats, celebrates Dia de los Muertos in a unique way. Take a traditional trajinera (boat) ride adorned with marigold flowers and candles while enjoying live music and food. The atmosphere here is both festive and reflective, making it a memorable experience.
When attending these parades and festivals, be sure to arrive early, wear comfortable clothing, and bring cash for food, beverages, and souvenirs. These events are not just spectacles but opportunities to connect with the cultural richness and vibrant spirit of Dia de los Muertos in Mexico City.
If you are looking for the best neighborhoods and places to stay read our guide to Where to Stay in Mexico City
Other things to do and where to go to make the most of your Dia de Muertos experience
Explore Cemeteries
Visit the cemeteries, especially the renowned Mixquic Cemetery, which is beautifully decorated with candles and marigolds. You can witness families paying their respects and participating in nighttime vigils.
Artisan Markets
Explore the artisan markets, such as Mercado de Jamaica, where you can buy traditional Dia de los Muertos crafts, including sugar skulls and papel picado (decorative paper).
Museums and Galleries
Many museums and galleries host Dia de los Muertos exhibitions, providing insight into the history and artistry of the holiday.
Taste Traditional Foods
Savor authentic Mexican dishes at local restaurants and street food vendors. Try pan de muerto, hot chocolate, and other festive treats.
And now that you finally booked your trip to Mexico City you won't want to miss all the other things this amazing city has to offer so take a look at our Mexico City Experiences or contact us for a fully planned itinerary, we're here to help you have the best vacation.