Mexico City's size and diversity make it an endlessly exciting destination to explore. And while your trip schedule will probably include stops at most of its fascinating neighborhoods, choosing one to be your home away from home may not be that easy. Luxury rentals are available across the city's most appealing and welcoming areas, with three to five-bedroom apartments ranging between $200 USD to $750 a night.
And aside from price, it's always important to consider factors such as walkability, dining options, and energy levels –while some travelers may love the bustle and hustle of Centro Histórico, others may prefer the charming, almost rural vibes of Coyoacán.
With that in mind, we've rounded up a list of six of the most beautiful and exciting neighborhoods in the Mexican capital to help you decide.
Polanco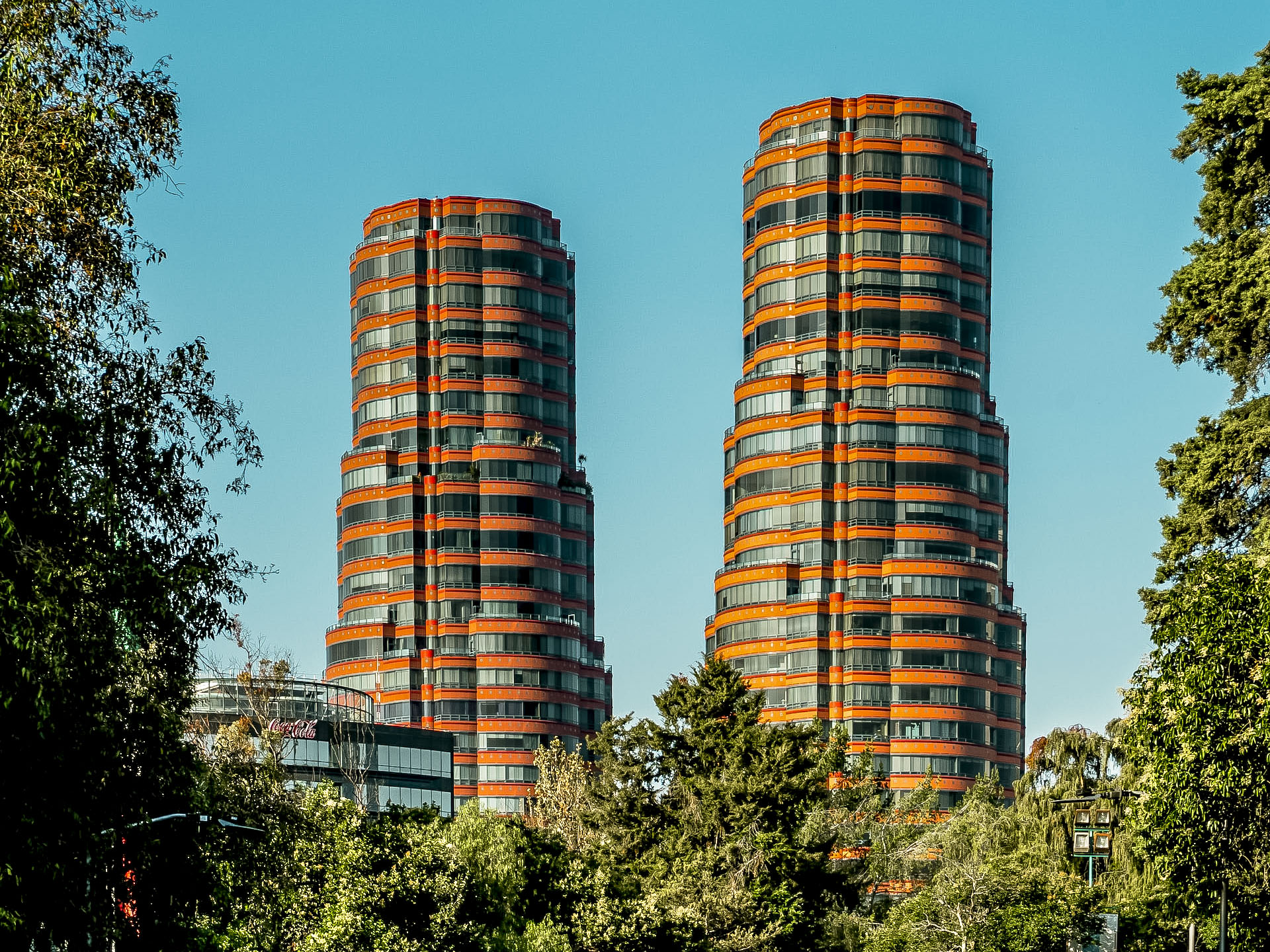 Many say Polanco is the prettiest neighborhood in the city, and it's easy to see why. Luxury condos stand alongside classic buildings, several parks allow for leisurely walks, and excellent dining options are found all across the area. In fact, some of the best restaurants in the entire country are in Polanco, such as the renowned Pujol and Quintonil. You will also find plenty of eateries around the lovely Lincoln Park, perfect for people-watching.
When it comes to shopping, there is no shortage of luxury brands here. On Presidente Masaryk avenue, you'll find designer boutiques like Louis Vuitton, Cartier, and Montblanc. The neighborhood is also home to El Palacio de Hierro, a luxury department store, and Antara Fashion Hall, an outdoor shopping mall with fashion boutiques, a movie theater, and plenty of restaurants.
It's no wonder that Polanco is the go-to neighborhood for in-the-know travelers. Hotels like W, JW Marriott, and Hyatt Regency stand on its beautiful Campos Elíseos avenue, while luxury rentals offer a local experience.
Condesa
Tree-lined streets, tranquil parks, and plenty of spots to dine and wine are part of the deal when you book a stay in this beautiful Mexico City neighborhood. Back in the early 20th century, the area was a horse race track, which is why its official name is Hipódromo Condesa, and you'll notice that one of its main avenues, Amsterdam, is a loop.
Condesa offers lovely apartments for couples and groups who are looking for that balance between being in the middle of the action and enjoying a more residential feel. A day in Condesa can be spent walking around and getting lost among its coffee shops (Quentin is a great choice for specialty coffee), restaurants (treat yourself to an Israeli feast at Merkavá or a Mediterranean lunch at Lardo), and design shops (find Latin American design at Cardón). For drinks, there are two new options to discover: Bijou, a sleek speakeasy, or Skybar, the rooftop bar at the Mondrian hotel.
Roma Norte & Roma Sur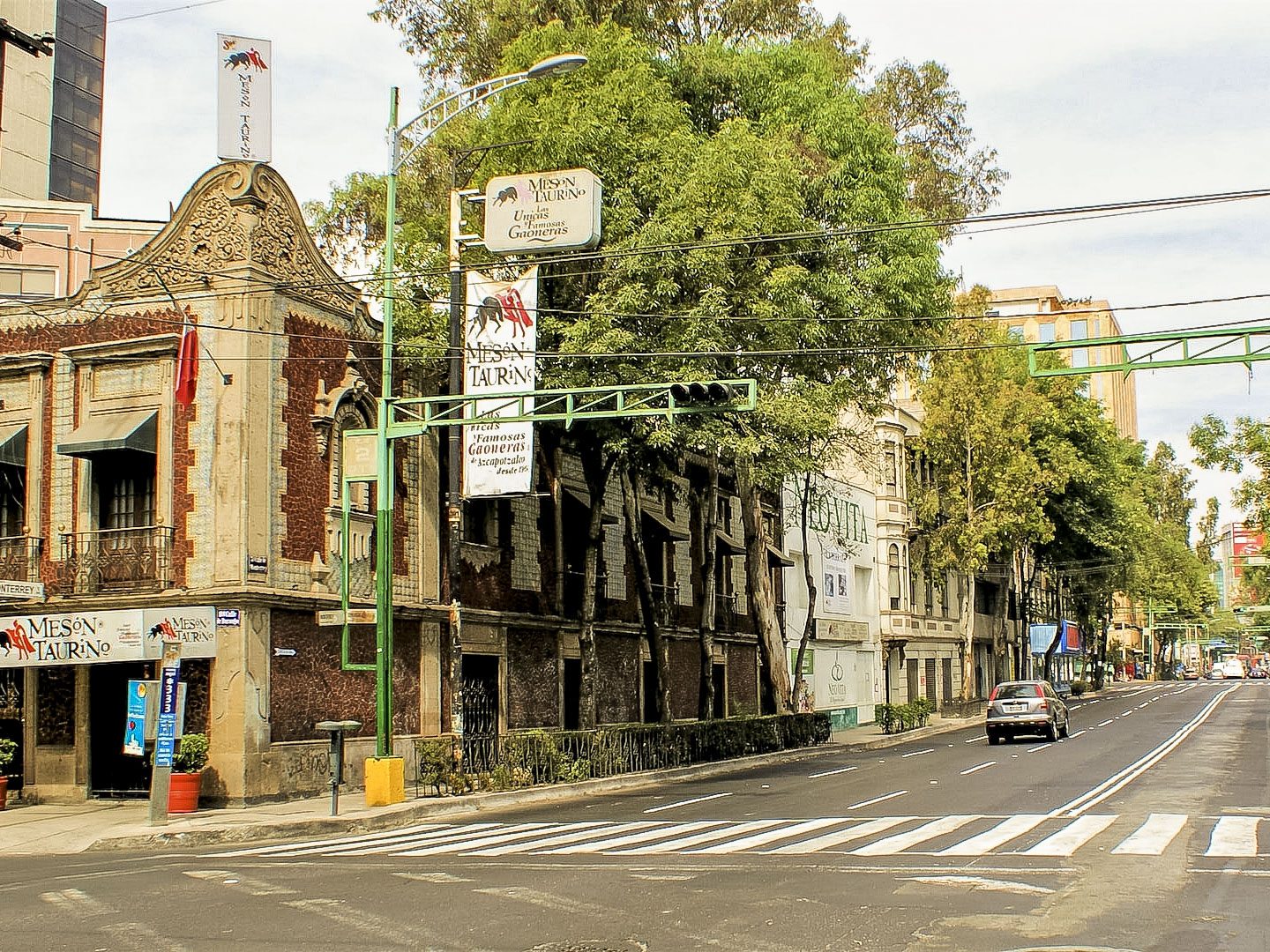 With a high concentration of restaurants, bars, and coffee shops, Roma Norte is a coveted destination for those who want to feel Mexico City's most energetic side. Eating and drinking take center stage here, with iconic fine dining eateries like Máximo Bistrot and Rosetta; as well as casual spots like Mi Compa Chava, a favorite among seafood lovers, or Dooriban, a cozy Korean joint. Cocktail lovers must make a pilgrimage to the legendary Licorería Limantour, the city's pioneering mixology bar, as well as new, daring concepts such as the women-led Brujas or the intimate 686 Bar.
However, there is more than meets the eye in Roma, and it is possible to experience a more low-key vibe in Roma Sur. Like its sister neighborhood, the Roma Sur area also boasts beautiful mansions from the early 20th century, echoes of the area's early days. Roma Sur highlights include Bacal, a cozy wine bar serving cocktails and tapas, and the eclectic Mercado Medellín, which sells an impressive array of South American products, a testimony to the neighborhood's diverse Latin population. This same energy can be found at Comedor de los Milagros, a fun restaurant featuring Latin American specialties.
Centro Histórico
The heart of Mexico City beats in Centro Histórico. Buzzing with activity, the streets of the historic downtown are lined with restaurants, cafés, and specialized shops selling everything from shoes to jewelry to books. Staying in this area means that you can walk among breathtaking historic buildings and easily explore some of the city's top museums and most iconic sites, such as the Palace of Fine Arts, the Zocalo square, the Metropolitan Cathedral, and the Templo Mayor Museum.
In fact, you can find one of the city's coolest lodging options right behind the Cathedral: Círculo Mexicano, a design hotel by the Mexican group Habita. This converted building boasts modern guest rooms and a lovely rooftop from where to admire the surrounding area. Círculo Mexicano is also home to Caracol de Mar, a delightful seafood spot by the team behind the iconic Contramar in Colonia Roma.
San Ángel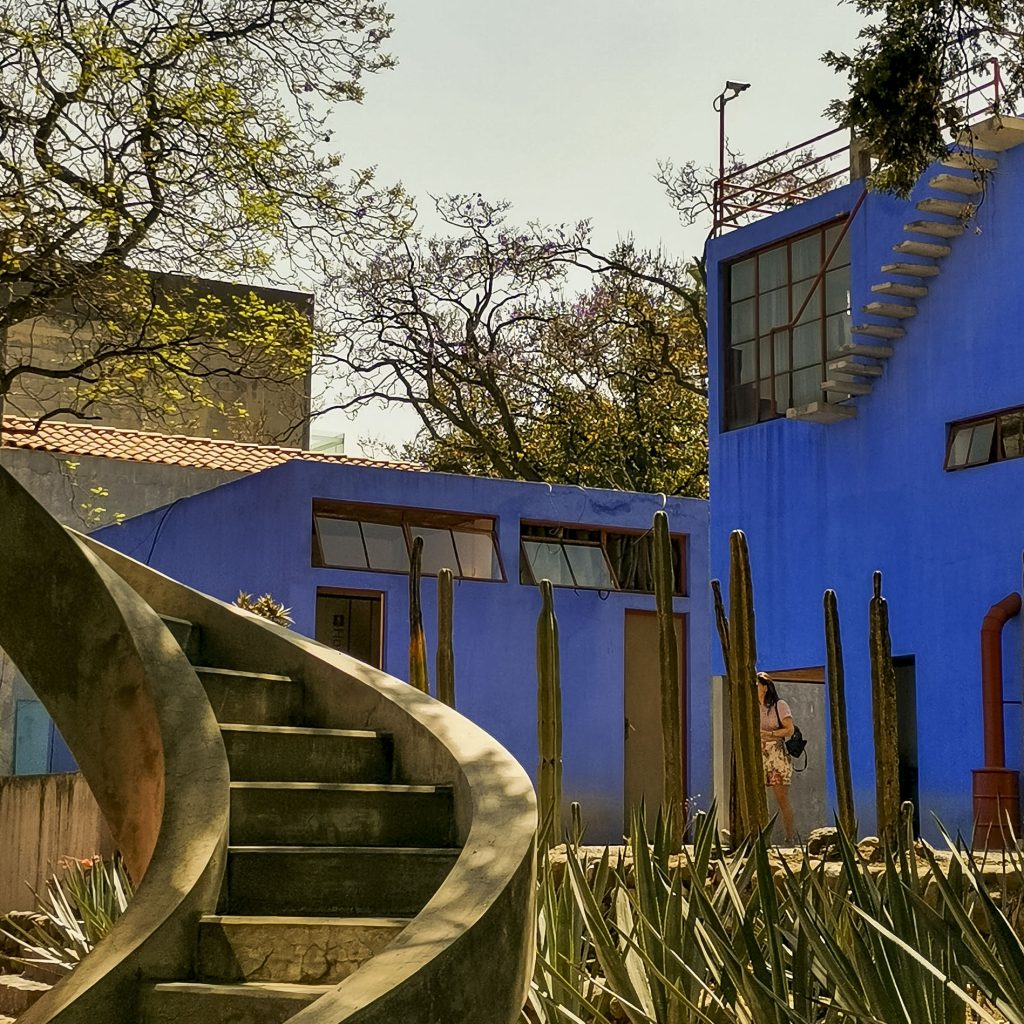 With its quaint cobblestone streets, bright bougainvillea flowers, and colonial architecture, parts of San Ángel might make you forget that you're in one of the busiest cities in the world. And there's a historic reason for that. This neighborhood was actually a rural area back in the 18th century, where wealthy Mexico City families owned gorgeous country houses for relaxing on the weekend.
Today, San Ángel boasts excellent museums, like Museo El Carmen, a former convent, and Museo Casa Estudio Diego Rivera and Frida Kahlo, where the iconic painter duo lived and worked. Just across the street stands one of the most beloved restaurants in the city: San Angel Inn, housed in an old hacienda and serving an extensive menu of Mexican and international specialties. Nearby, the charming Plaza San Jacinto becomes a veritable art fair every Saturday, with painters and artists exposing their work. Also on Saturdays, the aptly named Bazar Sábado welcomes Mexican craftspeople and modern designers to showcase their work.
Coyoacán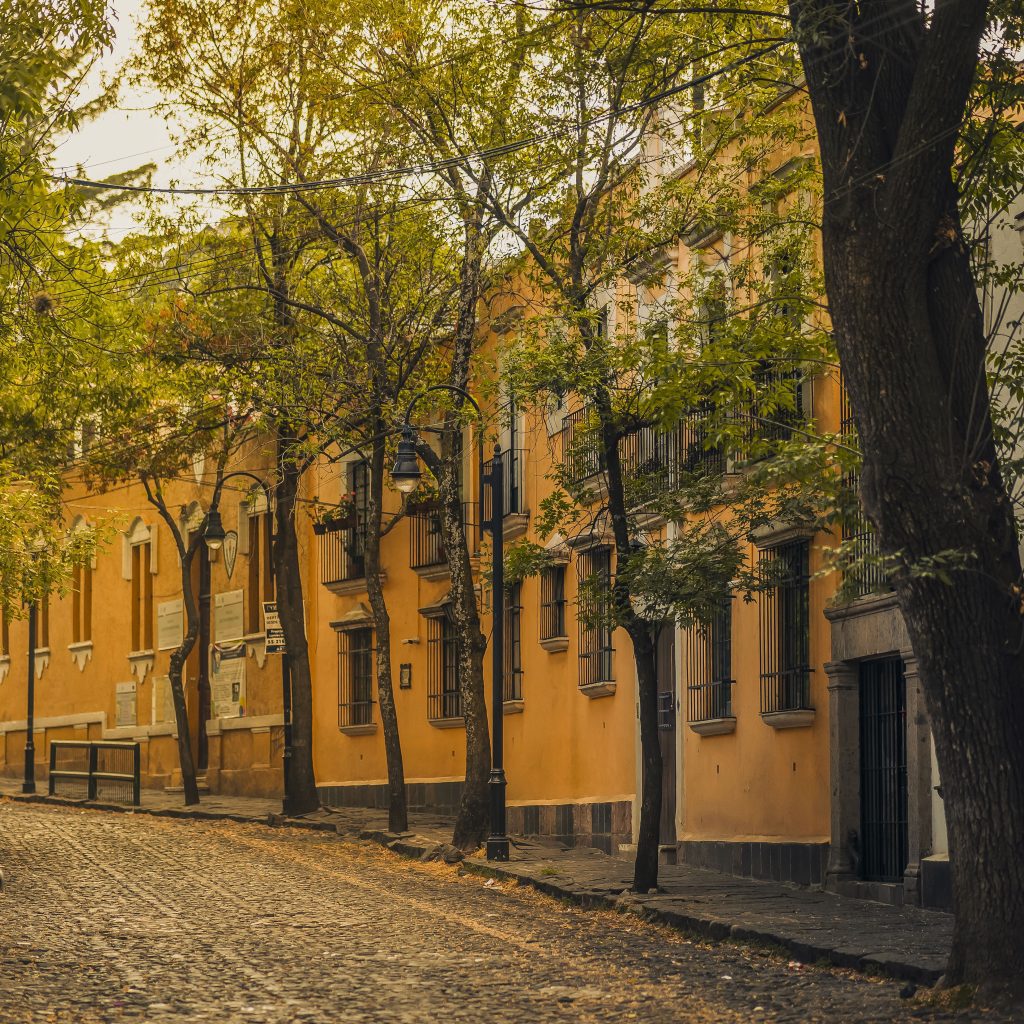 Located in the city's southern area, Coyoacán bursts with charm and culture. For centuries, the city's artistic and bohemian scene has found its soul in Coyoacán, with its coffee shops and mezcal and pulque bars. One of its most famous residents was, of course, Frida Kahlo, whose home became the unmissable Frida Kahlo Museum, also known as Casa Azul. Her husband, Diego Rivera, left a spectacular legacy at the Anahuacalli Museum, another neighborhood jewel.
Stroll around Plaza Centenario to absorb Coyoacán's magic and stop for delightful street snacks, like esquites (corn kernels with mayo, lime, and chili powder) or churros. Treat yourself to authentic Oaxacan cuisine and mezcal at Corazón de Maguey, or walk to the tiny Café Avellaneda for specialty coffee and original cocktails.
If you're planning a trip to Mexico City, contact us and we can help you to find the perfect apartment to stay in, especially for groups of 4 or more people. We can also plan your itinerary, setting up day trips, activities and restaurant reservations.