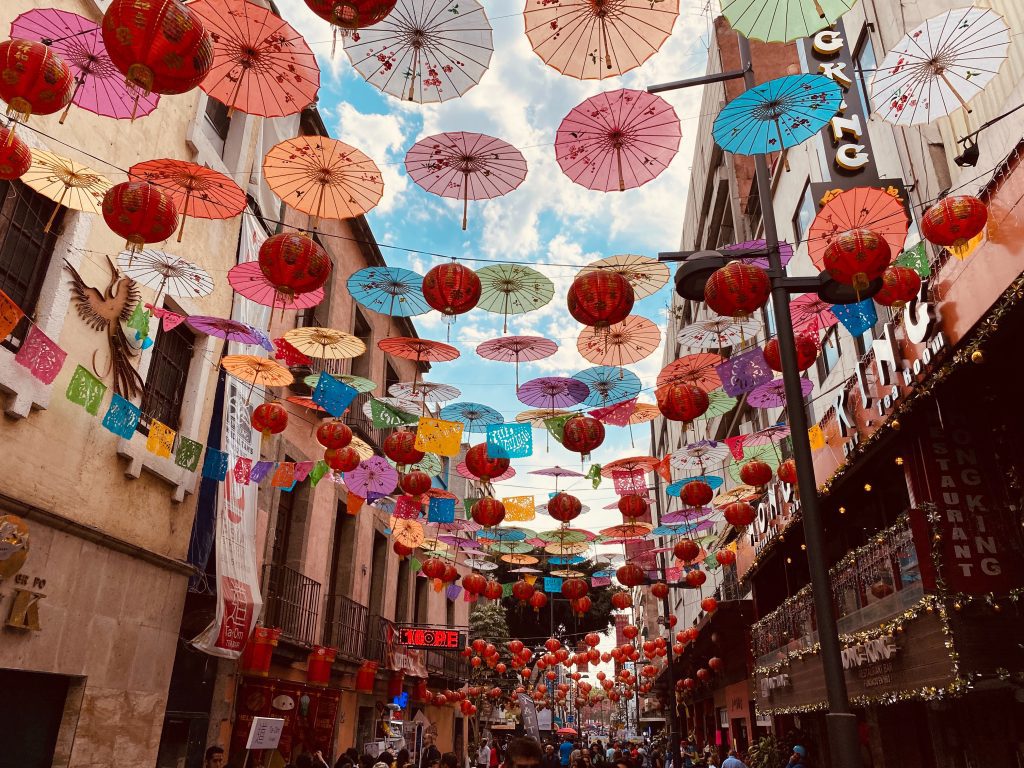 The start of a new year brings dreams and ideas to the horizon: where should we go next? With its incredible variety of natural ecosystems, rich history, incomparable cuisine and welcoming population, Mexico should be on top of your list. It's time to plan your Mexico vacation!
Traveling to Mexico is easy. You can fly from the United States to Mexico City and other top destinations, like Cancun, Mérida, or Oaxaca. It's also easy to take domestic flights from Mexico City, so you can extend your trip and explore other regions. The country's geographic position also makes it a convenient year-round destination. You'll find mild weather in the capital throughout the year, and warm, sunny weather in tropical areas nearly year-round. Aside from hurricane season, which usually lasts from July to November, you can plan your Mexico vacation without any complications.
Whether you are planning a trip with your family or your friends, Mexico has something that will charm everyone in your group. Below, you will find a selection of some of the best places to visit for your Mexico vacation.
Mexico City – for a vibrant, cultured Mexico vacation
A visit to the sprawling capital of Mexico is an adventure for the senses. History is alive in this city of more than 20 million, and so is a vibrant present, courtesy of its bustling culinary, artistic, and creative scene. Mexico City International Airport welcomes flights from all over the world. It's a convenient destination for travelers of all ages, as there's plenty for everyone to enjoy. Five to seven days are a good start to discovering this magnificent city. Although we have to warn you: you'll always be left wanting more.
With more than 150 recognized museums, culture is everywhere in this city. Major institutions include MUNAL, a breathtaking building that houses Mexican art produced between the 16th and 20th centuries; Museo Nacional de Antropología, with more than 5,000 pre-Hispanic pieces; and the stunning Palacio de Bellas Artes, where you will find murals by artists like David Alfaro Siqueiros and José Clemente Orozco.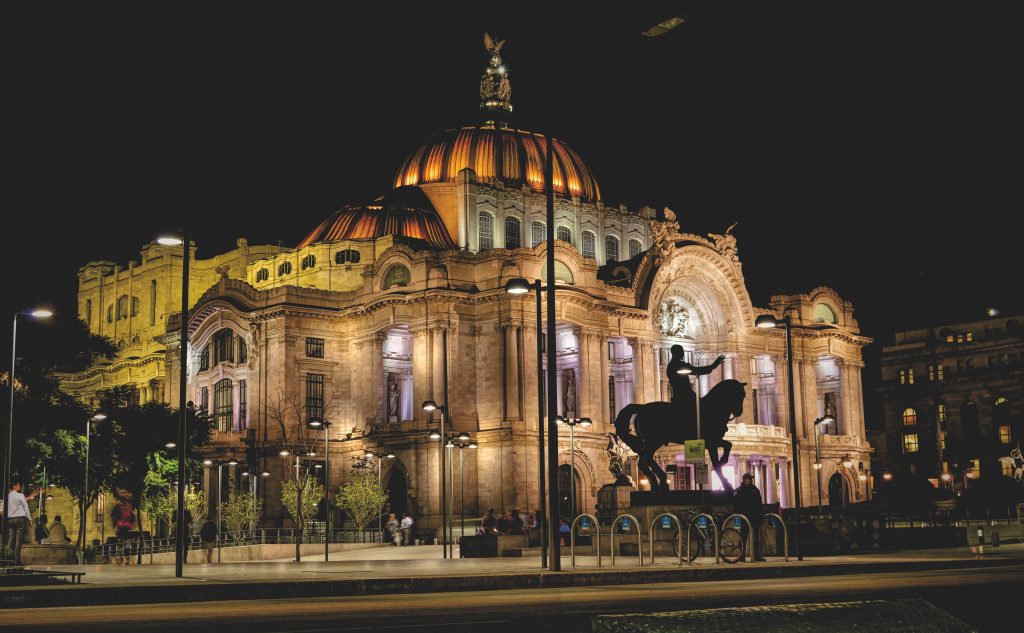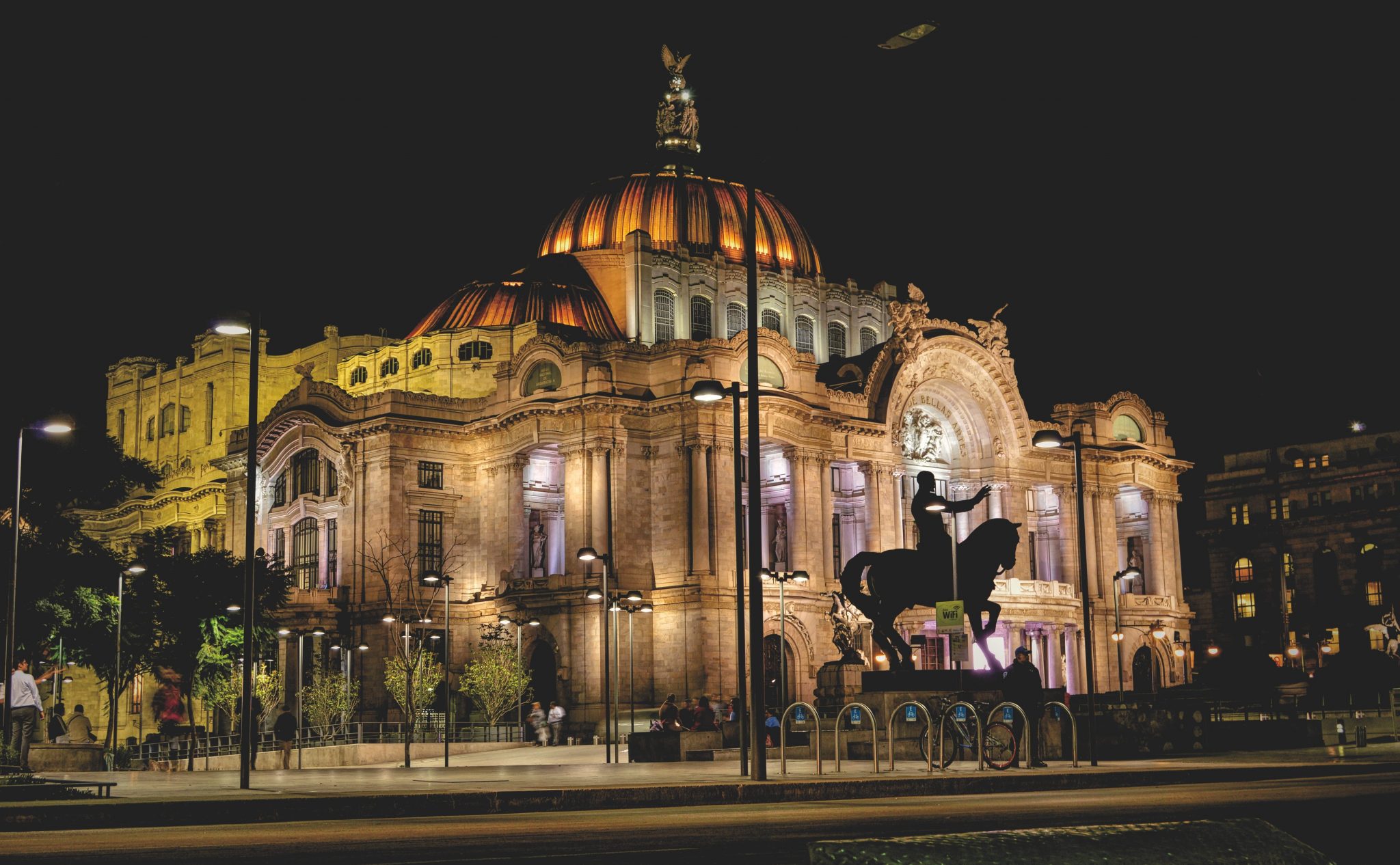 Mexico City's diverse neighborhoods are a treat to explore. Walk around the busy streets of Centro Histórico, where many of the city's historic and cultural sites are concentrated. Or stroll along the tree-lined sidewalks of Condesa and Roma, home to countless restaurants, cafés, bars, and galleries. In Polanco, you will find stylish boutiques and high-end restaurants,. And the south part of the city will surprise you with areas like Coyoacán and San Ángel, whose cobblestone streets and picturesque buildings will make you feel like you've left the big city for a few hours.
All across these areas, you will find countless options to delve into Mexico City's fascinating culinary landscape. From fine dining options like icons Quintonil and Pujol to casual eateries or irresistible street snacks, there is an immense variety of flavors, concepts, and budget options, too. Mexico City is also home to old-school cantinas, traditional mezcal bars, and modern, inventive cocktail bars, like the award-winning Licorería Limantour and Hanky Panky.
Take a look at our Guide to Mexico City's best restaurants for more recommendations.
Tulum and the Riviera Maya – for beach lovers
Turquoise waters bathe the coastline of the Riviera Maya, home to some of the most gorgeous beaches in Mexico. The area extends for 80 miles, from low-key Puerto Morelos to trendy Tulum. Here, you'll find an incredible range of options when it comes to lodging, dining, and activities, catering to travelers of all budgets and interests. As a region, it's high on the list of any Mexico vacation plan.
Party-oriented travelers will love Playa del Carmen and its bar-lined Quinta Avenida. Or visit Cancun, the area's first and largest destination, which offers world-class restaurants, all-inclusive resorts, luxury hotels, and an international airport that welcomes flights from the US, Canada, Europe, and South America.
For those who want a slow-paced trip with a deeper connection to nature, Bacalar is the place to go. Its famed Seven Color Lagoon is ideal for kayaking, swimming, and enjoying endless hours of relaxation.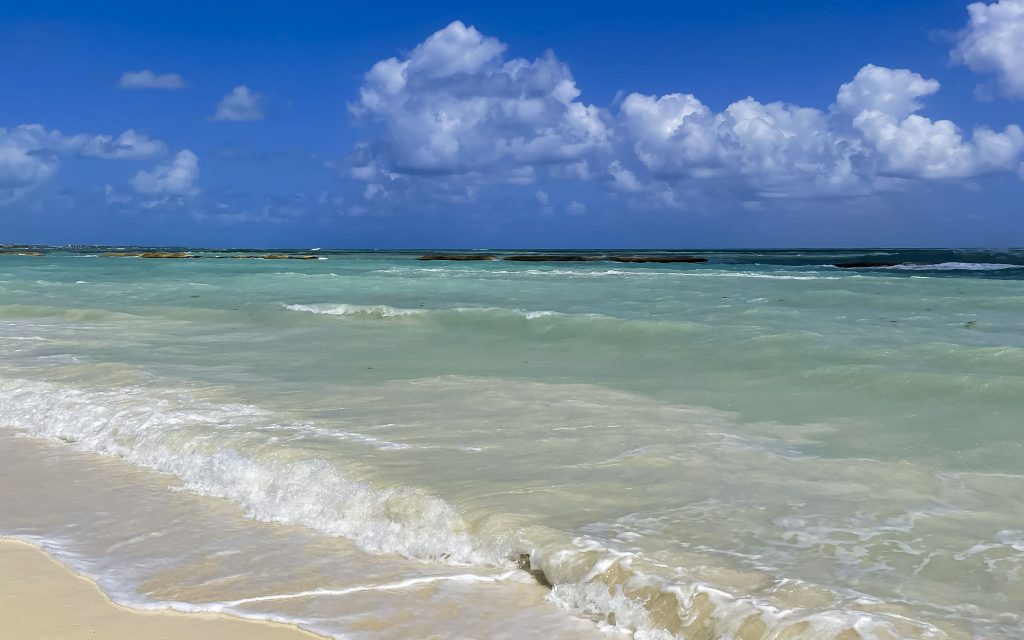 Tulum is, indeed, one of its most popular spots, where a bohemian lifestyle and modern luxury coexist in tropical harmony. There are plenty of lodging options to choose from in Tulum, from boutique hotels and larger resorts that have opened recently. A great choice for any group is a private villa where you can enjoy a personalized experience.
Riding a bike is the best way to explore this coastal town. And definitely spend a day in one of its beach clubs. Mia Beach Club and Papaya Playa Project are two of the liveliest spots. Check out cool boutiques like Kismet, featuring a fantastic eyewear selection, and In The Middle, focused on simple items made with sustainable materials. When it's time for dinner, make sure to book a table at Arca, where seasonal ingredients and open-fire cooking make for a memorable experience.
A visit to Tulum presents the unique opportunity to swim in a cenote. These natural sinkholes, which can be open or shaped like caves, are found all over the region. It's believed that there are more than 7,000 in the Yucatan Peninsula. The Maya considered cenotes to be the entrance to the underworld, and swimming in them is a truly unique experience.
Two Travel can help you with your Mexico vacation. We tailor trips for groups who want to start their vacation in Mexico City or Tulum. Get in touch and we'll help you build your journey. Or take a look at our recommendations for Things to do in Tulum this year.
Oaxaca – best for a foodie Mexico trip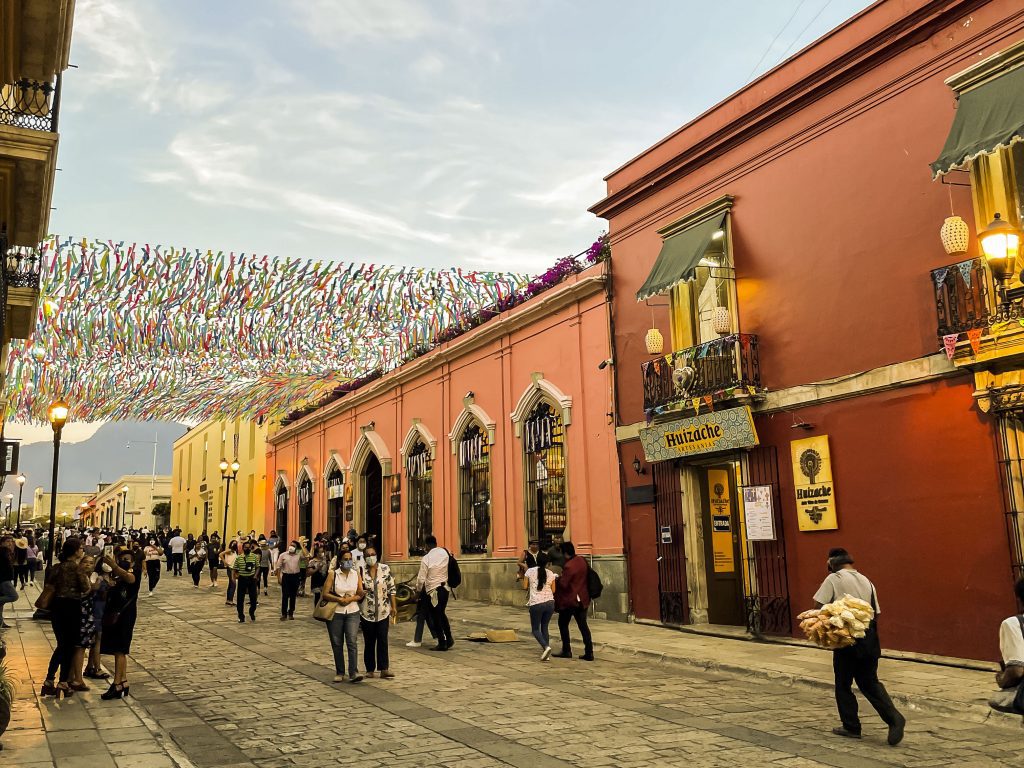 With a fascinating history, rich cuisine, and bustling art scene, Oaxaca holds the very best of Mexico. This beautiful capital city is a short flight from Mexico City (you can also fly nonstop from some US cities). It captures every traveler's heart within minutes of walking around its historic center. Its centerpiece is the church of Santo Domingo de Guzmán, a baroque masterpiece that boasts a gorgeous altarpiece inside. Highlights also include Centro Cultural San Pablo, an old convent that went through an impressive restoration. It now features a modern building that houses temporary exhibitions.
Just outside the city, you will find two of the country's most important archaeological sites. First is the breathtaking city of Monte Albán, which was once the capital of the Zapotec culture. And second is Mitla, a ceremonial site best known for the intricate carvings on its stone walls and columns. The most convenient way to explore them is by booking a tour through a certified provider.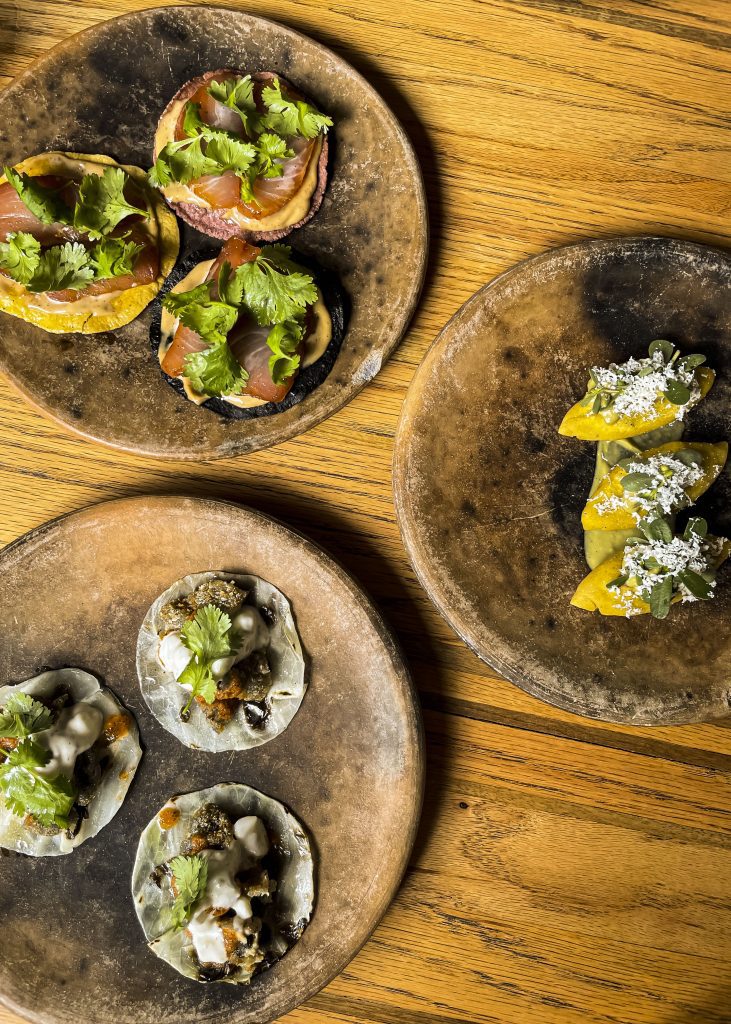 It's not an overstatement to say that many travelers come to Oaxaca to eat and drink. The city is home to eclectic food markets, like Mercado 20 de Noviembre. Here you can sample local specialties like cecina (cured beef), chapulines (toasted grasshoppers), quesillo (fresh string cheese), and Oaxacan hot chocolate. Among its many fantastic restaurants, check out city icons like Casa Oaxaca and Origen. They in turn paved the way for innovative concepts such as Criollo and Levadura de Olla.
When it comes to drinking in Oaxaca, mezcal is king. This agave-based spirit is produced in nine states in Mexico, but Oaxaca boasts two-thirds of the whole country's production. You will find this mystical liquid in pretty much any restaurant or bar across the city. We highly recommend booking a spot at La Mezcaloteca for a tasting of the most exquisite artisanal mezcal.
Mérida – to explore Mexico's history
Merida is the capital of Yucatán. It holds a rich Maya history and a colonial past. It's also one of the most thriving cities in the country today. This warm, welcoming city is as exciting for history buffs as it is for foodies and those who love a more relaxed approach to life. You can fly nonstop from Mexico City or from US cities like Houston and Dallas.
Stroll along Paseo Montejo, Mérida's main avenue, and take in the beauty of the grand colonial mansions. Some have been repurposed as restaurants, museums, hotels, and even banks. These buildings speak of the city's splendor during the end of the 19th century when the city and its surroundings were the centers of sisal fiber production.
In Mérida's beautifully-preserved historic center, you'll find the San Ildefonso Cathedral, the oldest cathedral in the country. On the same square, Dulcería and Sorbetería Colón serves the most famous ice cream in town. We especially recommend the coconut sorbet!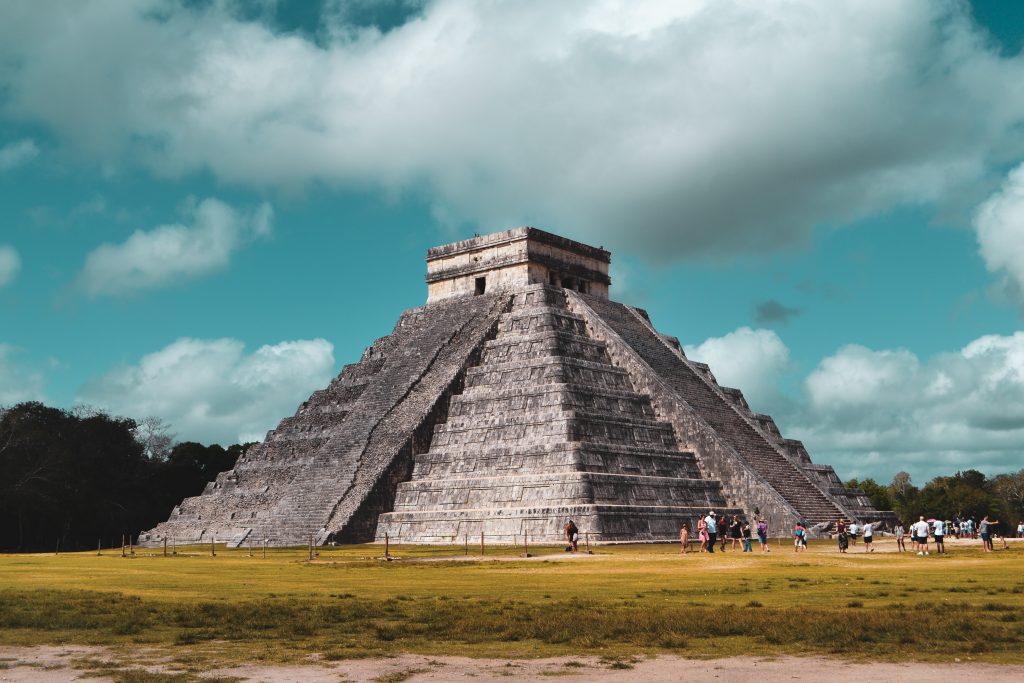 Speaking of treating yourself, Mérida is a true culinary paradise. Yucatán cuisine includes specialties like cochinita pibil, relleno negro, and sopa de lima, among many other dishes. Make sure to book a table at Museo de la Gastronomía Yucateca for a taste of authentic Yucatán cooking with a side of culture. For a high-end dinner, stop at the beautiful Kuuk, and if you're in the mood for a casual, authentic brunch, La Lupita serves unforgettable lechón (suckling pig) tacos and tortas.
Mérida is home to the Gran Museo del Mundo Maya, a modern building that will take you on a journey into the fascinating history of the Maya people through artifacts, textiles, and interactive exhibitions. Just two hours away from the city, the grand archaeological site of Chichén Itzá awaits. Named one of the New Seven Wonders of the World by UNESCO in 2007, this magnificent Maya complex features the iconic Kukulcan pyramid, a Ball Game court, and several platforms with intriguing panels and carvings. Book a certified tour and explore this stunning historic area.
San Miguel de Allende – a must for any Mexico vacation
This colonial city in Guanajuato constantly tops international lists on where to travel, and it's easy to understand why. Its colorful houses, cobblestone streets, and mountainous landscape give it a magical atmosphere, one that makes visitors want to come back time and again. It's just a three-and-a-half-hour drive from Mexico City, so it's pretty easy to keep the love affair alive.
Start your San Miguel exploration at the very heart of the city: the main square around the Parroquia de San Miguel Arcángel, the iconic pink limestone church that towers over the old town. Built in the 17th century, the church is open to the public and the setting for weddings and quince años, as well as for ordinary religious celebrations. Its unique towers were designed by stonemason Zeferino Gutiérrez and added in the 19th century. According to legend, the artist was inspired by a postcard of a Belgian church for his masterpiece.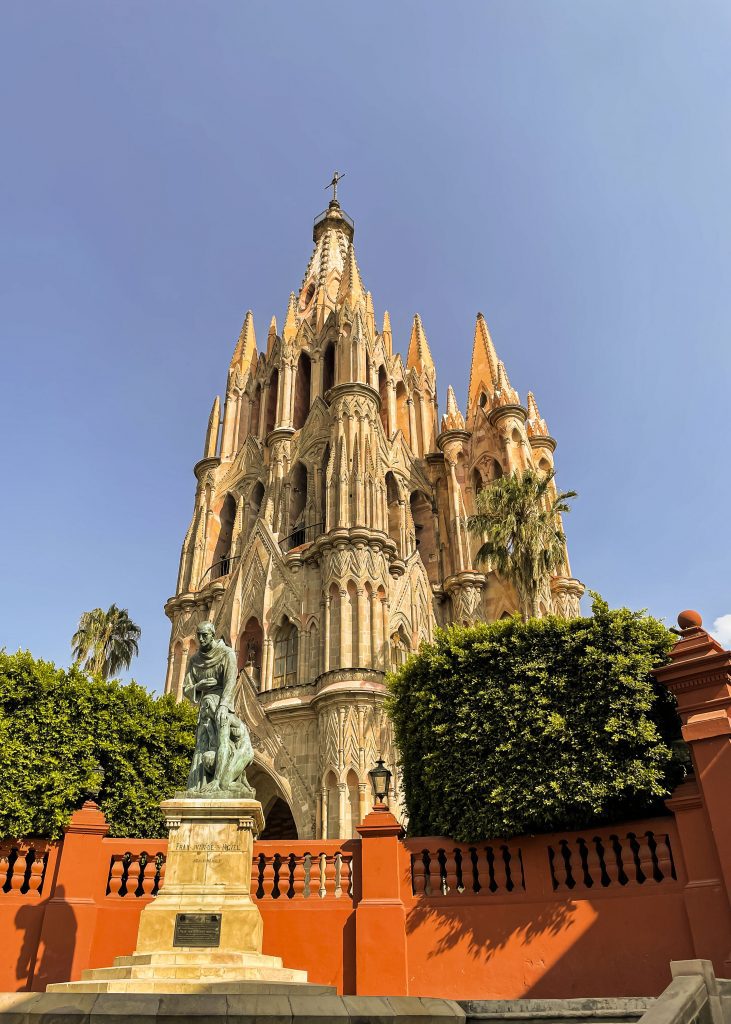 Around the square, there is no better plan than to walk around without any particular direction. The old town is packed with adorable boutiques and art galleries, such as Dôce18 Concept House, where you will find pieces by various Mexican designers. For authentic crafts, get lost in Mercado de Artesanías. A few minutes away, Fábrica La Aurora is a dream destination for furniture and home decor.
Thanks to its location in the Bajío region, San Miguel is at the center of an important sustainability and farm-to-table movement. Among its many delightful restaurants, local favorite Cumpanio doles out hearty brunches, excellent cocktails, and the best bread in town. Make sure to check out sister bakery Panio. And Luna Rooftop Bar, at the Rosewood San Miguel de Allende, offers delicious drinks and tapas with the best panoramic views of the city and its surrounding mountains.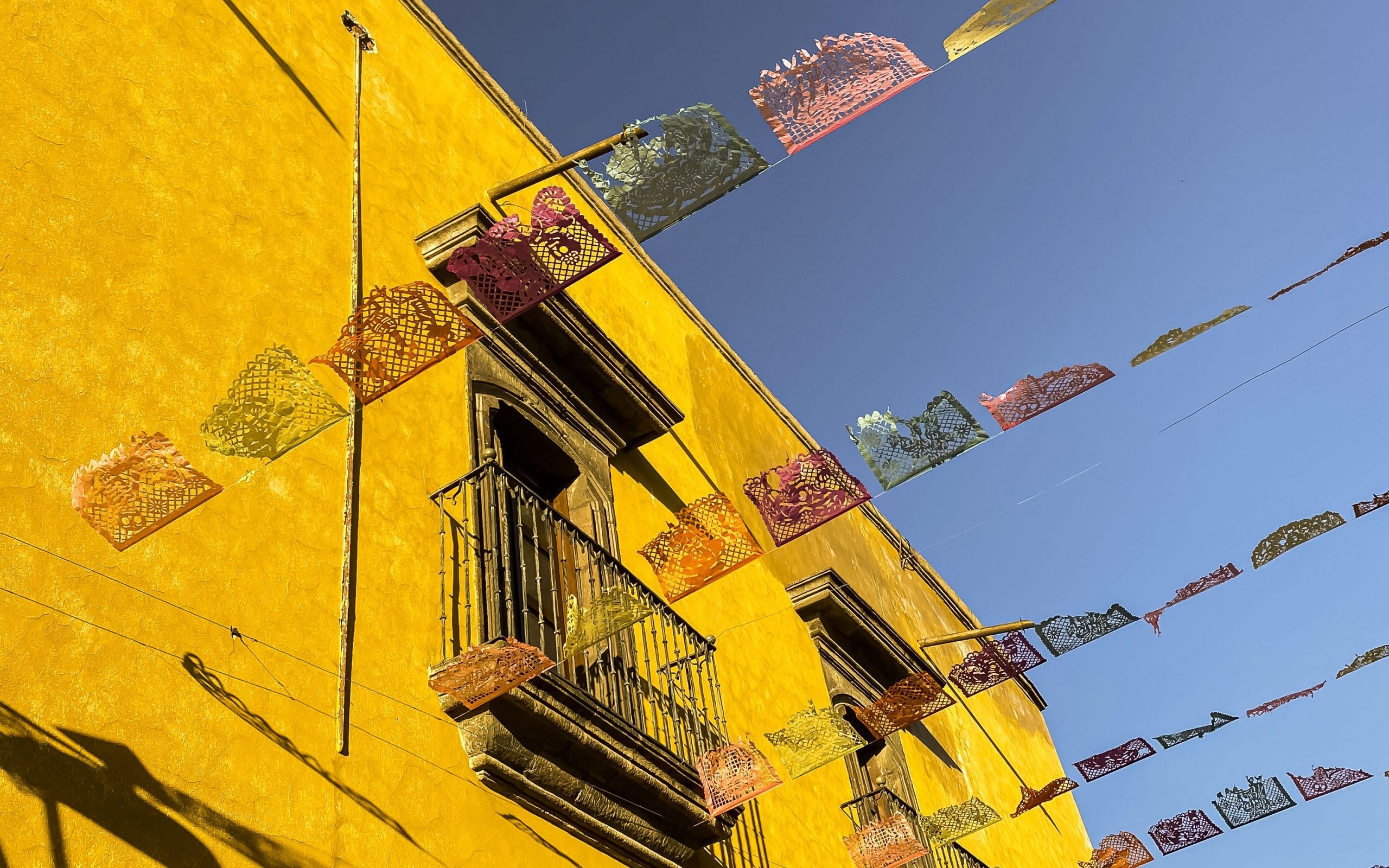 If you need help planning your trip to Mexico, get in touch. We'll help you plan your Mexico vacation – helping you find accommodation, organizing transport and tours, and getting you that sought after reservation.