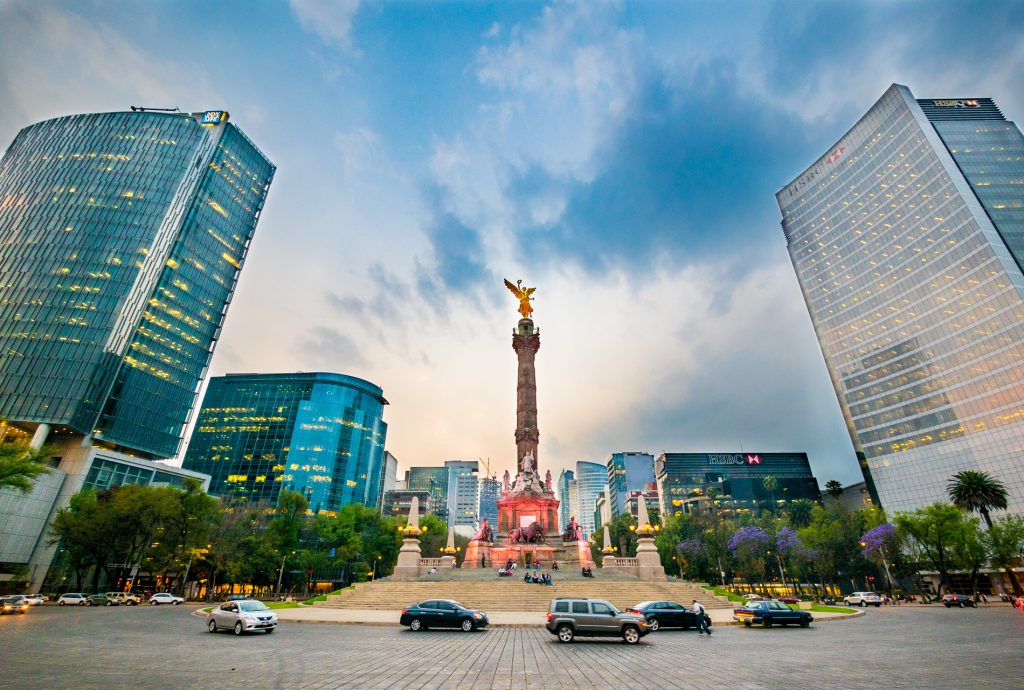 Mexico City's culinary offerings are as wide and diverse as the city itself, ranging from world-class fine dining outlets to irresistible street food and innovative, up-and-coming concepts. Two Travel's Mexico City restaurant guide includes delicious bites of this extensive gastronomic landscape. Believe us when we say this for starters – we are sure you'll be left wanting more. We can help you with more recommendations when you book a trip!
Pujol – A Modern Mexican icon
It was a little more than two decades ago that chef Enrique Olvera first opened the doors to his fine dining venture, a truly daring gesture at the time. With a razor-sharp focus on ingredients and flawless technique, Olvera raised traditional flavors and recipes to new, unexpected levels. And he has continued to do so over time, challenging himself and his team to higher standards.
These days, you can enjoy the Pujol experience in two formats. First is a taco omakase, in which corn is the main protagonist and the chef will surprise you with a series of delightful creations. Second is a multi-course tasting menu, featuring Olvera's signature mole madre, a sauce that has been aging for more than 2,000 days.
Price: $$$$
Dress Code: Smart casual
Reservations Needed?: Make sure to book two or three months in advance
Sud777 – Ingredient-Focused Fine Dining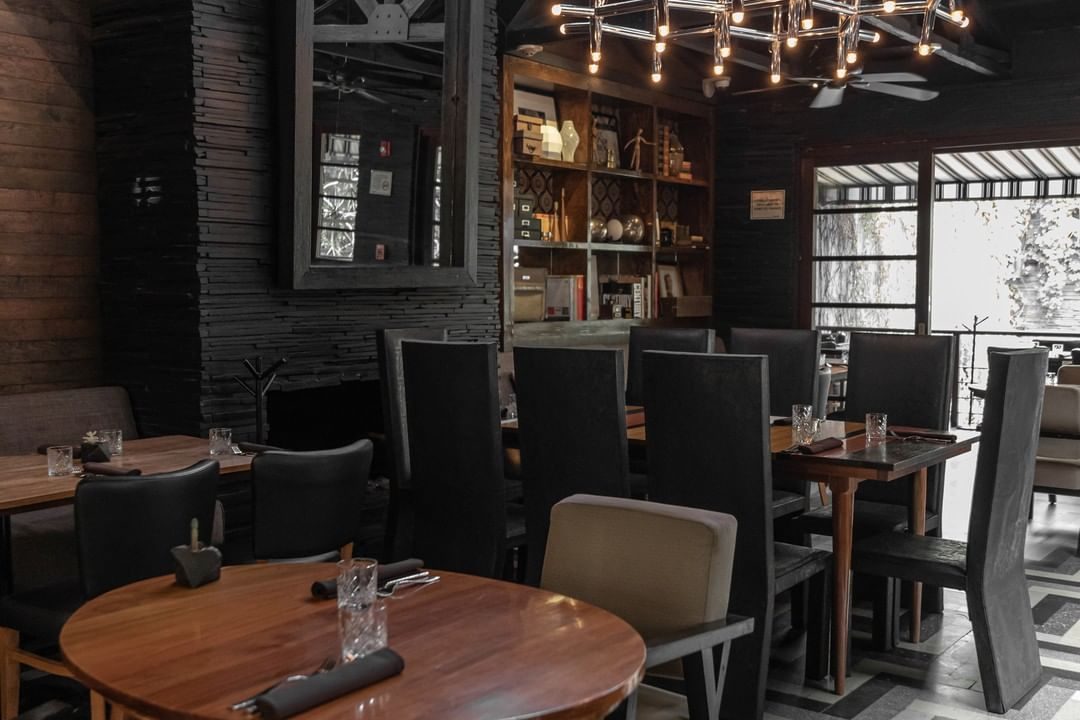 Located in the city's residential Pedregal neighborhood, this beautiful space invites you to take your time as you enjoy each aspect of the experience. At the helm is chef Edgar Nuñez, whose increased passion for putting vegetables at the forefront has allowed the kitchen at Sud777 to evolve over the years.
In every dish, chef Nuñez and his team make sure every ingredient was grown or born in Mexican soil or water. These ingredients translate into perfectly balanced and beautifully presented creations. Try the smoked kampachi tiradito with hoja santa and chili salsa; turkey breast with amarillito mole, greens, and sweet potato purée; and warm crabmeat salad with butter and squash. Lunch and dinner at Sud777 are available á la carte or as a 12-course tasting menu.
Price: $$$$
Dress Code: Smart casual
Reservations Needed?: Strongly recommended
Contramar – A Seafood Temple In The City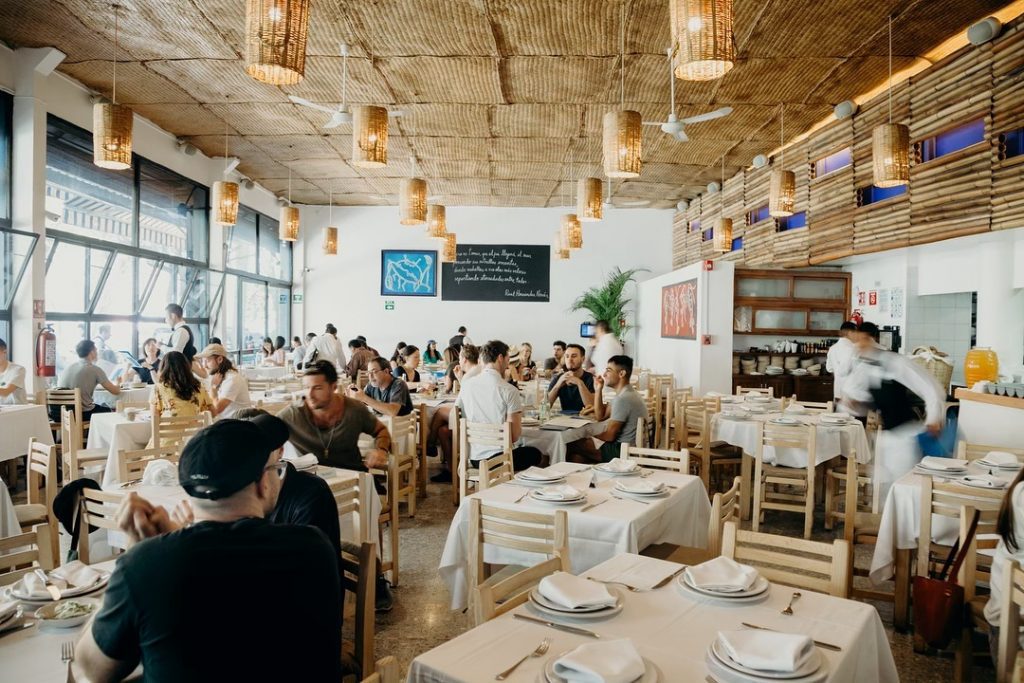 It's not an overstatement to say that most in-the-know visitors who come to Mexico City will hit Contramar at some point. It's a places you'll for sure hear about, either from a local or a fellow traveler. This is truly one of the best restaurants in Mexico City. It's in the heart of Colonia Roma and it's a favorite for several reasons. The first of course, being the food. Here, chef Gabriela Cámara serves super fresh, unpretentious seafood that is meant to be shared. Think tostadas and tacos, ceviches and aguachiles, and a legendary a la talla-style fish: served whole, half of it seasoned with a parsley rub and the other half with a red chili rub.
To make the experience even more delightful, the service is impeccable. And Contramar's airy dining room is always bustling with lively conversation. Many patrons love to extend the meals for a couple of hours. Don't miss the fluffy strawberry-meringue cake or the Carajillo cocktail (made with espresso and Licor 43). You'll find this cocktail is a staple at most Mexico City eateries.
Price: $$$
Dress Code: Casual
Reservations Needed?: The restaurant doesn't take reservations; we suggest you get there early.
Nicos – Traditional Recipes Served With Love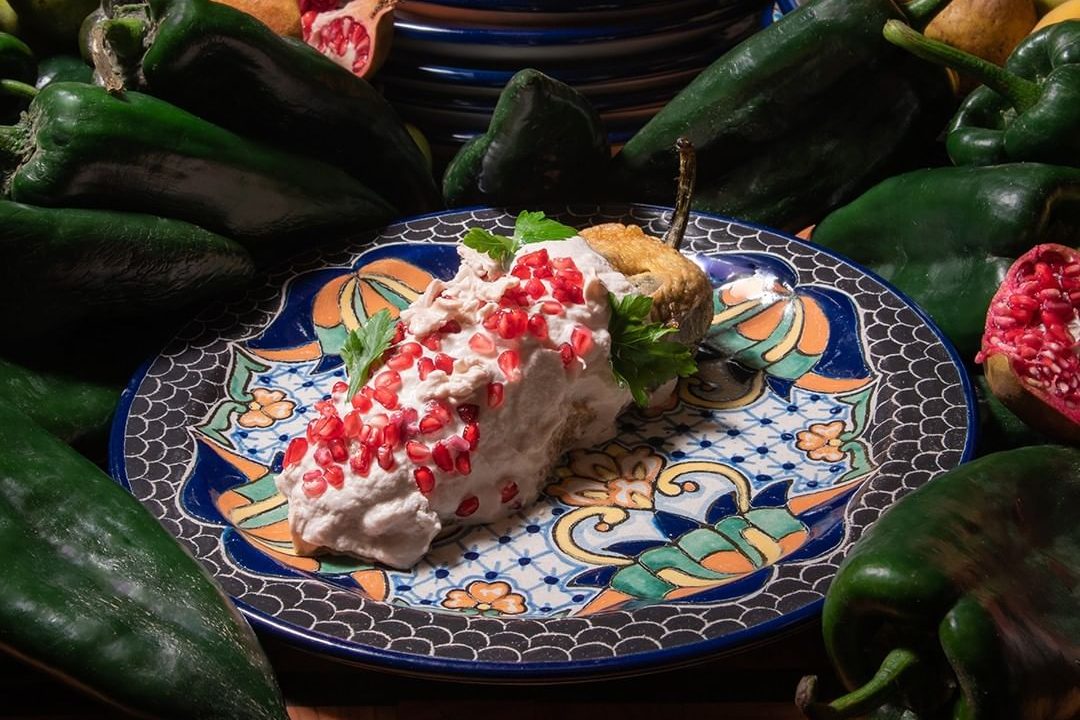 For more than six decades, this family-run restaurant has been celebrating Mexico's traditional dishes. Led by chef Elena Lugo and her son, Gerardo Vázquez Lugo, Nicos is all about preserving the country's flavors and making diners feel like part of the family.
Nicos' warm, casual atmosphere is equally delightful at breakfast and lunch. If you're there in the morning, you'll find a wide variety of egg dishes. We recommend the hearty Enchiladas Nicos: stuffed with chicken and bathed in salsa verde and cream, and topped with poblano pepper slices and melted cheese. They will bring you back to life if you had one too many mezcals the night before.
At lunchtime, don't miss the charales tacos (with tiny, fried fish from Michoacán), the classic tortilla soup, or chef Elena's ribs in green pipián mole. Whatever you order, you can be sure that it will be made with excellent ingredients. One of the main drivers of the kitchen at Nicos is the relationship with small producers.
Price: $$
Dress Code: Casual
Reservations Needed?: Yes
Em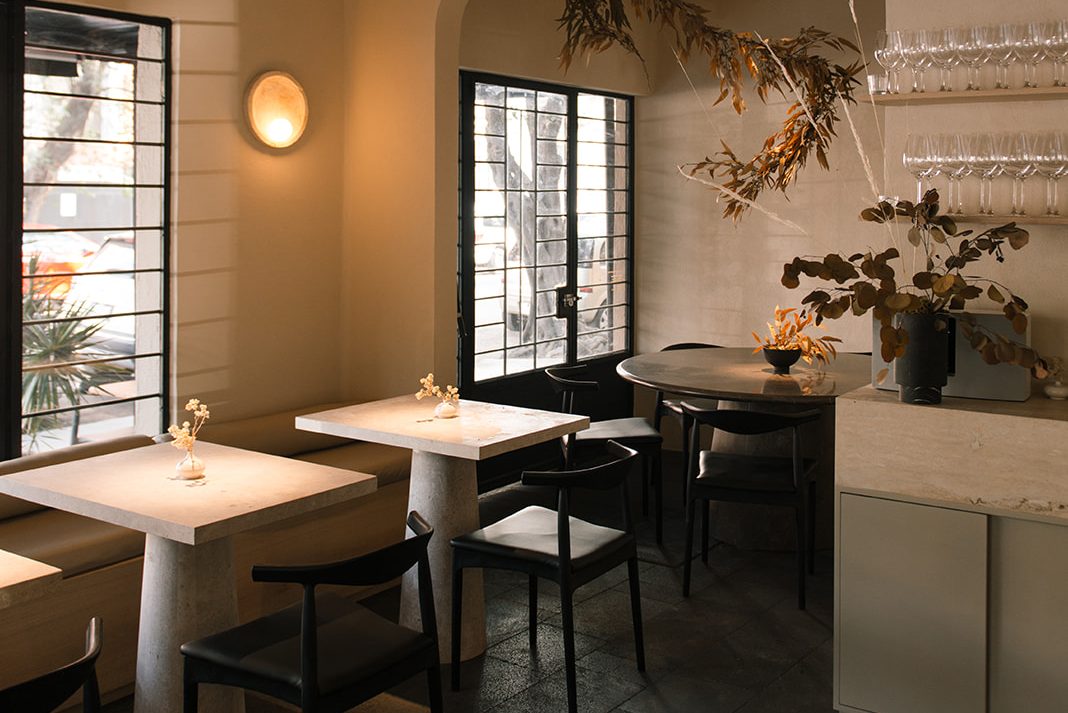 If you're looking to delve into one of the most innovative restaurants in Mexico City, Em is one of your best bets. Led by talented young chef Lucho Martínez, Em stands at the corner of Zacatecas and Tonalá in Colonia Roma, where the iconic Máximo Bistrot used to be. The location has proven auspicious for Martínez and his team, whose creative menu, based on using seasonal ingredients with unusual techniques, has drawn the attention of curious foodies in town.
You can choose between an omakase-style tasting menu or the á la carte option. Unique dishes include a catch of the day with black garlic purée and garlic foam, as well as roasted baby corn with yuzu and soy butter.
Price: $$$$
Dress Code: Smart casual
Reservations Needed?: Yes
Terraza Cha Cha Cha – A Modern Cantina With A Fabulous View
This lively restaurant is inspired by the beloved port city of Acapulco and its endless days and nights of partying. It also boasts one of the most spectacular views in Mexico City. Here you'll get an amazing view of the Monument to the Revolution. This is a perfect spot to spend a Friday or Saturday afternoon. Enjoy tasty cantina-inspired bites, an ice-cold beer, or a refreshing cocktail. Watch the hours go by until night falls and the Monument lights up.
The menu features addictive tacos. We especially recommend the duck carnitas and the Baja-style fish tacos. Also the guacamole sprinkled with chapulines (fried grasshoppers) and seafood tostadas. For main courses, try the grilled octopus or an impressive rib eye served with glazed mushrooms. The fun cocktail offerings include their signature Cantarito, prepared with Patrón Silver tequila, grapefruit soda, and orange, lime, grapefruit, and lemon juice.
Price: $$$
Dress Code: Casual
Reservations Needed?: Yes
El Cardenal – Unbeatable Breakfast With Several Locations
Born in the very heart of the city's Centro Histórico, El Cardenal has grown to have four locations across the city. Despite this, it remains family-run and family-centered. Its comforting menu features appetizers like escamoles (ant larvae) if you're feeling adventurous enough to eat some bugs, and entrées like traditional Oaxaca-style stuffed chili. But it's breakfast that keeps everyone coming back to this iconic Mexico City restaurant. We love to start with their sweet hot chocolate and a fresh-from-the-oven pastry. Then dig into Michoacán-style enchiladas or scrambled eggs served in a clay pot.
Price: $$
Dress Code: Casual
Reservations Needed?: Yes
Street food – A Few Basics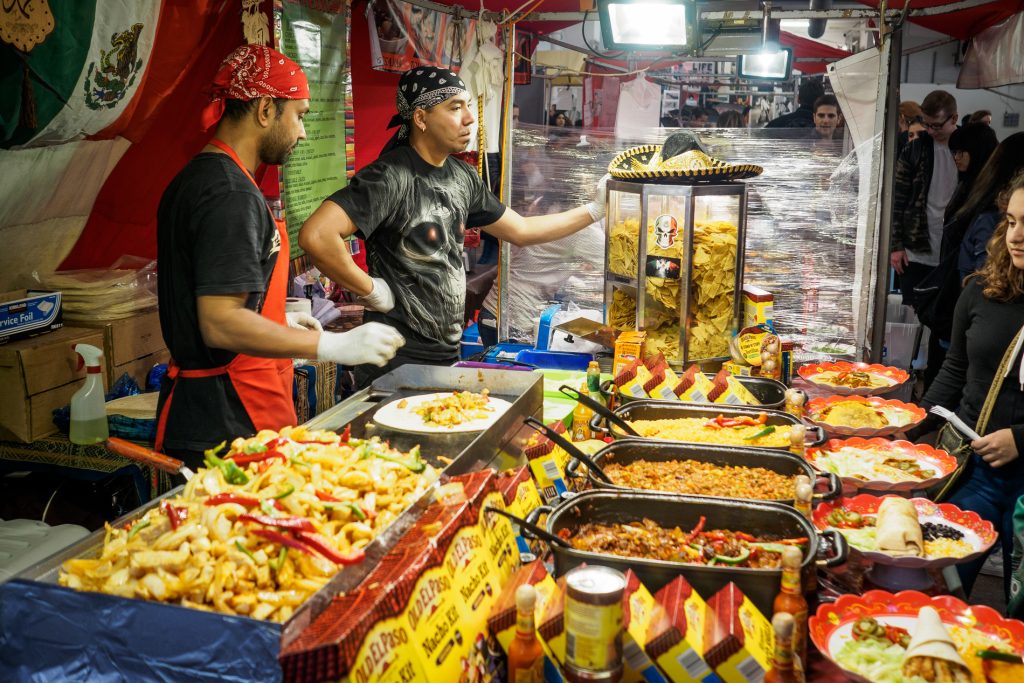 The universe of Mexican street food is vast and delicious. Throughout your trip, you are bound to encounter all sorts of street snacks, from giant cups of freshly-squeezed juice to fried churros and tacos stuffed with every meat imaginable. Some of the most fantastic tacos you will come across will be al pastor (pork meat with an adobo rub), beef, carnitas (fried pork), or barbacoa (slow-roasted lamb). With just a splash of lime juice and a dollop of hot salsa, you'll soon realize why the humble taco is so widely beloved in this country.
As you explore street corners in Mexico City, you'll also spot carts or stands offering elotes and esquites. These are two delicious iterations of corn: an elote is corn on the cob, covered in mayo, cheese, and powdered chili, while esquites are corn kernels served hot in a cup with the same toppings as an elote.
While no trip to Mexico City can be considered complete without at least one stop for street food, here are some tips for a positive experience. Choose vendors that look busy with locals. Sticking with a popular spot means you'll most likely get the freshest ingredients and high quality preparation. Also, keep in mind that Mexico City street food is very spicy! When it comes to salsa, start by asking for a little, "poquito" and only add more if you're up for it.
If you're planning a trip to Mexico City, it's highly likely that you're already dreaming of the city's fascinating food scene. This guide will take you to the best places to eat in the city. We can also help you to plan every single detail of your vacation!