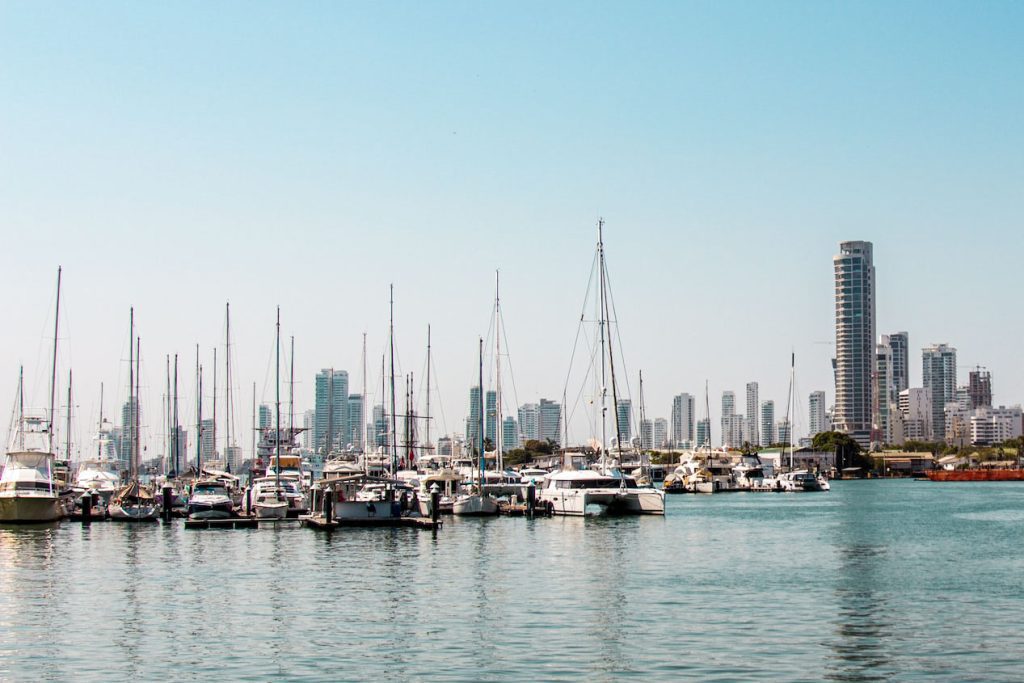 Looking to rent a boat in Cartagena? Look no further. From 80ft yachts to private catamarans to sleek speedboats, we have exclusive access to the best boats in Cartagena.
The Caribbean Sea, which extends all the way from the Mexican Riviera Maya to Barbados, can also be enjoyed in Cartagena, Colombia. These warm, calm waters are best appreciated from Cartagena's islands, and most importantly, from your own private boat. But how to get your hands on one of these beauties that you can see cruising Cartagena bay? Read on to learn all about boat rental in Cartagena and how to do it the best way.
Renting a boat in Cartagena is an absolute must. One of the city's main attractions is the beautiful blue sea, which starts at Cartagena's city beaches and extends past Tierra Bomba Island, Barú Island, all the way up to the Rosario Islands and beyond.
The Rosario Islands are made up of around 27 small islands, located around an hour from Cartagena city. One of the main benefits of renting your own boat is that you have the freedom to visit beautiful corners of the archipelago that you wouldn't normally see otherwise.
With the help and guidance of your experienced Captain and First Mate, you can customize your trip to whatever works best for you and your group. Whether you've come to visit Cartagena with a bachelor or bachelorette group, a wedding party, or just a group of friends, a boat trip is always a good idea.
But, before you rent your boat in Cartagena, you have some important decisions to make first…
Shared boat or private rental?
Whether you want to charter your own private boat or choose a shared experience is totally up to you. It's best to weigh up your options depending on various factors: budget, destinations, privacy, and experience. There's no doubt that a shared boat wins in the budget category, as it's the cheapest option.
However, if you ask us, a privately chartered boat wins all the other categories. By paying slightly more, you get a fully private and customizable experience. You are literally captain of your own ship, and can choose your destinations and playlist, bring your own food and drinks, and in general have a superior experience. Private boat rentals start at $450 USD a day for a speedboat, and $2,400 USD a day for a yacht that can fit up to 25 people. If you have a bigger group, chartering your own boat is a no-brainer, especially if you're in Cartagena for a special occasion – a birthday, wedding, bachelor or bachelorette party. We can help with all of those!
Should I rent a speedboat, yacht, or catamaran?
Speedboats: Cost-friendly and agile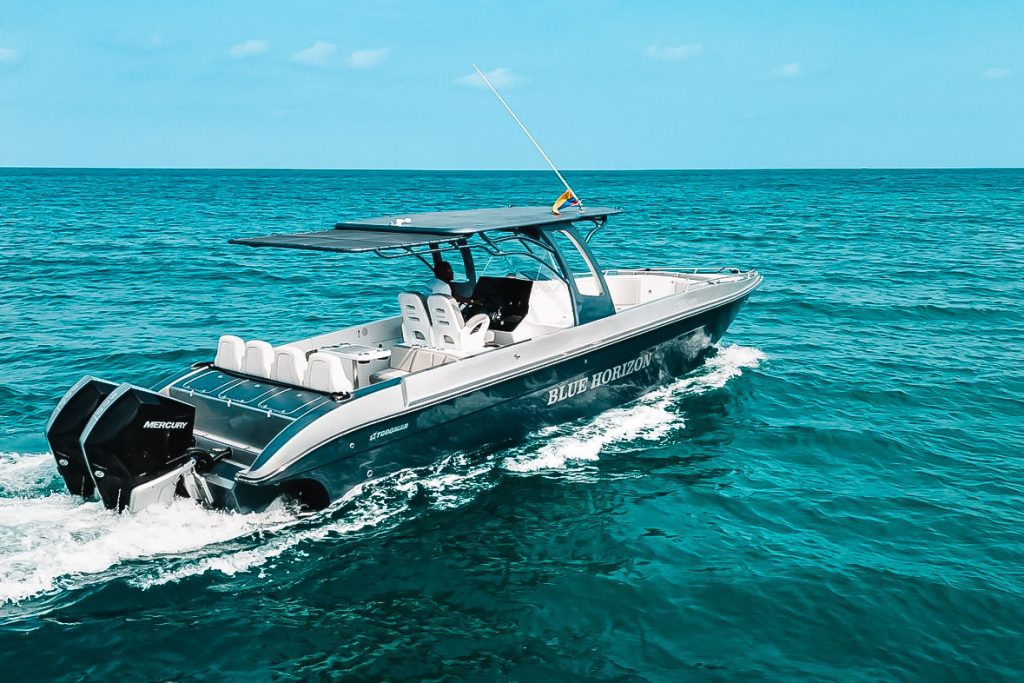 Whether you're a seasoned seafarer or a nautical newbie, we have the right type of boat for you. If you're looking for something cheaper for a smaller group, we have some gorgeous speedboats. Cheaper than a yacht, but certainly not scrimping on quality, speedboats are a sleek and stylish option to explore the islands in Cartagena. Equipped with Bluetooth sound systems, a bathroom (confirm with your concierge agent beforehand), and a cushioned area for tanning, we love partying on speedboats.
Yacht: Stylish yet functional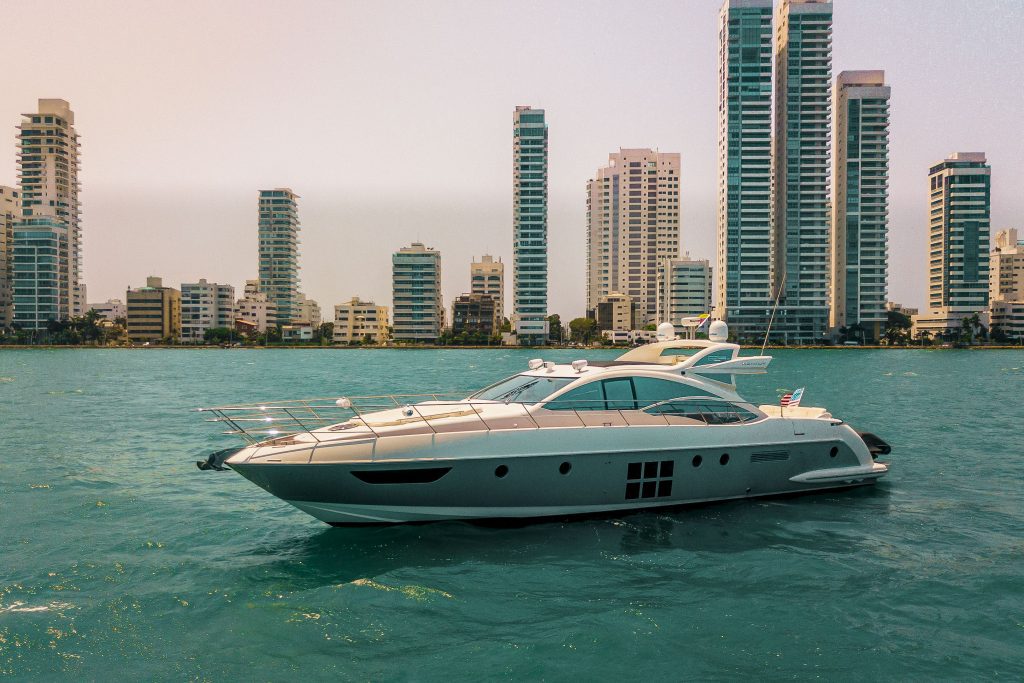 If you are looking for something a little more boujee, or simply require more space, check out our yacht rentals. You are sure to feel like a superstar tanning on the flybridge of your own private yacht. Yachts are a lot more spacious, often distributed over two floors, with more private bathrooms than speedboats. They also even have private bedrooms if you want to chill and take refuge from the midday sun.
And with more space, comes more options. Want to bring a private DJ on board to keep the good vibes pumping all day? We have the perfect contacts. How about a private chef – the ultimate flex for your trip out to the islands? We have just the man. It's easy to enhance your experience at sea on the best boats in Cartagena – just ask us how.
Catamarans: For superior comfort and space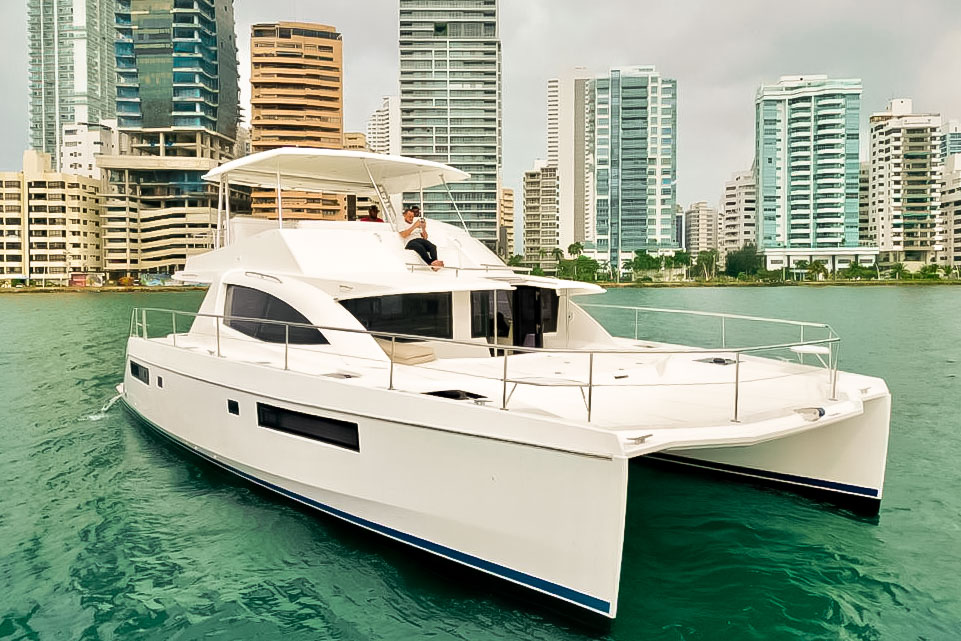 Catamarans are also a great option for those with a bigger group – we're talking 25–35 people. The slower pace of catamarans make them perfect for partying and mingling. Host your engagement party or pre-wedding bash on a 50+ ft Catamaran and feel like a million bucks. We also love power catamarans, as you get all the comfort, space, and beauty of a catamaran, with extra speed and agility added in. With all that extra space to dance, you simply have to bring a private DJ and chef on board. It would be rude not to.
Want to check out our boat inventory? Be our guest!
What's included in my boat rental?
You've done the hardest part – you've picked your boat. Whether it's a speedboat, yacht, or catamaran, you are sure to have the best time partying in Cartagena's bay and beyond. But what's included in the price that you pay for your boat rental? Every boat rental includes an experienced Captain and First Mate, fuel and taxes, and a cooler filled with ice (no alcoholic drinks included).
However, with Two Travel's concierge services, we can most certainly help you with those small details. We charge a stocking fee and can fully stock your boat with beer and your favorite liquor and mixers. We can even arrange the delivery of your food and drinks! Believe us when we say it's worth paying extra for the VIP treatment rather than juggling with bottles of tequila in foreign supermarkets at 8 AM. We can also make sure you have that sought after booking for lunch at one of the best beach clubs!
Speaking of timing, boat rental in Cartagena is from 9 AM to 5 PM. It's important to not arrive late to the dock in the morning because it will eat into your precious time at sea. Most boats take just under an hour to get to the Rosario Islands – some take longer.
Due to safety reasons, boats must start their journey back to Cartagena from 3-4 PM, as the tides pick up in the afternoon. For the best day at sea, we want to ensure you have as much island time as possible. However, if you are looking for something out of hours, we can arrange sunset and evening tours, where we stay within the bay.
How does pricing work for boat rentals in Cartagena?
We are upfront about our pricing on our boat rentals page. Keep in mind, however, that the prices advertised may differ depending on the size of your group. For many boats, there is a set price up to a certain number of people, and from there onwards, there is a set amount per person. For example, prices may be advertised as "From $600 for 10 people" – this is why the size of your group is important when asking for a quote. We only work with the best boats in Cartagena, and our pricing is competitive.
Where should we visit on our trip to the islands?
There is a wealth of things to do and places to see from your privately chartered boat in Cartagena. Park your boat in party island Cholón to drink and mingle with neighboring boats. Swing by the "piscinita" (little pool) to snorkel and sunbathe. Or check out Pablo Escobar's abandoned mansion and sunken plane (rumor has it) to learn more about the Narco history of Cartagena.
We can also arrange for you to stop off at a beach club if you fancy having lunch on firm ground rather than aboard your boat. If you leave early enough, you will have plenty of time to change locations several times. Our experienced captains can also give you their local tips and recommendations on where's best to visit depending on the weather.
What should we bring on our boat rental?
As they say, it's always better to be overprepared than underprepared. The sun this close to the equator is unforgiving, especially with the reflective glare of the sea. Bring plenty of sunscreen (at least factor 50), along with sunglasses and a hat, because there's nothing unsexier than a sunburn.
Whilst stocking up on alcohol, don't forget to bring plenty of water to put in your boat's cooler. It's also nice to bring some cash in case you want to buy any fresh oysters or drinks on the islands, and to tip your Captain and First Mate. Bring a towel and some beach-approved clothing.
And, most importantly, bring a pre-prepared playlist to plug into the boat's Bluetooth speakers, so you can get the party pumping. Alongside what to bring, it's important to mention what NOT to bring. Leave the Rolex at home, alongside any super nice jewelry, glasses, shoes or accessories you wouldn't want to get wet or salty.
Don't fancy taking on the challenge of buying all the provisions for your boat trip? Check out our concierge services – we can sort it all out for you!
What do we do if the weather is bad?
Cartagena is the city where it is sunny 360 days a year. But we do have a rainy season from May to October, where the weather is prone to the odd tropical shower. For days that are just a little drizzly – we certainly don't let a little rain – well – rain on our parade! The party must go on, and you will find that once you are beyond the bay and heading towards the islands, it rarely continues to rain there too. Crank up the music and dive in the Caribbean Sea – you were going to get wet already, right?
We do get a few days a year when there are tropical storms and low visibility. The Coastguard is in charge of whether we can leave the dock or not. In the case of a last-minute cancellation due to weather conditions, you will get a full refund. It's difficult to change dates, as your boat might already be booked for the next couple of days.
How do I find the dock my boat is leaving from?
There are several docks your boat might be disembarking from. All of them are either within – or a short taxi ride from – the walled city. Don't worry, as we will embed a map showing you where the dock is located, with instructions on how to get there. The main docks that most of our boats leave from are either: Pegasus Dock, Todomar Marina, or Cartagena Nautical Club.
Pegasus Dock: This dock is conveniently located a stone's throw from the famous yellow clock tower, 100 meters or so from the walled city. A lot of villas in Cartagena's Centro district are within walking distance from this dock. Check the location on the map beforehand, however, to avoid any last-minute sweating.
Todomar Marina: Todomar is a privately-owned marina at the entrance of Bocagrande, Cartagena's modern neighborhood. It can be reached by taxi in 5–10 minutes from most Centro locations.
Cartagena Nautical Club: This dock, located in the affluent neighborhood of Manga, is where you will find the majority of our bigger boats, especially yachts and catamarans. It is around a 10-minute taxi ride from the walled city. Leave plenty of time if leaving from this dock, as it gets busy and isn't within walking distance. Taxi drivers will recognize it as "Club Nautico".
How do I book a superior boat rental experience in Cartagena?
Two Travel has the answers to all of your boat-rental questions (and beyond). The experience we offer is all-encompassing, and we don't leave a single thing to chance. From the best boats, to top-quality add-ons and extras, your day on the islands in Cartagena is in safe hands. We can make your special day even more enjoyable by enhancing it with things like a private DJ and chef. Small luxuries that will improve your experience tenfold.
If you need more info or want to find out everything Two Travel's concierge agents can do for you, get in touch with us today!