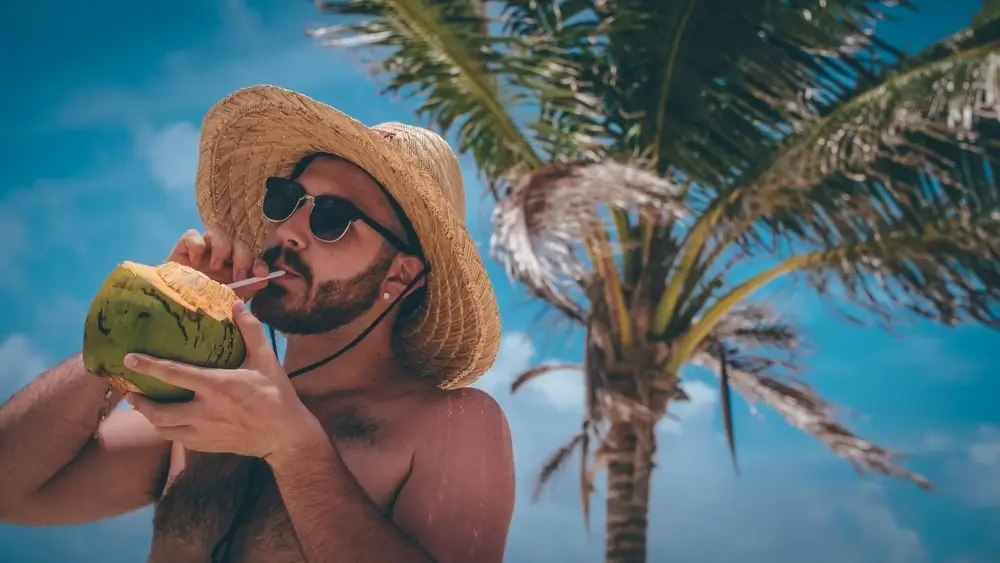 As you start to plan a trip to the city, no doubt you'll find some articles complaining about the beaches in Cartagena. And it's true that some Cartagena beaches don't have the best reputation and are best avoided. But we're here to help you get the best out of your trip.
We know some fantastic Cartagena beaches, and let's just say – the secret to really enjoying a beach day while on vacation is to hit the beach clubs.
Don't have time to read the whole article? Check out this reel for a quick guide to the best beach clubs in Cartagena, or book a Day Pass at Blue Apple Beach (trust us, it's one of the best!)
Although relatively new to Cartagena, the beach club scene has exploded over the last few years, as the city has opened up to a wider range of international tourists and discerning locals looking for more than just a day trip to a public beach like Playa Blanca.
So, believe us when we say, ignore the posts telling you how bad Cartagena beaches can be. Those people weren't in the know like you. Get ready for sun, sand and so much more!
Here's our "cool kids" guide to the best Cartagena beach club spots!
You'll find the best beach clubs on the island of Tierra Bomba (10 – 20 minutes away by boat) and a little further out in the Rosario Islands (45 minutes away by boat). As a rule of thumb, as soon as your view of the city disappears, you're out of the bay, and it's these beach clubs that have the clear blue water you're probably searching for.
But not all beach clubs are alike! Before you go, decide how much time and money you want to spend, and most importantly, what kind of beach vibe you're looking for.
Beach club options
Every beach club featured here gives you the option to visit for the day (un pasa día), which is a great idea if you´re short on time, if you're a big group, or if you want to party, then return to your villa or hotel in the city for the evening.
Take note that the vibe is often quieter and more chilled on a weekday than on a weekend, when many of the beach clubs are busier and some run special events with DJs, entertainment and dancing. The exception to the rule is Bora Bora, which offers music and dancing every day of the week. Or head to Amare on a Tuesday for "Industria on the Beach" – to see how locals in-the-know take a day off work in Cartagena!
If you've got a little more time, or you're a serious beach lover, you can stay overnight at many of these beach clubs. We highly recommend Blue Apple Beach on the island of Tierrra Bomba, and also Gente de Mar on Isla Grande in the Rosarios. Both offer great accommodation if you're looking to extend your beach stay beyond one day!
Best Cartagena beach clubs for a party
Cartagena loves to party, so start your day early with a boat to Bora Bora, and you can party all day long on the beach any day of the week. It's a great choice for groups of friends, bachelors and bachelorette parties. Although the beach is small, the club overlooking it is extensive and the view is fantastic. Book the VIP pass with us and we'll make sure you get the best spot.
For a weekend party near Cartagena, head to Blue Apple Beach, where you'll find a gorgeous mix of discerning locals and tourists, looking wonderful in and around the double-the-fun pool. You'll find top class DJs and dancers to teach you the steps alongside the regulars who dance the weekend away. It's also a great spot if you're craving decent wine – not easy to find in Cartagena!
Closest to Cartagena at just 10 minutes away by boat, is Fenix Beach – where you'll find a laid back festival vibe, a large white sandy beach, beautiful natural sculptures for a photo and large pool that's often surprisingly quiet. By day, you'll find two vibes – a DJ on the beach, and a DJ in a cute booth further back, and by night, be prepared to dance around a fire pit with an amazing view of the city in the distance.
Best beach clubs for a day ON the beach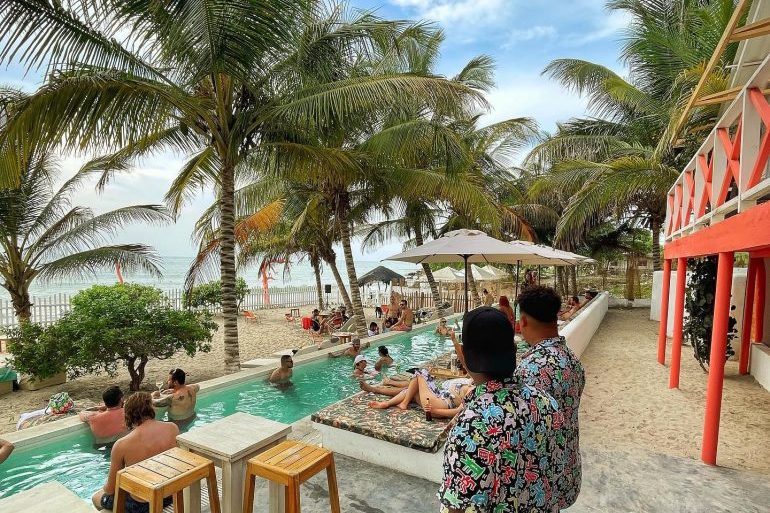 Amare may be one of the newest beach clubs, but it's already a firm favorite with locals craving a beach day without the crowds of tourists or the vendors. Set on the far side of Tierra Bomba on a beach called Playa Linda (beautiful beach), this really is a gem of a place – white sands, blue sky, clear and clean waters. You'll find excellent cocktails recommended by all the city's bartenders, plus delicious satisfying design-your-own bowl-style lunches. This beach club truly is for those in-the-know wanting to experience local Cartagenero culture at its coolest!
Head further out to the Rosario Islands to Gente de Mar for the only beach club boasting not one, but three beaches, and all of them picture perfect! You'll find some well known Instagram hotspots as you while away your day in the sun, relaxing, snorkelling or even exploring in and around Isla Grande by kayak or by foot. This place is perfect for a romantic getaway, especially if you choose to stay the night to enjoy the sunset together away from all the crowds.
And last but not least, don't forget Fenix Beach. Set in the bay of Cartagena, it has a wonderful view of the city and a long white sandy beach, dotted with beach beds, a bar, a DJ and a dragon (yes, really!)
Best Cartagena beach clubs to relax and treat yourself

Makani is a new luxury beach club, located on Tierra Bomba island. If you've got the budget and really want to treat yourself to one of the biggest beach club pools we've seen in Cartagena, or take a day to enjoy a wellness spa experience, this is the place. We highly recommend Makani for a day of pampering and indulgence, with excellent options for food and cocktails.
Although Blue Apple is lively at the weekends, if you're looking for a place to relax during the week, this is one of the best options. As well as the beach, the pools, the food and the wine, during the week, you can also explore the island on a horse, take a tour to discover how Fundación Green Apple is creating opportunities for locals on the island, go diving or get a massage. And if you have the time, stay the night in one of five amazing bungalows that have their own plunge pools.
And finally, our top recommendation especially for family groups, is Gente de Mar in the Rosario Islands. The kids will love the aquarium and water activities, and after lunch, you can all lie back and relax on the beach.
What's not to love?
Choose your beach club
So now do you believe that Cartagena can live up to your beach dreams? Whatever your beach club desire, Two Travel is here to help you choose the best place for your day or stay in paradise. Get in touch if you have any questions about the beach clubs featured or need to rent a boat. If you want a more private island experience, read our Guide of The Best Way to Visit Rosario Islands. We'll help you get the best option for the best price, with all the care and attention you expect from a dedicated concierge.