Nothing spells romance like sun, sea, and champagne on a white sand beach. If it's always been your dream to plan and host a beach wedding, you will definitely want to add Cartagena, Colombia to your dream destinations list.
Cartagena, with its whimsical, flower-lined cobblestone streets and warm, crystal-clear sea, is one of the most romantic cities in the world. If you are considering a destination wedding, why not pick a place where you are almost guaranteed to have warm, sunny weather all year round? Cartagena, perched on the warm Caribbean Sea, is surrounded by stunning islands and beaches. You can even book a private island for your beach wedding ceremony, or take over a beach club for your special day. With the Two Lovers wedding planning team behind you, your imagination is the limit.
Romance, Culture, and History
Out of all the difficult decisions you have to make before your wedding day, the location shouldn't be one. Cartagena is a no-brainer and is one of our favorite beach wedding destinations. Immerse yourself in its rich culture and history. Cartagena is the perfect mix of the modern and the traditional. You can customize your wedding to either one – or a mix of both – of these. As one of the most picturesque and Instagrammable places in South America, you and your wedding guests will enjoy every single day of your stay in the city, and not only the wedding day itself.
Planning for the Weather
Cartagena is well known for its warm climate and bright sunshine. However, it's important to keep in mind that despite not having traditional seasons such as Winter, Spring, Summer, and Fall, Cartagena does have rainy, windy, and dry seasons. You may want to avoid hosting a beach wedding in the months of October and November. These are the months with the heaviest rainfall. The dry season in Cartagena is from December to April, with January being the driest month. You can expect the breeze to pick up in these months too, which makes the weather beautifully fresh. But be aware that the temperature is always between 25°C and 32°C (77°F and 89°F) even at night, and the humidity makes it feel hotter. Plan carefully what you'll wear on your big day. That being said, any time of year is perfect to visit Cartagena, as there is always something to do.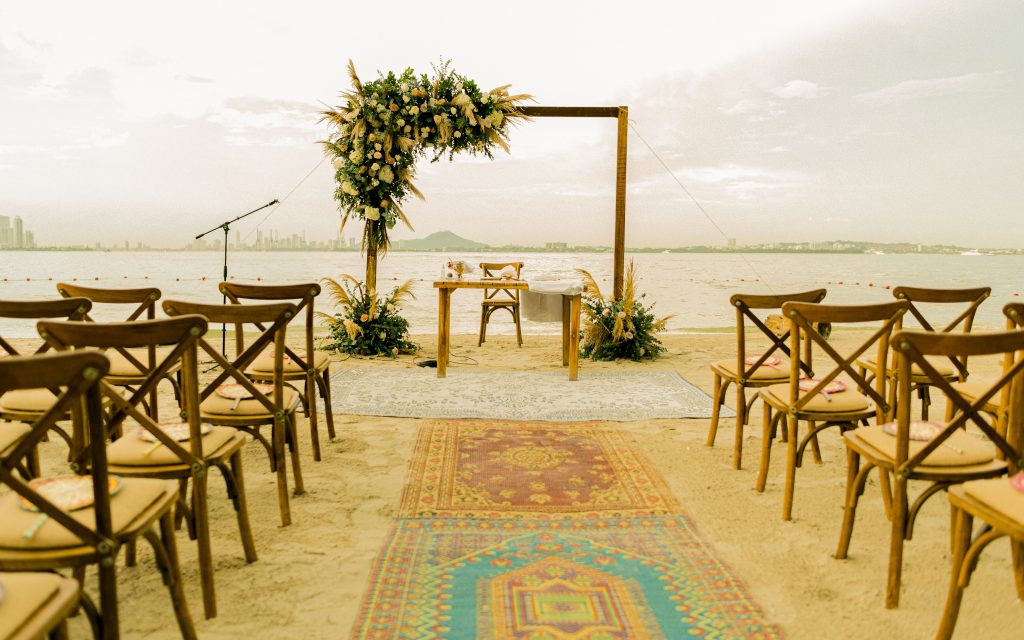 It's All in the Details
Once you've decided what time of year you want to have your special day, we can help you to plan your perfect itinerary. Keep in mind that all year round, there are usually around 12 hours of sunlight a day, from 6 AM to 6 PM. Because of the heat, weddings usually start late in Cartagena. You will want to find that sweet spot where you have daylight, but it's not too hot. A 4-5 PM start is usually perfect for your beach wedding ceremony. This way, at around 6 PM, when the sun starts to set, you will have officially tied the knot. There won't be a dry eye in the house when your wedding guests see the stunning newly-wed couple on the beach, with the sun setting into the blue Caribbean Sea behind you.
Choosing appropriate attire for a beach wedding
Keeping in mind that the climate in Cartagena is warm and humid, you will definitely want to dress accordingly. Think light, sleeveless dresses for women made of silks or chiffon. Leave the veil for church, and instead consider a flower crown for those boho, beachy vibes. For men, linen pants and open shirts are the way to go. Ditch the tux and embrace a more casual style for your beach wedding. Sunscreen is a necessity, and keep the makeup light and waterproof when possible. If you are actually planning on tying the knot on the beach, you may want to ditch the shoes completely. High heels and sand do not go well together. Try to make everything as easy for yourself as possible on your big day, so everything flows perfectly. And you will always have our team of expert wedding planners behind you every step of the way. We ensure that the wedding of your dreams becomes a reality.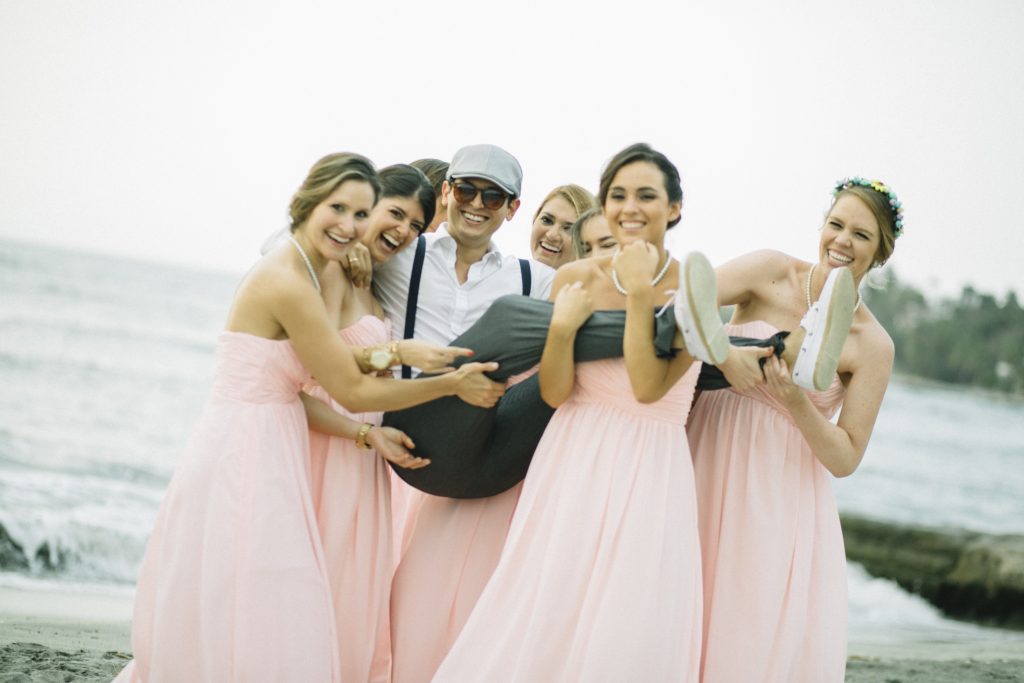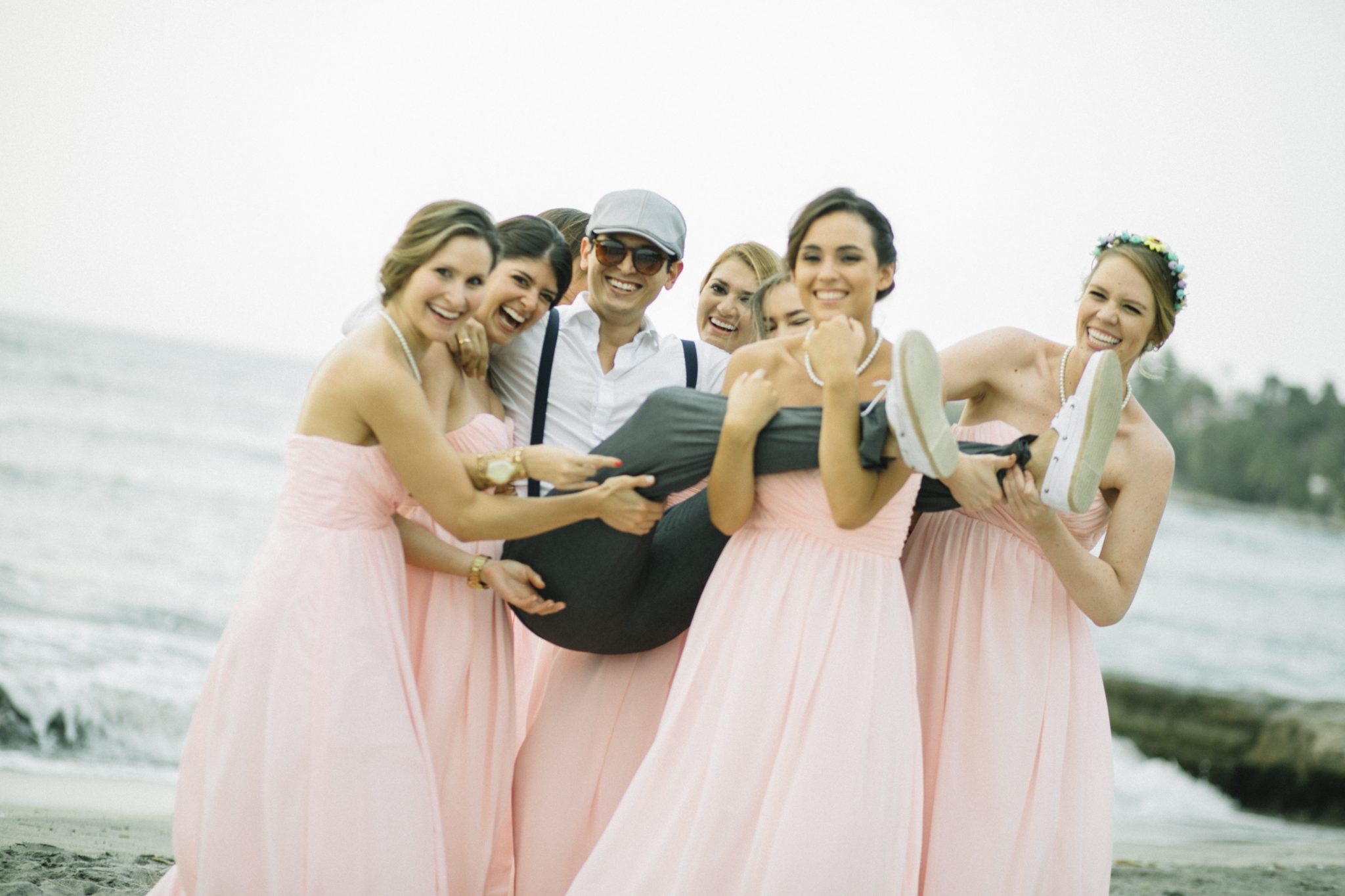 Finding your Dream Location
So, you know you want a beach wedding. Now, the next question is deciding which of the many gorgeous beaches on Cartagena's coastline and surrounding islands is best for you. If you have always dreamed of an island escape, we highly recommend Fenix Beach Club. Located on Tierra Bomba island, the closest island to Cartagena, the logistics involved with boat transportation aren't too complicated. Fenix has a stunning, boho, festival vibe and incredible catering options too. Hundreds of twinkling lights illuminate the beach at night. It gives an ethereal and magical feeling to your special day. They also put on a great party, and the DJ will have your guests dancing until the early hours. Another great option on the same island is Tamarindo Beach House. This location has a perfect beach and pool, giving flawless Caribbean beachy aesthetics for your wedding. 
For those willing to travel a little further (just 45 minutes by boat), Las Islas Baru is another stunning beach wedding destination. The peninsular island of Baru is well known for its crystal-clear waters. The secluded location of Las Islas has an intimate and romantic atmosphere. Its luxury huts have an uninterrupted view of the ocean and the surrounding tropical forest of the island. The hotel can host groups of up to 200 guests with the use of the private island Isleta, located just 5 minutes away.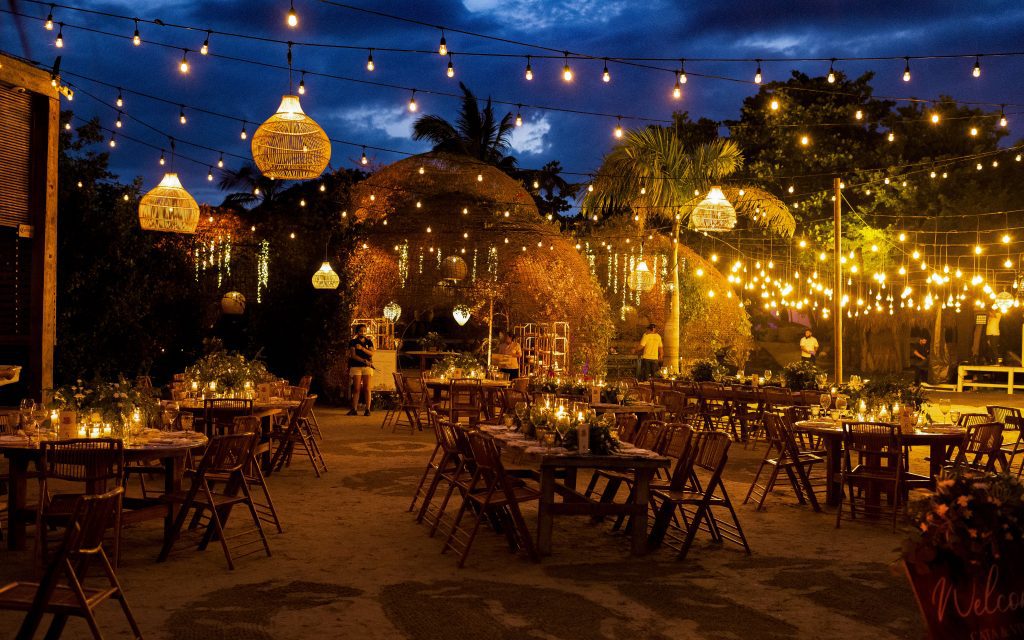 Legal and Ceremony Considerations
For most beach weddings, the ceremony is generally symbolic, and the legal procedures are carried out separately at a notary. However, for a foreign couple to legally wed in Colombia, at least one of the two needs to have a permanent address in Colombia. If you simply want to have a destination wedding and do not reside in Colombia, the simplest way is to officially wed in your own country and have a symbolic ceremony in Colombia. This way, you avoid logistical headaches, translations, apostilles, and additional stress. However, our wedding planners are well-versed in legal jargon and can give you the best personalized advice depending on your individual situation. Same-sex weddings have been legal in Colombia since 2016.
Save yourselves from hours of grueling planning and stressing.
Your Honeymoon Starts Today!
After all the stress, socializing, and dancing that a wedding inevitably brings, you will want to kick back, relax, and spend some quality alone time with your partner. And why not choose a wedding destination where your honeymoon can begin the second you tie the knot? If you host your beach wedding in Cartagena, there will be no need to jump on another flight. You will already have paradise on your doorstep! There's a wealth of things to do in Cartagena, especially for newly married couples. Take a romantic horse-drawn carriage ride around the historic walled city. Rent a catamaran or sailboat and sail off into the sunset together. Take advantage of the incredible gastronomic variety in the city and explore new flavors together in the bars and restaurants of the old town. Or book a romantic getaway to an island. There, you can spend your days lazing on the beach and your nights exploring lagoons with bioluminescent plankton or counting stars under a cloudless sky.
But Why Colombia?
If one thing is for sure, it's that Colombians know how to host a great party. Colombian weddings are non-stop fun, as they combine all the traditions of a wedding in the US, plus the "hora loca". Literally translating to "crazy hour", the Hora Loca is a party within a party. Right after the clock strikes midnight, fun props are brought out, and live bands and dancers surprise and delight the guests. The bride and groom decide on the theme beforehand. It can be anything from Carnival to circus-themed, burlesque, or masquerade…the decision is yours! It's the best way to get your guests up and dancing, and will undoubtedly make your wedding day memorable and unique. Our team are locals, and there isn't anyone better to help you plan your beach wedding.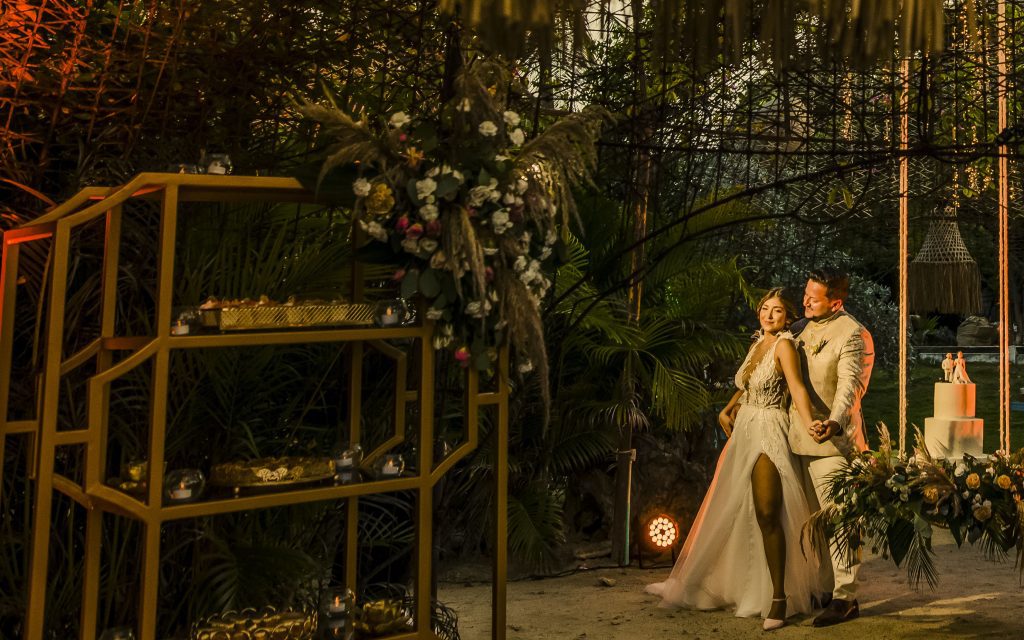 Planning a wedding is hard. And more so in a foreign country and language. Even if you or your partner has ties to Cartagena or Colombia, hiring a wedding planner will still be one of the smartest decisions you can make for your big day. Outdoor weddings have a million moving parts, and having a team who can make everything fall into place is priceless.
In conclusion, a beach wedding in Cartagena, Colombia is a magical and unforgettable experience. It combines stunning scenery, rich cultural heritage, and vibrant entertainment. With the help of the Two Lovers expert wedding planning team, you can create the wedding of your dreams and enjoy all that this beautiful city has to offer.
We are always happy to chat and help you plan your big day. Get in touch with our team today to make your Cartagena wedding dreams come true!