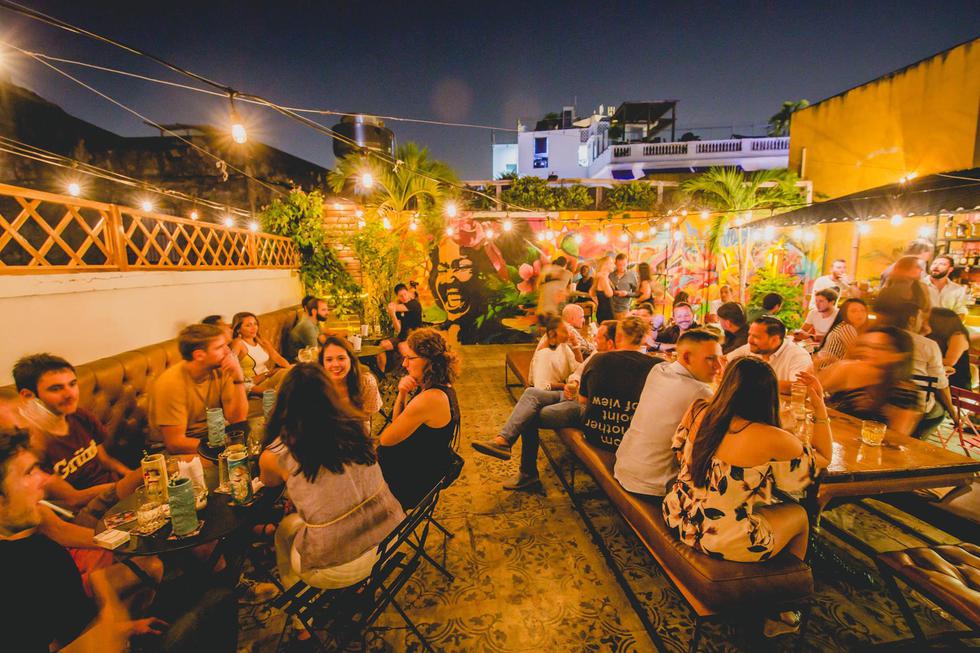 Cartagena is renowned for its thriving nightlife scene. The warm Caribbean nights and tropical vibes all year round make the perfect mix for a night to remember.
While many come to the Colombian coast for the beaches, islands, and warm weather, many others also flock to Cartagena to enjoy the nightlife events and nightclubs. Cartagena is the proud home of award-winning bars and restaurants. Every night of the week, hundreds of people take to the streets to dance, drink, and revel in the delights of the city. No matter which month of the year you plan to be in Cartagena, you're bound to encounter something fun and memorable, which will have you booking your next flight back to Colombia before you've even arrived back home.
The best bars and clubs in Cartagena
Cartagena has many award-winning bars that offer tasty craft cocktails, live DJs, and impeccable vibes. One of our favorites is Alquímico, a three-story colonial townhouse with two different ambiances. Their mixologists make liquid art, and use creative ingredients and flavors. Right opposite, you will find La Jugada, a stylish nightclub with a rooftop bar. Keep an eye out for the fireworks and performances that take place on the roof after midnight. We also love La Movida, the place for all the beautiful people of Cartagena to see and be seen. With multiple ambiances and an outdoor terrace, La Movida will have you boogying all night long. When these clubs close, head to El Pasquín, another of Cartagena's hottest nightclubs, which opens until 4 a.m. These places are some of the most high-class bars and clubs in Cartagena, so rock your hottest 'fits and leave the sandals for the beach.
Alternative Nightclubs in Cartagena
If you're looking for a different vibe, head to Casa Cruxada. This nightclub-cum-restaurant attracts Cartagena's alternative crowd. Located in an antique, crumbling building, with its trademark deliberately wonky window, you can enjoy different live DJs every night of the week. You will mainly hear electronic, house, and tropical beats. Or for something totally different and super fun for bachelorette or bachelor parties, make a reservation at Seven 7 Times. With multiple ambiences, from tropical, to urban, to cantina, there is something for everyone. Our favorite has to be the live burlesque show they do in the main salon, which is steaming hot and super entertaining.
Want more information on the best bars and clubs in Cartagena? Get the full scoop in our other blog post.
Events and Festivals in Cartagena
Whilst the majority of major music festivals and concerts in Colombia tend to take place in Bogotá and Medellín, Cartagena has its fair share of events throughout the year.
The Wild Brunch – The wildest live music festival of the year
The Wild Brunch is one of the biggest events of the year, usually taking place a few nights before New Year's Eve. With the arrival of the giant inflatable rubber duck perched in the Convention Center, the fun begins. See the hottest Latin and international artists and DJs in this surreal, colorful, explosion of sequins and fun. The costumes, makeup, dancers, and general vibes of this crazy festival are trippy and surreal. It is truly one of the best ways to end the year. This event takes place on the water's edge, and you can even rent a boat slip to park your yacht right up next to the DJ.
New Year's Eve – An unmissable party in Cartagena
Of course, New Year's Eve, just a night or two after the Wild Brunch party, is another one of the biggest events of the year in Cartagena. The whole city lights up in a giant street party, and all the hottest bars and clubs in town (see above) become hosts to incredible parties. Buy your New Year's Eve tickets early because the best places always sell out. Make sure you leave plenty of time for wandering the balmy streets too. Soak up the best vibes at one of the peak times for nightlife in Cartagena. Contact the Two Travel concierge team today to get the latest info and tickets for New Year's in Cartagena 2023.
Wakanda Festival – For the hottest Afrobeat vibes
If you're into Afrobeat, Dancehall, and Champeta, Wakanda Fest is the one for you. This super cool urban music festival takes place right on the beach, for the ultimate Cartagena experience. Appreciate the best of Cartagena's thriving local music scene and take the opportunity to dress up in your hottest outfit. The spirit of Africa is alive and thriving in Cartagena and can be found at Wakanda Fest.
November Independence Parade of Cartagena – for the Carnival seekers
If you find yourself in Cartagena around the week of the 11th of November, you will inevitably come across the Independence Parade and celebrations. These are enormous, carnivalesque parties that take place across the entire city to celebrate the independence of Cartagena. Colombia's national beauty contest to crown "Miss Colombia" also takes place during this week. The parade is an incredible sight to behold; the main streets are closed and hundreds of dancers and performers parade down the street, with day parties turning into night. Don't wear your best clothes if you join these street parties, as things can get messy! Locals love to spray foam and throw cornstarch and blue powder paint. Put on your oldest pair of sneakers, leave your valuables at home, and join in the fun!
Hot events at local island beach clubs – For boujee beach-goers
Keep an eye out throughout the year for various events taking place at local island beach clubs, Fenix Beach and Blue Apple. They often host special events such as dinners hosted by local chefs, or beach parties with bonfires and guest DJs. With these events, return boat trips are often included. These beach clubs also double as hotels, so you can also book a night or two and boogie until dawn on a Caribbean island.
Tips for a memorable night out
Staying safe in Cartagena is simple if you keep your wits about you and don't make any foolish decisions. The center of Cartagena is a safe place, as it is buzzing with people at all hours of the day and night. As with any major city, it's important to keep a close eye on your belongings to avoid pickpockets, and, as the famous saying here goes, "Don't give papaya". This basically means to not flash expensive jewelry or items in places they shouldn't be flashed. While in bars and nightclubs in Cartagena, don't leave your drink unattended or accept drinks from strangers. If you're staying outside the walled city and need to get a taxi at night, make sure you negotiate the price before getting in. You can also use reputable taxi apps such as Uber and InDriver which are popular in Cartagena.
Whatever you end up doing in Cartagena, you're sure to have a night to remember. Perhaps you're in town for a special event, like one of the many festivals that take place in the city. Or perhaps you end up in one of the many bars or nightclubs of the historic center. Either way, the undeniably tropical vibes of this coastal city are always on point, and Cartagena nightlife will never let you down.
Need a villa for you and your crew to crash at after your night out in Cartagena? Or a yacht to carry on the party? We got you! Contact us today!