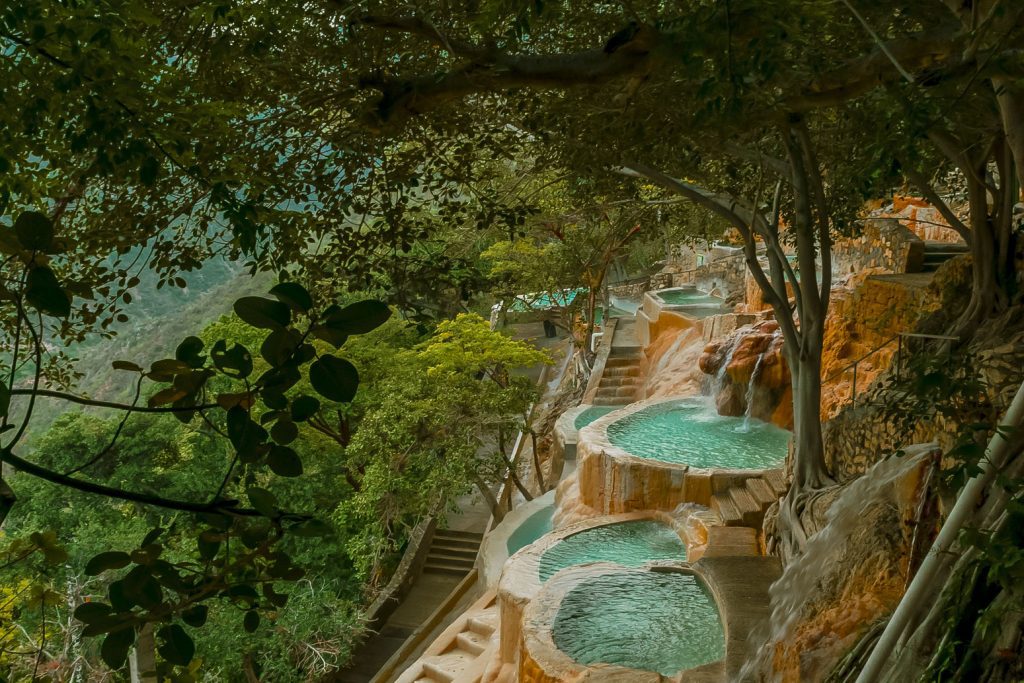 These hot springs are fantastic day trip from Mexico City. Start your day relaxing in cliff top pools with a view over the countryside, before a dip in the warm river waters and a chance to see the famous cave and waterfall of this special turquoise water paradise.
This tour can be done in one day, leaving early from Mexico City for the four hour drive to the hot springs in Tolantantongo. You're sure to enjoy the cleansing properties of the turquoise hot springs. We recommend taking this tour on a weekday when the pools are a little quieter.
Following breakfast en-route, on arrival at the hot springs, we get to the cliff top pools early in the day, so you can get that sought after Instagram shot in these one-of-a-kind pools. Each pool is fed by the natural hot springs in this area, and due to the minerals found in the rocks, the water is an incredible hue. It's a natural spa – no filters required!
You can opt for a zipline down from the pools to the river, or hike down through nature. The river is also a wonderful color, and warm to the touch. It's a great place for a dip, followed by a delicious lunch on the riverside.
After lunch, you can enjoy the pools or the river, or for the more adventurous, explore the tunnels and caves that lead to a beautiful waterfall spot. Make sure to bring water shoes or hiking sandals that you don't mind getting wet, along with a waterproof cover for your phone or camera.