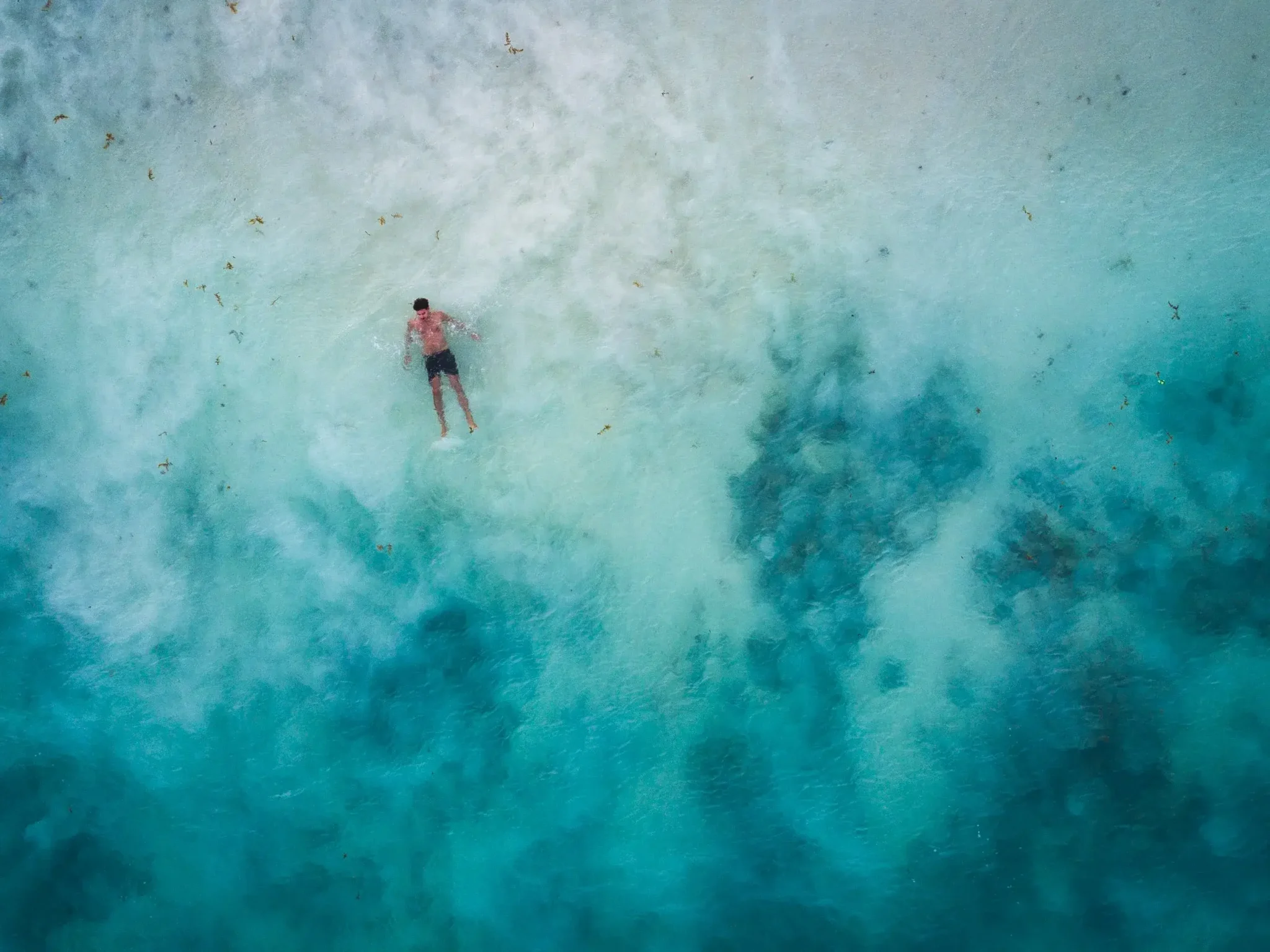 If you're yearning for a slice of tropical paradise, the bohemian beach town of Tulum in Mexico may well be the answer to your vacation daydreams. This Caribbean coastal stunner is a delicate mix of picture-perfect beaches and thick luscious jungle topped off with a cool boho vibe. Located on the east coast of Mexico, this former fishing village is home to some of the world's most Instagrammed beaches. So if you're looking for crystal turquoise waters and sugar-white sand, there are ten miles of exquisite Tulum beaches for you to explore.
Tulum has two main areas: Tulum beach (playa) and Tulum town (pueblo). It's a 90-minute drive south of perennial spring break favorite — Cancun — and although Tulum's not as bold and busy as its northern neighbor, your Tulum vacation can be as social or as chill as you please. This idyllic spot enjoys a reputation as a nature lover's paradise — an eco-chic destination brimming with yoga retreats, organic smoothies, and a burgeoning foodie scene. It's also known as a music event hot spot, with big-name DJs drawing large crowds to epic jungle raves and full moon parties.
Where to find Tulum's Top Beaches
When it comes to experiencing the natural beauty of Tulum, you can't go past its breathtaking Caribbean surrounds. Tulum's beaches stretch for more than 10 miles south of the spectacular Mayan ruins in Tulum National Park to the World Heritage-listed Sian Ka'an Biosphere Reserve. So you've got plenty of choices regarding where to stay and where to play along the Tulum coast.
Less development in the north means fewer hotels and beach clubs and easier access to that silky-soft sand. The further south you go, you'll find luxury accommodation and beach clubs and more of a party vibe.
And although Mexico's beaches are public by law, many of Tulum's resorts limit beach access to resort guests. Some beachfront hotels and beach clubs offer daybeds and cabañas for rent, as well as access to the beach if you dine or drink at their restaurant.
The Two Travel team are experts in all that Tulum has to offer, so to whet your appetite for your next visit to Mexico, we've put together a guide to Tulum's 10 Best Beaches.
1. Playa Ruinas
The spectacular 13th-century Mayan ruins are one of Tulum's biggest drawcards. These well-preserved structures sit high on a clifftop, overlooking a dazzling beach called Playa Ruinas. This secluded cove is all glistening blue water and powder-white sand and can be accessed via steep steps down from the viewing platform.
Arrive early at the ruins to beat the crowds and the midday sun, and make sure to bring a towel and your swimsuit so that you can cool off in the crystal-clear waters below. The striking contrast of the tropical jungle, dramatic ancient architecture, and baby blue water of the Caribbean makes this one of Mexico's most photographed locations.
2. Playa Santa Fe
The beautiful white sands of Santa Fe Beach are just a 10-minute walk south of the ruins. Playa Santa Fe is a public access beach, and its long, vast stretch of sand is the perfect spot for a day lazing in the Caribbean sun. You can still see the Mayan ruins from this stunning beach, and there are a handful of beachfront restaurants where you can grab a bite to eat or rent a lounge chair on the sand.
3. Playa Pescadores
The next beach heading south along the Tulum coast is gorgeous Playa Pescadores. This long stretch of sand gets a little busier at times because the local boat tours depart from here; it's also pet-friendly so expect to see some four-legged friends frolicking in the shallows. Playa Pescadores is the kind of beach where you can just throw a towel down on the sand and spend the day bathing in the calm azure water. If you're up for some adventure, you can head out on a snorkeling or fishing tour with one of the boats moored offshore, and make sure you sample the freshly caught seafood at one of the local restaurants.
4. Playa Paraíso
Named one of Mexico's most beautiful beaches, Playa Paraíso (Paradise Beach) is all crystal-clear water and pure white sand. It's one of Tulum's most popular beaches and has become an Instagram hotspot, with its famous leaning palm tree taking prime position on influencer feeds.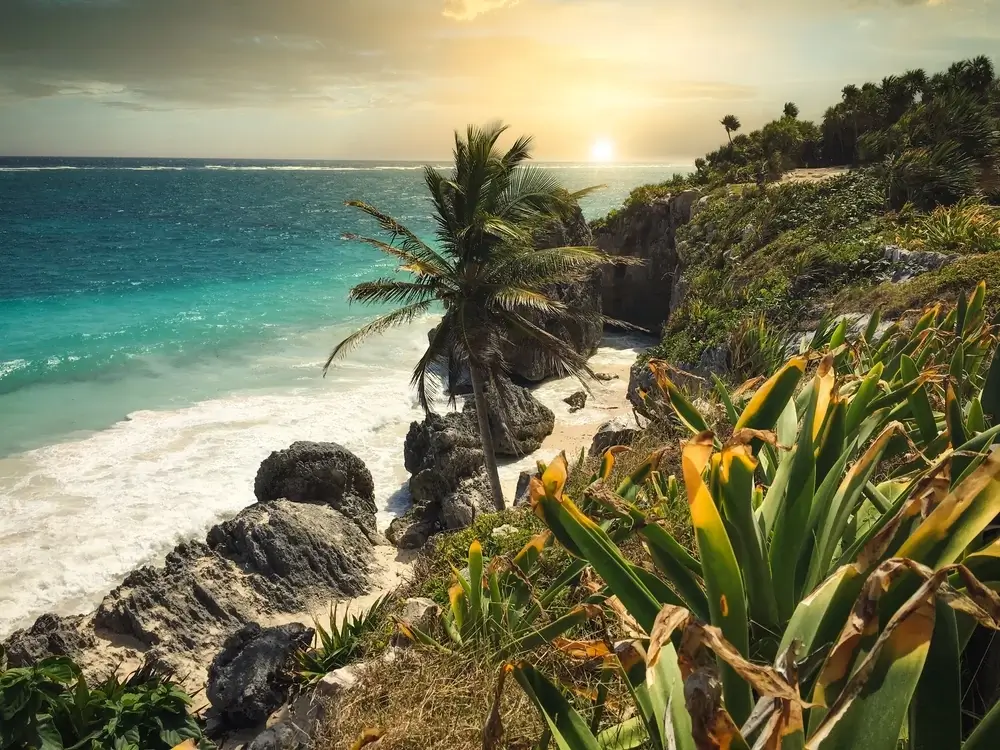 You'll find this slice of paradise just over a mile south of the ruins, and although it's long and wide, it's best to get there early to secure a good spot on the sand.
Paradise Beach has become popular with daytrippers, and while it's a public access beach, you can also rent a sunbed and fill up on food and drink at one of the local beach clubs.
5. Playa Las Palmas
The last of the beaches along Tulum beach road's northern stretch is Playa Las Palmas — one of Tulum's more secluded places to laze away a sunny day. This public access beach is the perfect spot to settle in for a day of sun, sand and baby blue water, and although it's less busy than some of the other spots along the Tulum coast, you'll still encounter local vendors selling their wares. Playa Las Palmas also has an outdoor beach gym resembling the one in Muscle Beach, California!
6. South Playa
South Beach is where you'll find the majority of Tulum's luxury hotels and eco-boutique resorts. Most of Tulum's beach accommodation lines either side of the Tulum beach road, and South Beach is the go-to for open-air clubs and lively beach parties. The Tulum beach strip is brimming with fine dining options located within instagrammable interiors — think sand floors and rustic decor — as well as high-end boutiques stocking bohemian-style fashion, handcrafted accessories, and organic skincare.
If you're coming to Tulum and want advice on where to stay and what to do, get in touch.
We manage some gorgeous houses and can offer great rates on unique experiences.
OK, let's get back to those amazing beaches…
7. Sian Ka'an Biosphere
If you're dreaming of lazy days on a secluded beach, get off the beaten track and venture into the wilds of the Sian Ka'an Biosphere. This UNESCO World Heritage nature reserve is south of Tulum and spans more than one million acres! Home to thousands of species of fauna and flora, Sian Ka'an is tricky to get but worth it. Sian Ka'an boasts an abundance of stunning places to swim — we're crystal-clear waters with not another soul in sight. There are miles of coastline to explore, and while some of the beaches are rough and rugged, others are protected and serene. The reserve beaches are not like Tulum's developed areas, so bringing supplies is essential.
8. Soliman Bay
If you head back in the other direction — that's north of Tulum towards Playa del Carmen — you'll discover a hidden gem called Soliman Bay. This tranquil tropical hideaway has escaped the development found along other parts of the Riviera Maya, so you won't find large beachfront hotels and loud bars along this stretch of sand.
But if you're seeking sunshine and serenity against a tropical backdrop, this pristine piece of paradise is ideal. Soliman Bay is a semi-private gated community, so to gain access to the beach, you'll need to refuel with an ice-cold drink or some tasty ceviche at one of the small beachfront restaurants.
There's an outer coral reef that protects the bay's calm turquoise waters and provides snorkelers with an amazing underwater world full of marine life. Make sure to pack beach shoes or flip-flops to avoid mishaps with broken coral and seashells.
9. Akumal
If you're a wildlife lover, then a day trip to the town of Akumal is essential. Akumal is known locally as 'Place of the Turtle,' and it's famous for giving visitors the chance to swim with wild sea turtles. It's a small inlet, about 30 minutes north of central Tulum, that boasts brilliant underwater visibility and warm, calm waters thanks to the surrounding coral reef. As well as the juvenile sea turtles, snorkelers are spoilt with an incredible abundance of marine life, including manta rays, parrotfish, and pufferfish. This popular beach vacation destination was officially founded in 1958 as a scuba diving community and is quite commercialized compared to other beach towns along the Tulum coast.
10. Paamul Beach
For a stripped-back beach experience, travel a little further north towards Playa Del Carmen and make a stop at Paamul Beach. This crescent-shaped bay is less developed than other spots along the Riviera Maya. But what it lacks in beach clubs and facilities, it makes up for with calm blue-turquoise water and plenty of swaying palm trees to protect you from the midday sun. A favorite amongst locals and visitors, Paamul boasts superb snorkeling thanks to the offshore coral reef, and you can indulge in delicious local cuisine and an ice-cold beer at the resident beach restaurant.