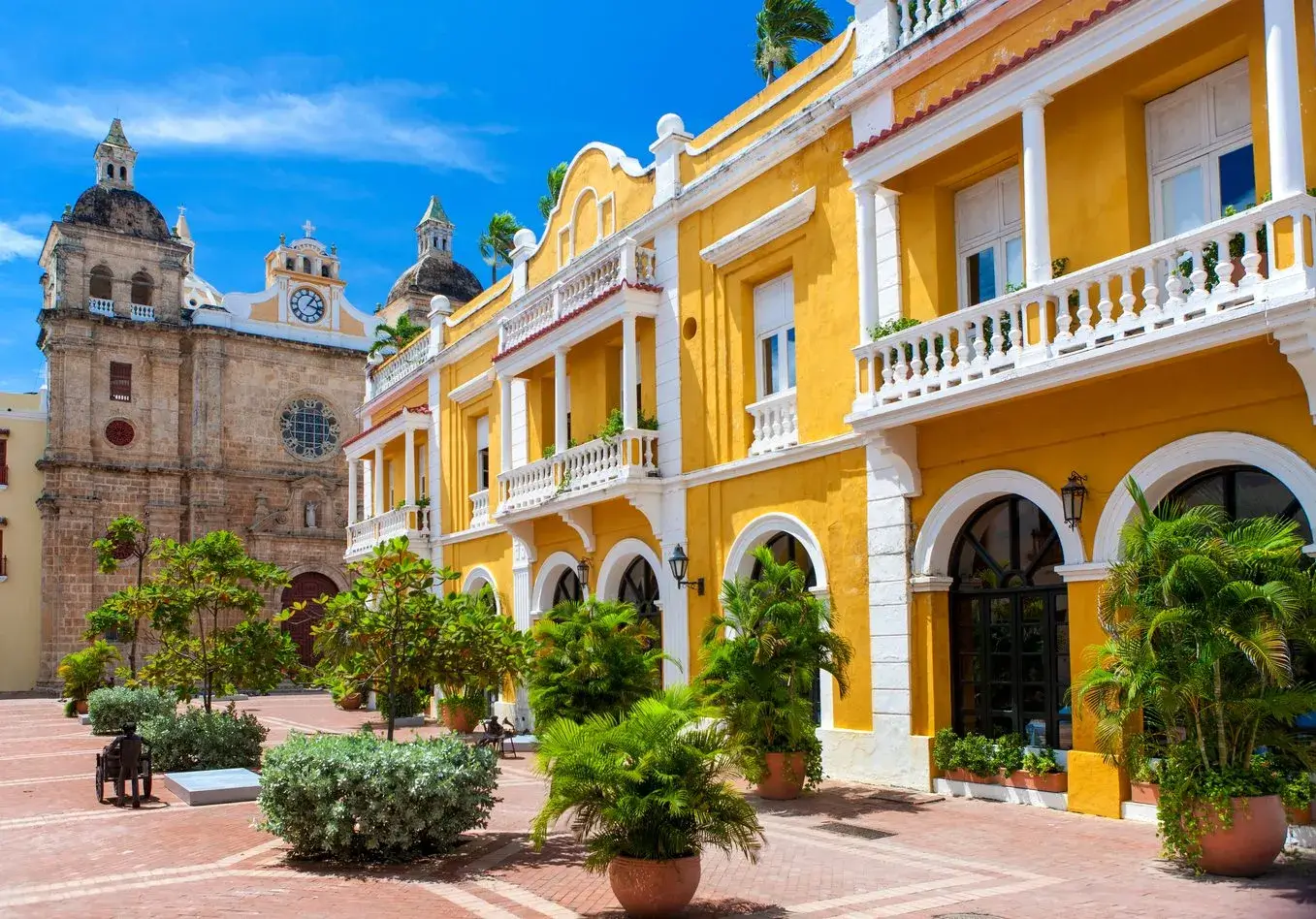 World-renowned as one of the most romantic cities in the world, Cartagena is a sought-after dream wedding destination for many couples, and for good reason.
Firstly, the historical Old City is resplendent with beautiful spots for those cherished photos of your special day.
Secondly, the range of venues for your wedding ceremony and reception are top class, catering to celebrations and budgets, big or small. Don't forget that the US dollar goes a lot further in Colombia.
And thirdly, you're just a yacht away from some of the most beautiful Caribbean islands for your pre- or post-wedding party or honeymoon.
Oh, and did we mention it's one of the most romantic cities in the world?!
If you're considering Cartagena as your wedding destination, here are some places to consider for your special day and some important things to keep in mind when planning a wedding in Cartagena, Colombia.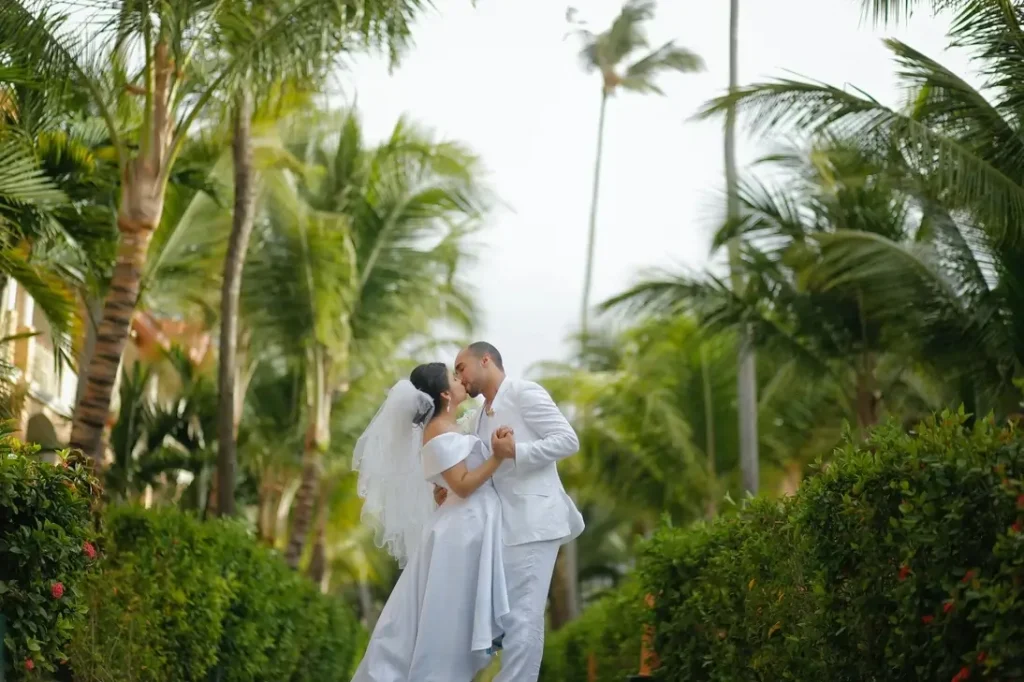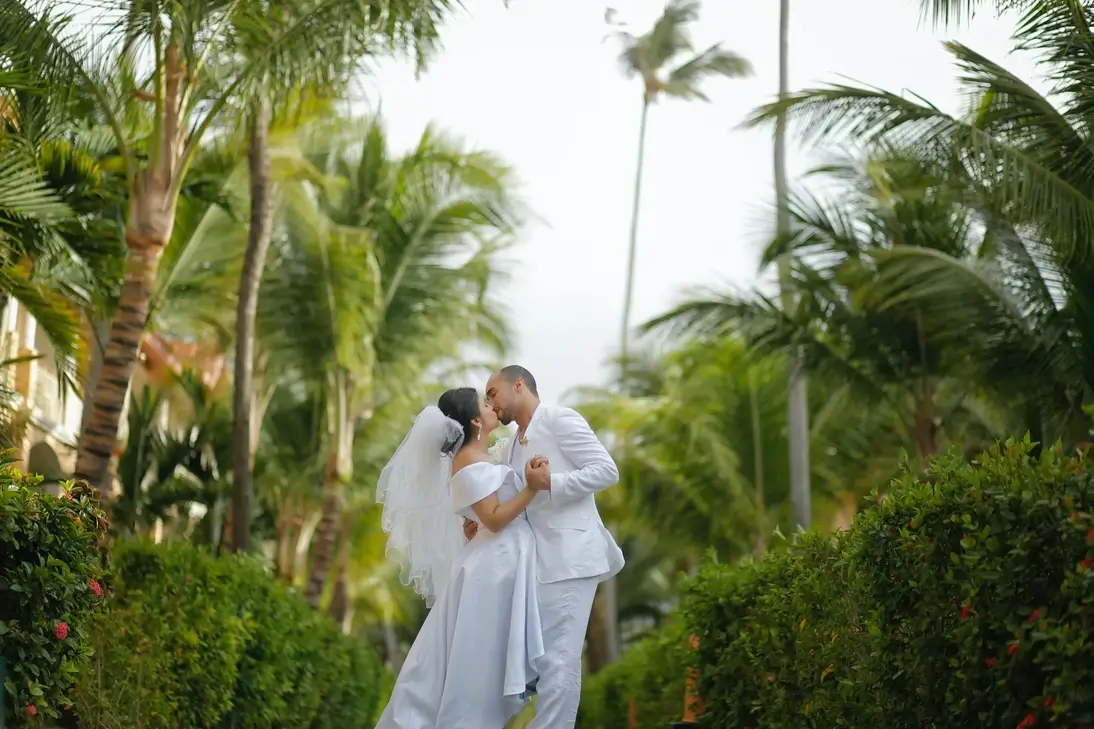 Wedding Venues in Cartagena
No matter how big or small your wedding guest list, Cartagena has a venue that will work for you. With so much choice in the city, choosing a venue is one of the hardest things to do. So rather than talk about every venue available, here's Two Travel's guide to the types of wedding venues you'll find in Cartagena. Let's get dreaming!
Luxury hotels like the Sofitel Santa Clara
The Sofitel Santa Clara is often at the top of the list when it comes to wedding venues in Cartagena. It's a former convent, now a 5-star hotel set in luxury colonial style in the centre of the historic old city, with terraces, pools, fountains and cloisters that feel straight out of a film set. If you're planning a big wedding with a budget to match, this is the venue for you. For smaller weddings seeking a similarly dramatic backdrop, consider a boutique hotel like Amarla or the unbeatable rooftop views at Movich.
Get hitched on the beach
If you've always wanted to get married on a beach, we highly recommend Fenix Beach Club. Located on Tierra Bomba, the nearest island to Cartagena, Fenix is perfect for couples who want a fashionable, festival feel for your wedding of 50 – 300 people. They truly have a beautiful and versatile beach setting.
The island of Tierra Bomba is fast becoming a popular destination for beach weddings, with another luxury beach club – Makani – now open. Closer to the city, you'll also find Tamarindo Beach. And for those of you looking for a beach wedding, but without the boat trip, the Hilton Cartagena is an excellent spot. For the more adventurous, talk to us about planning a wedding on your own private island in the Rosarios!
A Cartagena Church Wedding
Even if you're not religious, the churches and cathedrals in Cartagena will take your breath away. But if you want to get married in one of these stunning venues, you do need to prove your Catholic faith with both a baptism and confirmation certificate.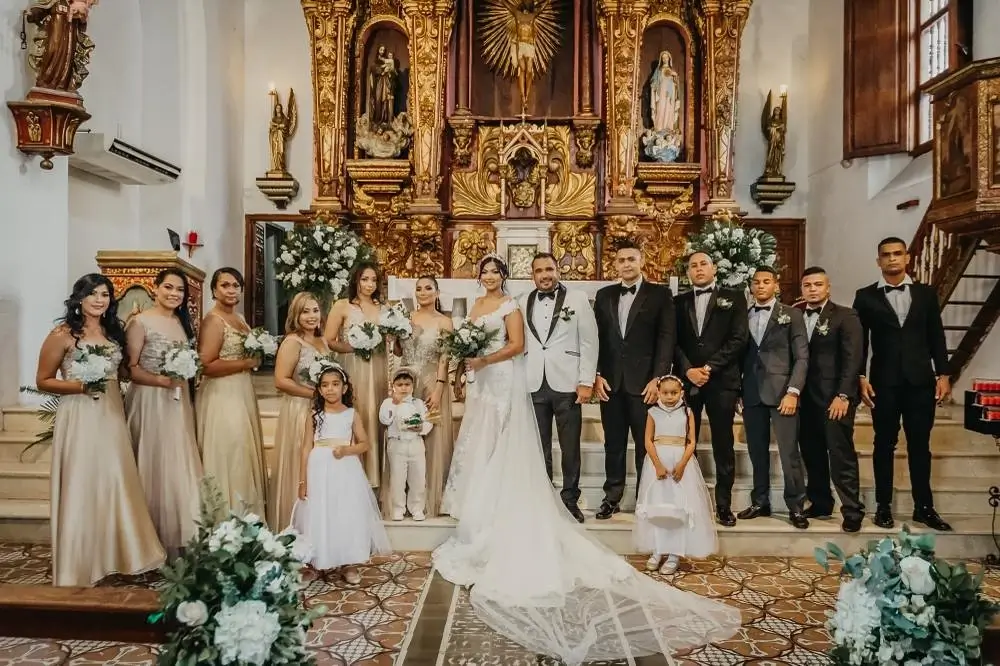 The three most impressive and sought after church venues for a wedding are found in the Walled City. They are the Cathedral, Santa Catalina, the Sanctuary of San Pedro Claver and Santo Toribio church. They are all set close to beautiful colonial squares for those all important "just married" photos.
Getting married in a private colonial house
Cartagena is blessed with a wealth of private colonial houses and villas, which can be hired and converted into the wedding of your dreams. Think cool green terraces, set back deep from the noise of the streets, overlooked by grand old balconies. They're a godsend for any wedding photographer wanting to capture you and all your family friends together in one shot.
Take a look at one such villa – Casa Estrella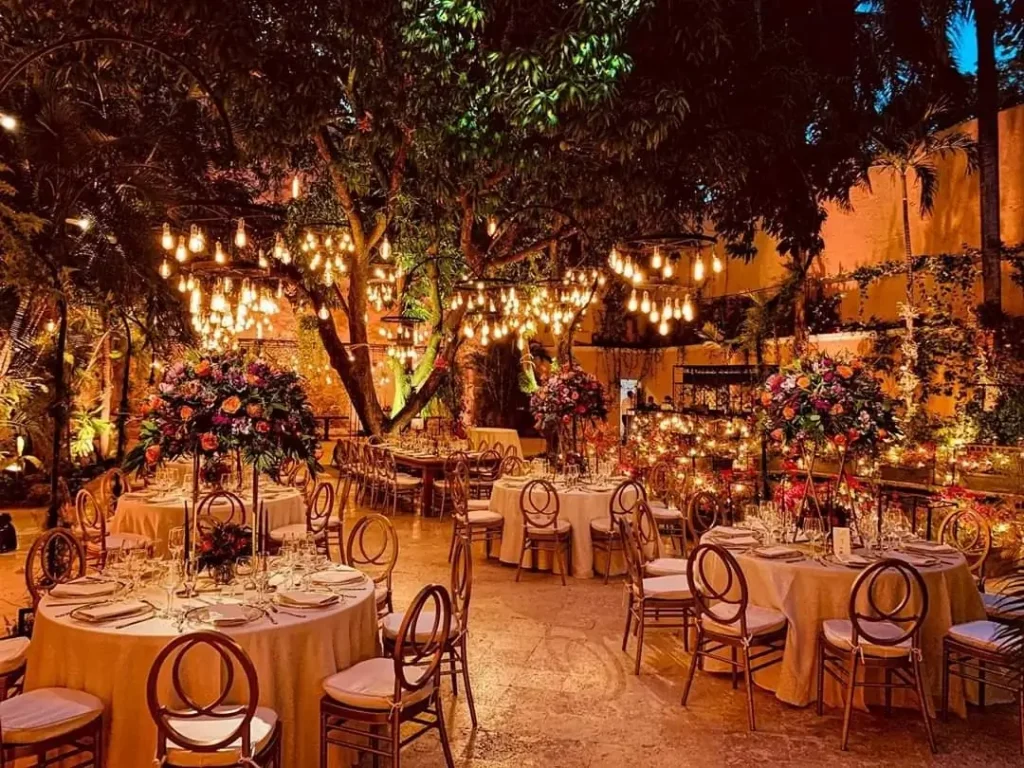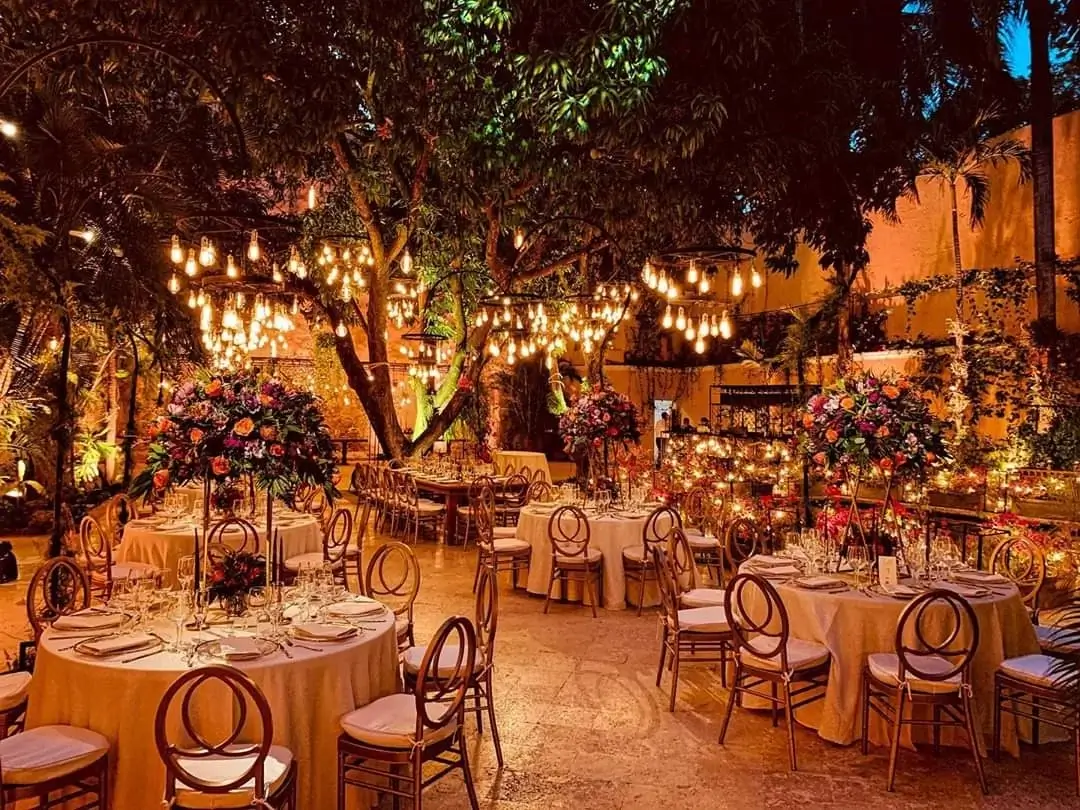 Two Travel has access to a huge number of villas and mansions in the city, so get in touch and we can discuss your needs in more detail.
Special Cartagena Wedding Venues
As we mentioned, Cartagena has a wealth of wedding venues to choose from. Here are a few that don't fit in with the categories above, but are very much worth a mention.
Teatro de Adolfo Mejia – Truly a dramatic setting for a wedding, this theatre is a very special venue with impressive ceiling frescos, and beautiful boxes and balconies built in the old European style.
Club de Pesca – Set across the bridge in an area called Manga, this restaurant is nestled in a beautiful marina amongst luxury yachts and ancient colonial walls.
Centro de Convenciones (Cartagena's Convention Centre) – set on the bay near the Clock Tower, here you can choose from a number of indoor or outdoor settings for your wedding. It's also one of the best places for a show off fireworks display to celebrate your marriage!
Things to Consider when Planning a Wedding in Cartagena
We hope we've inspired you to choose Cartagena as your destination wedding location. But before you book, here's a few things to keep in mind when you're planning a wedding in Cartagena.
1. Best Time of Year for a Wedding in Cartagena
Any time of year can work for a wedding in Cartagena, but be mindful that the months of July and August are VERY humid, and October is often rainy. Prices tend to rise during the holiday months of December and January (Christmas and New Year), and around Easter week.
2. Consider a visit or two to get a feel for the city
We highly recommend at least one visit before your wedding day. Take time to get a feel for the city, experience the venues, and make plans face-to-face with your wedding suppliers. There are some fantastic wedding dress and suit designers based in the city, some of whom will also do rentals, so you don't have to worry about how to transport your outfits on a flight.

For those of you based in the USA, you'll find good direct flights from Miami (3 hrs) and New York (7 hrs), or if you're based in Europe, Amsterdam has direct flights, or you could arrive into Bogota, then it's a 90 minute flight into Cartagena.
3. Accommodation and activities for your guests
A wedding day takes a lot of planning. A destination wedding, even more so, because you, your family and friends are here for more than just a day or two. Consider the days running up to the wedding and the days just after your special day. Maybe you want everyone to go on a sunset boat cruise, or escape to the islands for a day or two. And don't forget all the question you'll get about where to stay in the city.
When planning a wedding with Two Travel, we don't simply plan your wedding day. We, of course, have a dedicated wedding planner, who will help to organise every detail for your wedding day. But we also offer a concierge service for wedding guests – meaning your friends and family can ask us all those annoying questions about where to stay and what to do. And we'll get you the best rates for any activity or accommodation you might want to offer.
4. Planning in Spanish and paying for services internationally
With Two Travel, you don't have to worry about crossed wires from mis-translations between English and Spanish – we are all fluent in both English and Spanish. We're also fluent in doing business in Colombia, which can be very different at times, to doing business in the US or Europe.
We can ease the pain of international charges and currency conversions – not just for you, the special couple, but also for your family and friends. Get in touch with us to plan your wedding in Cartagena, and we not only get you the best prices, we make sure you get exactly what you want for your whole stay.
5. Don't forget your bachelor / bachelorette parties or maybe your honeymoon
Cartagena is a popular destination, not just for weddings, but also for bachelor and bachelorette parties, and due to its UNESCO World Heritage status and its nearby Caribbean islands, it's also a perfect place for your honeymoon. So if you want to make it more than just one flying visit, we can also make that happen – making sure all those all-important moments are unforgettable, fun and free of stress. Just let us know what you want, and we'll help you make it a reality.
Have fun planning your wedding! We hope you come to Cartagena. Find out more about our wedding planning services, wedding guest services, bachelor weekends and bachelorette weekends. And if you have questions or want to plan your special event, get in touch to Build Your Journey >