Cartagena is one of Colombia's most thriving cities. Founded in 1553 as a portal of trade between Spain and the American colonies, this beautiful historic city boasts impressive colonial architecture, a rich history, a vibrant culture, and a beautiful landscape. Today, Cartagena is considered the safest metropolis in Colombia and one of the best spots for tourism in South America!
Located in the northwest area of Colombia, this city sprawls between the inland hills of the department of Bolívar and the white sand coastline of the Caribbean. There's plenty to see and do in Cartagena—soak up the sun on the beaches, take in the spectacular views of the tropical scenery, or wander through winding cobbled streets in charming neighborhoods. Just a short boat ride away, you'll find the Rosario Islands – a protected reserve or picture perfect islands and coral reefs.
Two places you absolutely won't want to miss within Cartgena, are the Walled City of Old Cartagena and the neighborhood of Getsemani. Between these two districts, you can get a thorough taste of the culture and people of Cartagena while experiencing some of the city's most noteworthy sights, tastes, and sounds!
The Walled City of Old Cartagena

One of the most memorable neighborhoods in all of Colombia, the Walled City of Old Cartagena is famous for its rich history and magnificent architecture. This district is so important to Colombian culture that it was named a UNESCO World Heritage Site In 1984!
Castillo San Felipe outside the historical centre, and the fortifications that surround and protect the city were built by Spanish colonists to protect from pirates, most notably Sir Francis Drake, during the 16th century. The entire neighborhood is surrounded by a massive stone wall and can only be entered through one of many arched gateways.
Despite the constant flow of tourists and the passage of three centuries, this enchanting fortified city has managed to preserve much of its authentic architecture and colonial charm. Visitors today find a winding network of cobbled streets, colonial churches, ancient mansions, and rows of brightly painted cottages protected behind the castle-like walls.
Today, Old Cartagena hosts a thriving tourist community. Many of the antique family mansions have been transformed into luxury hotels that still maintain some of the original construction and showcase authentic colonial decor. There are hundreds of world-class restaurants here, and it is expected that the Walled City will soon overtake Bogota as the culinary capital of Colombia!
You can expect to pay a little more for your accommodation, dining, and adventures within the walls, but it will be well worth it to experience this enchanting old-world city.
Things to Do in the Walled City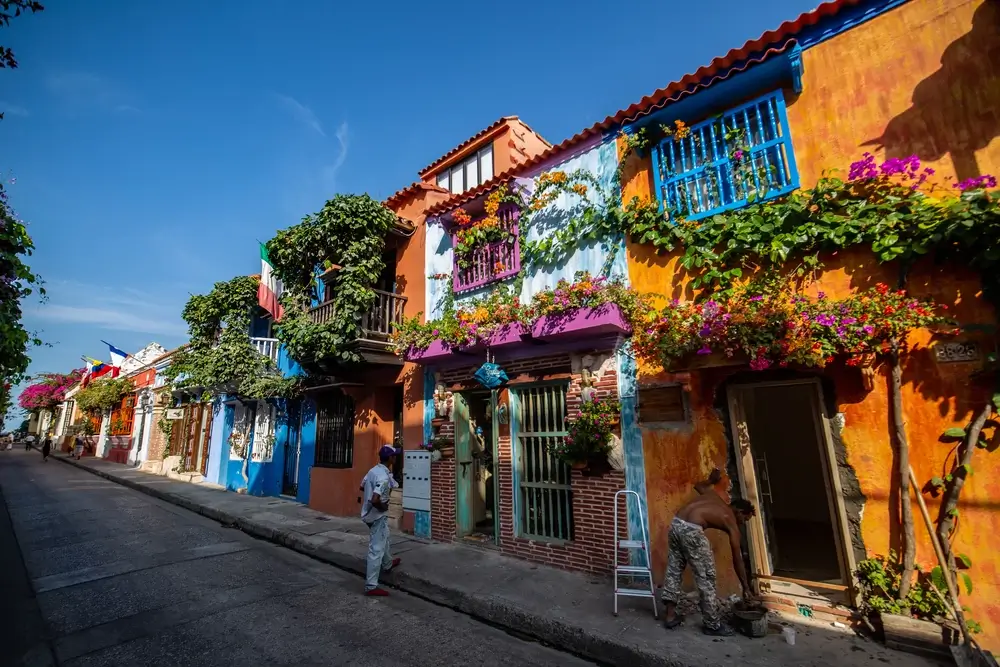 During the day, wander through the Old City's streets, lined with brightly painted houses and seemingly perfectly preserved colonial architecture. Travelers will find tropical blooms draping from colorful balconies, enchanting stone archways, and a tantalizing selection of local street food.
If fine-dining is what you've come for, be sure to try La Cevicheria for exquisitely prepared Colombian seafood, Montmartre for classic French cuisine, or Alma for contemporary classics in a romantic setting.
The Walled City is an amazing place to watch the sunset over the Caribbean! Just before dark, head to the Cafe del Mar to enjoy cocktails and fine dining with the view, or purchase drinks and a fruit cup from one of the street vendors and join the locals on the western wall. Either way, you'll enjoy spectacular views of the sun setting over the vibrant Caribbean waters!
Getsemaní – Cartagena's Williamsburg
Once considered Cartagena's shadiest neighborhood, today, Getsemaní has evolved into a modern and trendy corner that draws tourists with its vibrancy and artistic expression. Located just outside of the Walled City, no trip to Cartagena is complete without a tour of this neighborhood.
Like the Walled City, Getsemaní features colonial architecture, winding streets, and bright colors. Mingled in with this classic aesthetic is an astonishing array of talented street art. Painted on buildings, walls, and sidewalks, the colorful local artwork has become an identifying characteristic of this trendy neighborhood.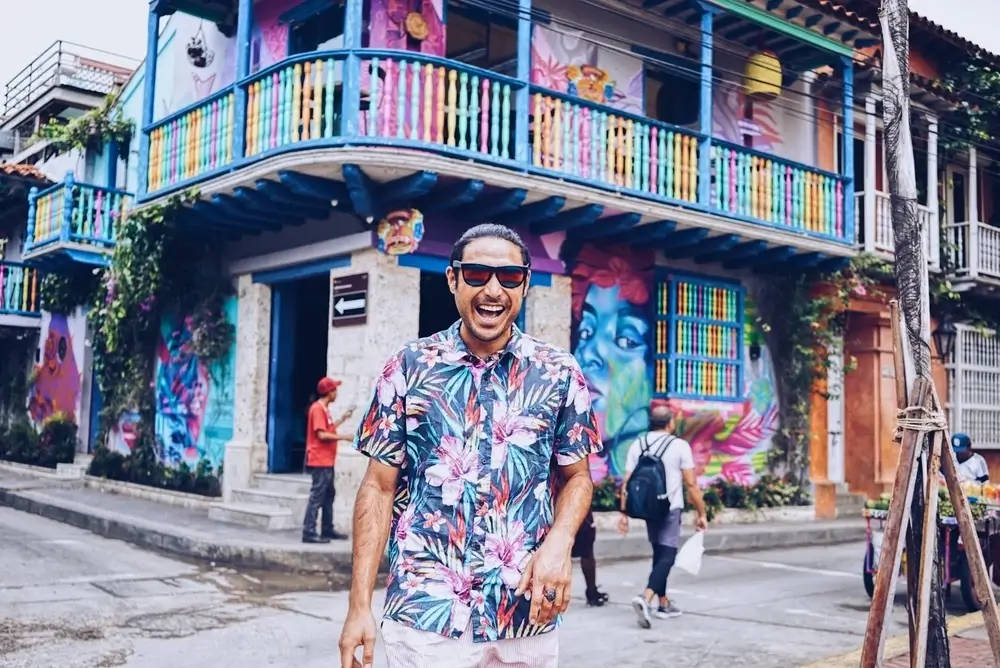 Getsemani revolves around Plaza Trinidad, a large open square bustling with food vendors, cafes, and musicians. Every night, the plaza comes alive with a mix of tourists and locals coming together to enjoy good music, food, dancing, and company. While it's still a bit rough around the edges, the local vibe, amazing street art, and authentic feel of Getsemani make it well worth the visit!
Things to do in Getsemaní
Getsemani seems to have been designed for wandering. The first thing you should do here is just that: walk! Amble up and down the narrow streets to enjoy the fantastic artwork, brightly colored homes, and prolific tropical plants that line almost every road.
For food, head to the Plaza Trinidad. The main square of the city has a wide selection of vendors to choose from, all of it well-priced and delicious. For a more formal setting, try out Di Silvio Trattoria for pizza and Italian food, or, go to Cafe del Mural for some of the best coffee in Cartagena!
Whatever you decide to do in the city of Cartagena, get in touch if you would like help with nightlife and restaurant reservations, tours, boat hire, day trips of the best villas in the city.