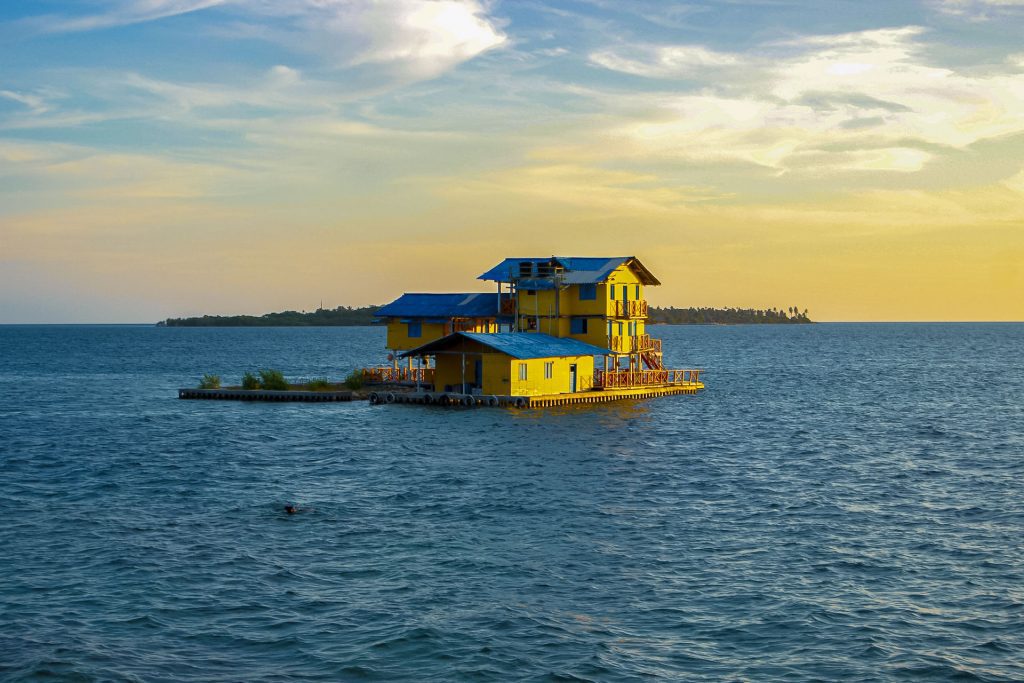 It's hard to pick just a few of the best places to visit in Colombia. In every corner of this magical country, there are different things to explore and traditions to fall in love with. The mix of landscapes, music, and gastronomy makes it a cultural melting pot that is unique in the world.
Colombia's diversity is what makes it so special. It has snow-topped mountains, white-sand beaches, thick jungle, arid deserts, and metropolitan cities. Colombia has something for everyone. And on your Colombia vacation, we want to make it as special as possible. That's why we have compiled this guide to help you plan out the vacation of your dreams with the best places to visit in Colombia.
Colombia is a vast country, with mountains and canyons running through its core and impenetrable jungle around some of its edges. One would need months or even years to fully explore it. However, on your vacation in Colombia, you can cherry-pick from some of our favorite destinations and stay one step ahead of other travelers. Explore the colorful streets of Cartagena and the crystal-clear seas of the Colombian Caribbean, then on to Medellín and the rolling hills of the coffee region. Take a trip with us as we explore the best places to visit in Colombia, and why you need to visit Colombia now!
Colombia: Just a short flight from the USA
Colombia is, on average, just a 3-hour flight from Miami and a 5-hour flight from New York. Its proximity and the ability to get great flight deals with multiple different airlines means that it's possible to pop over for a short vacation or even a long weekend. Of course, if you want to visit multiple destinations, we would recommend a longer stay of a couple of weeks.
Climate and temperature in Colombia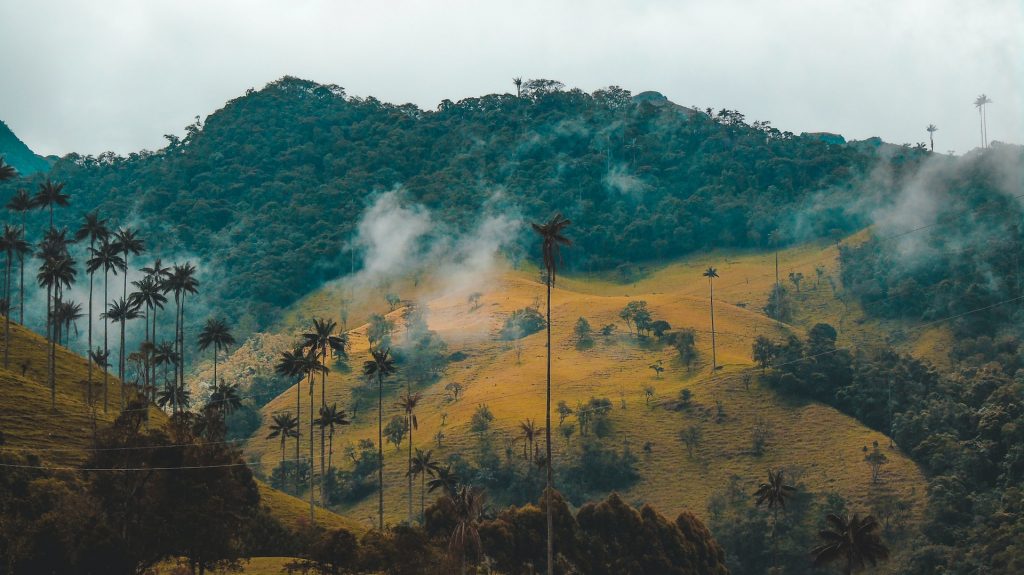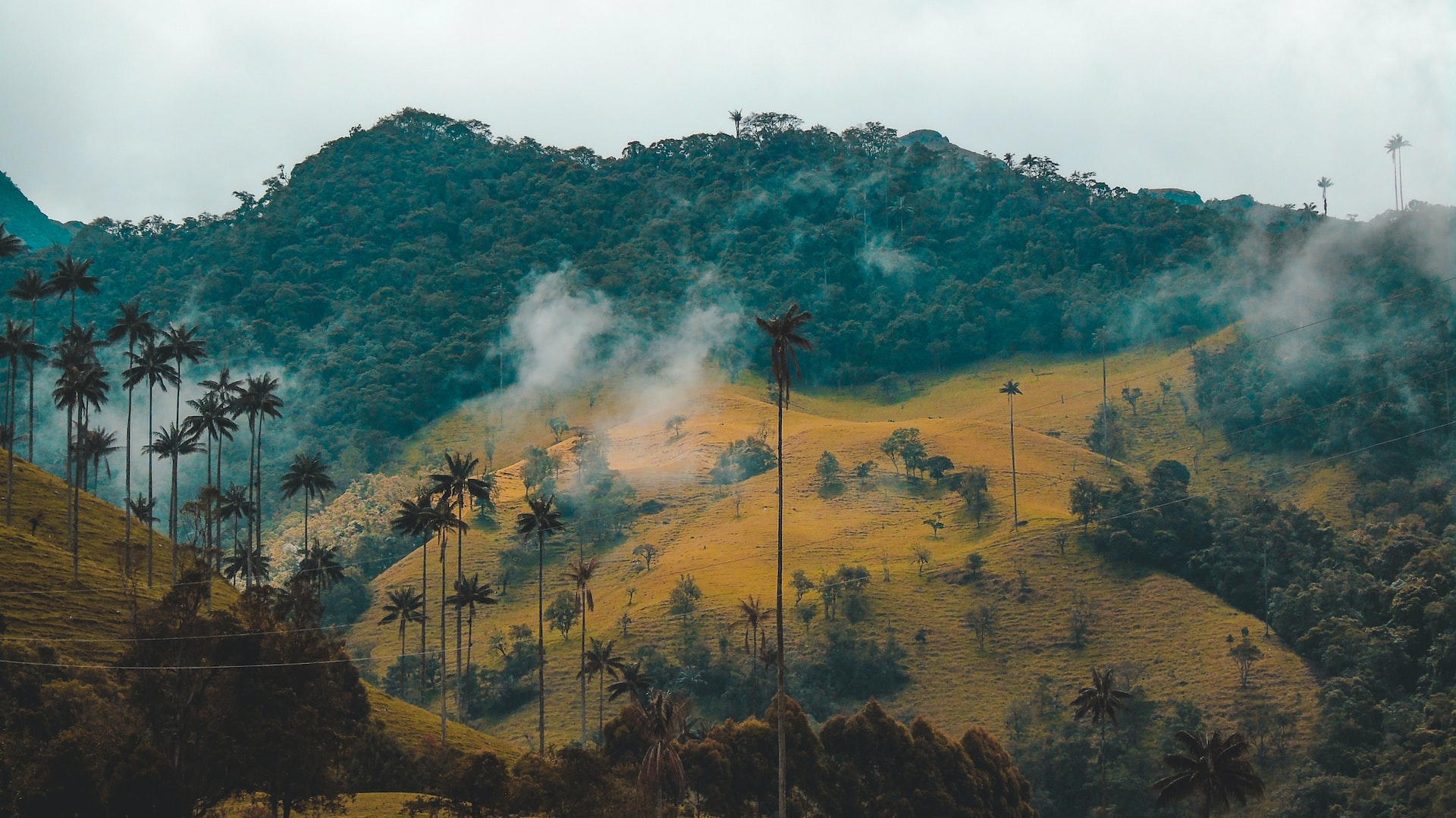 Due to its positioning close to the equator, temperatures in Colombia are affected by altitude, not by the time of year. This means that if you head to the coast, you are always guaranteed to get warm, sunny weather all year round, and you can head to the mountains for cooler weather. Bogotá, at 8.660 ft above sea level, is notoriously grey and rainy. However, seaside destination Cartagena averages 80°F – 90°F (27-32 Celsius). As a perfect medium at 4,900 ft, Medellín is known as the "City of Eternal Spring", with temperate, spring-like climates. If you're looking to avoid the rain, April-May and October-November are when it is most likely to rain across the whole country.
Colombian people and Culture
Over the past few years, Colombia has been shaking off the negative stereotypes it got during the 1980s and 90s. Colombia has proved over and over again that it is so much more than its past. The warmness and friendliness of its people never fails to surprise and delight us. Colombia has been voted one of the world's happiest countries, and the joy and good vibes of its people is infectious wherever you go. Colombian people love to embrace their multiethnicity. Indigenous, Spanish, African and Arab cultures all come together to make the modern Colombian. Different regions within Colombia have different accents, music styles, and gastronomies; all influenced by this same blend of external and internal influences.
Where are the best places to visit in Colombia?
Colombia is truly the country that has it all. So, depending on what you're looking for during your trip to Colombia, you can surely achieve it. Below, we have detailed a list of our favorite places to visit and the truly unmissable destinations where you are sure to make life-long memories.
Cartagena and the Colombian Caribbean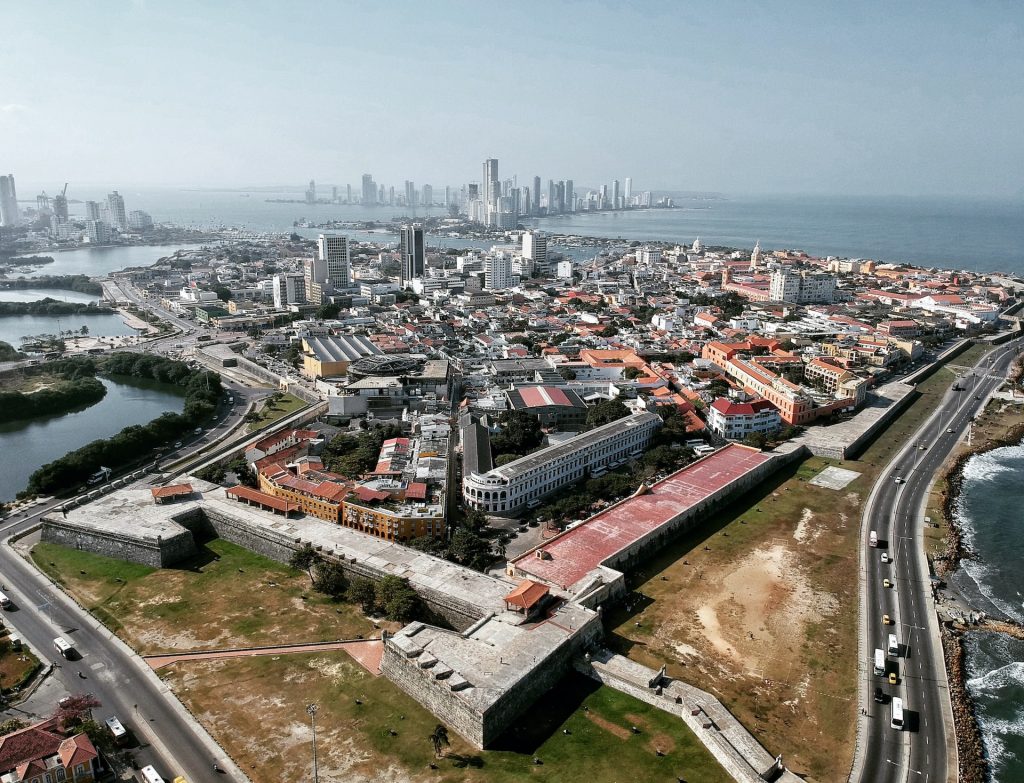 Cartagena is the jewel of Colombia's northern coastline. Its colonial, UNESCO-protected walled city and sleek, Miami-like surrounding neighborhoods make it one of Colombia's most popular destinations. Cartagena also has stunning islands and archipelagos nearby, such as the Rosario Islands and Baru, which boast crystal-clear waters and white sandy beaches. There's no better place to rent a speedboat or yacht than Cartagena. You can even rent out your own private island for parties! Live the dream!
Cartagena's colonial center is like walking through a movie set; colorful houses lined with bougainvillea flowers; private swimming pools glistening in the afternoon sun, and palm tree-lined beaches. Many tourists highlight Cartagena as one of the best places in Colombia. Whether you're there to party, relax, or shop; there's something for everyone.
Cartagena is also home to some incredible restaurants and some of the best cocktail bars in the world (Cartagena's very own Alquímico and El Barón were featured on worlds50best.com). You'll hear us sing Cartagena's praises in our blog post on the Best Restaurants in Cartagena.
What are you waiting for? Get in touch with us today to find the perfect villa and book your own yacht or trip to the islands near Cartagena!
Other notable areas on the Caribbean coast:
Barranquilla is the fourth-largest city in Colombia and the location of the second-biggest Carnival in South America after Rio. During this time, this usually very organized city transforms into flurries of flowers and feathers. Music plays on every street corner, and the streets and bars fill up with people in colorful outfits dancing and drinking aguardiente, an aniseed-based Colombian liquor. Carnival is an unmissable spectacle for visitors. Dates vary, but Carnival de Barranquilla usually takes place between February and March, and warm up events take place throughout January.
The San Bernardo Islands: If you have planned a visit to the Rosario Islands an hour from Cartagena by boat, don't miss also getting to know the San Bernardo Islands. These gorgeous, unspoiled islands can be reached by direct boat from Cartagena (2 hours) or from the tiny fishing village of Rincón del Mar (40 minutes). On the islands of Mucura and Tintipan, you will find white sand beaches and crystal clear seas; a true Caribbean paradise.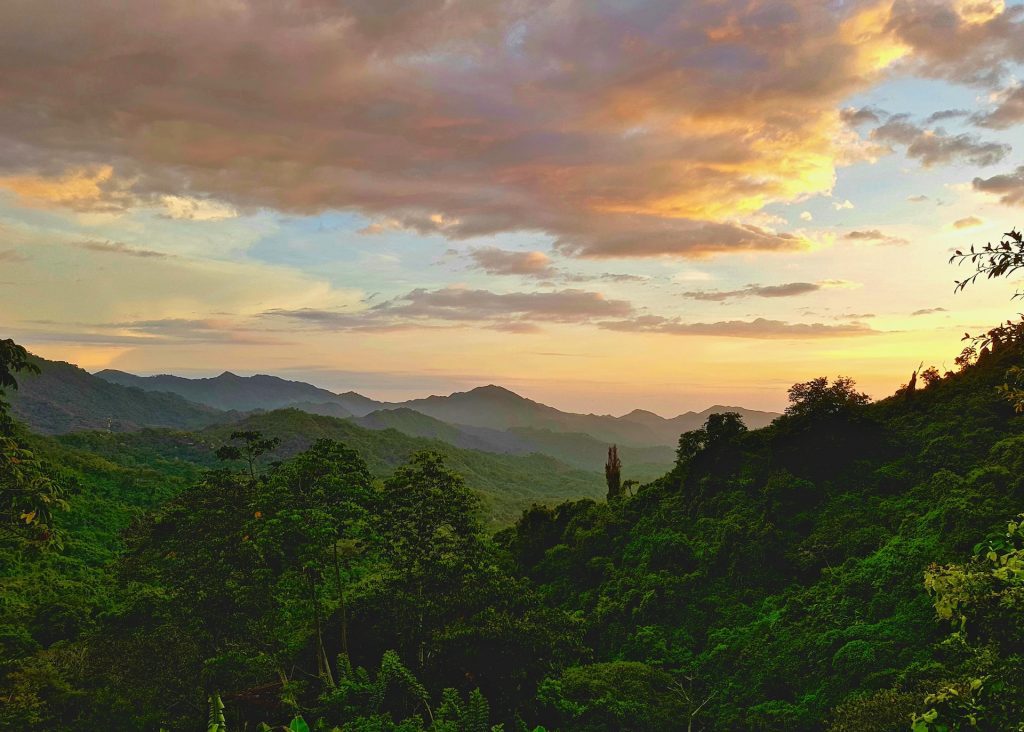 Minca, a tiny village tucked up in the mountains near Santa Marta, is the perfect destination for eco-conscious travelers looking to reconnect with nature. Explore waterfalls, tropical jungle, and check out the toucans and monkeys hanging out in the trees nearby. You can also visit a working coffee farm just above the town.
Medellín and the Villages of Antioquia
A trip to Colombia wouldn't be complete without a visit to Medellin. It is without a doubt one of the best cities in Colombia. This sprawling, metropolitan city is built in a valley, so many houses and villas have incredible views over the mountain. Why not rent a penthouse with us, and watch the city lights twinkling like stars in the valley below you? Medellin is a party city, and we have the best contacts and recommendations to ensure that you have the best experience.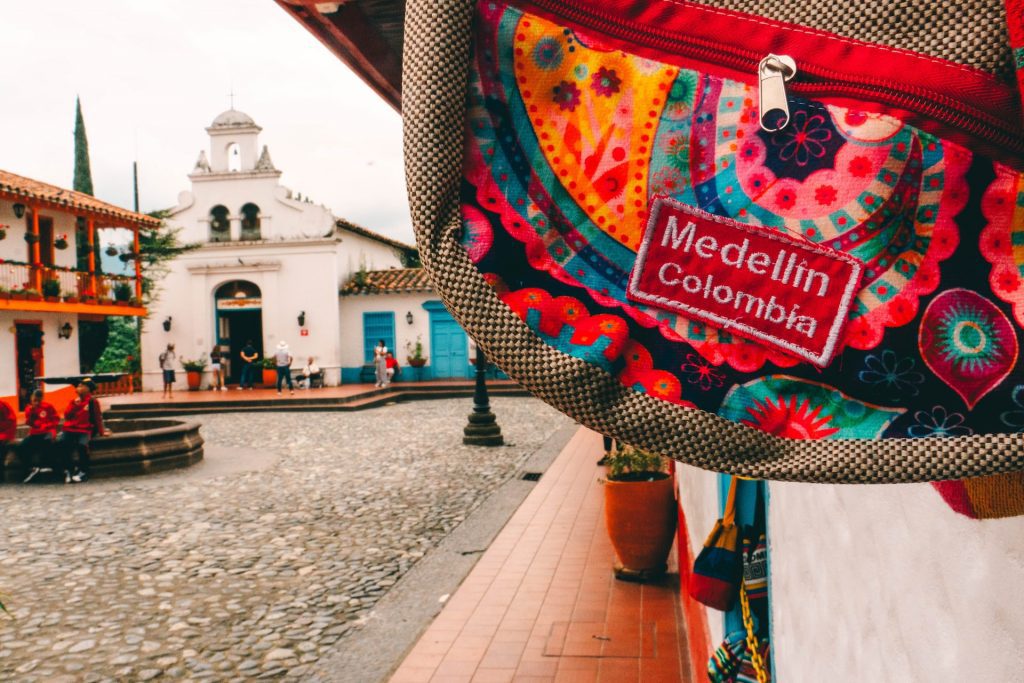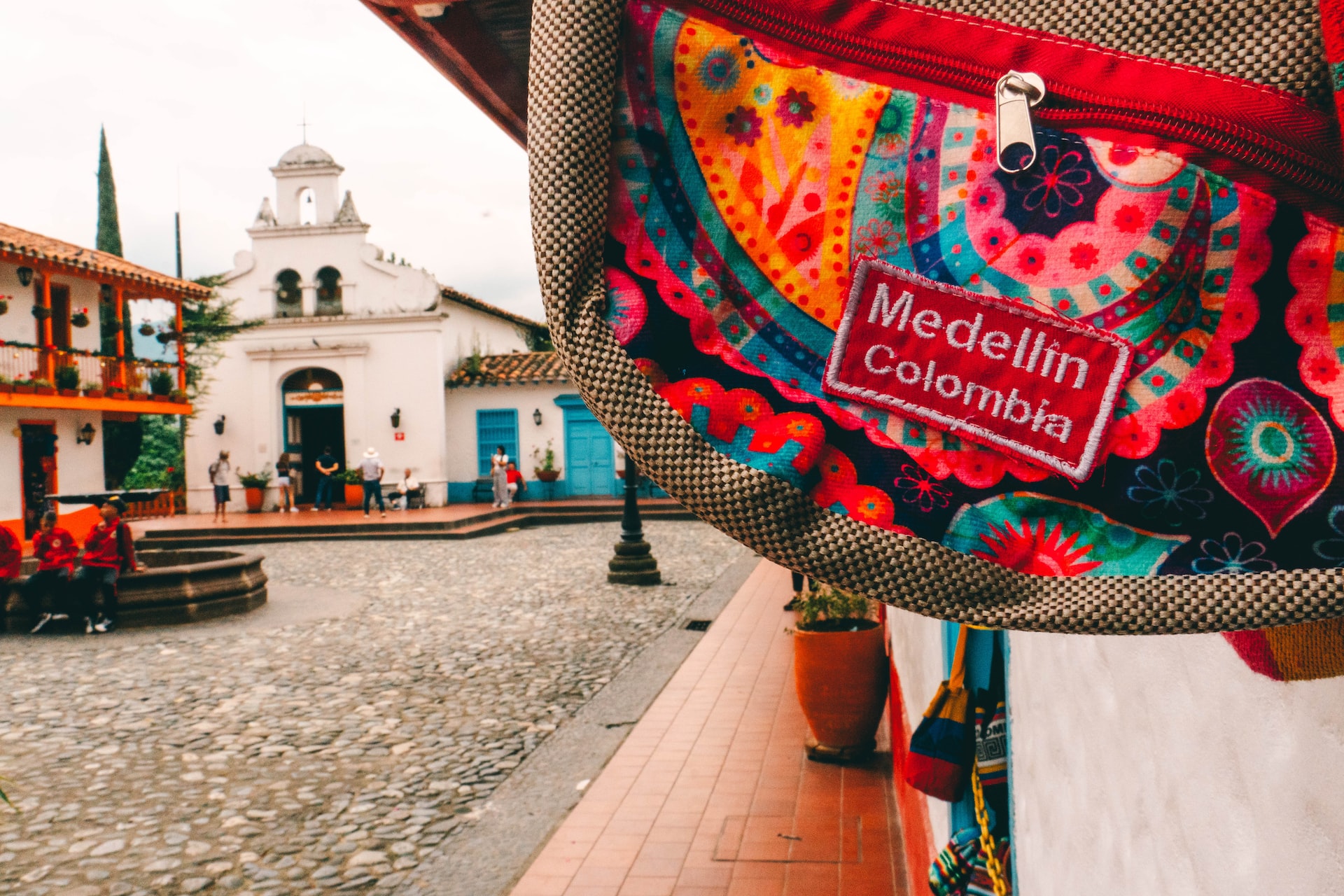 You can also take a tour with us to see the best places in town. Our tour guides are local and knowledgeable, with your best interests in mind. The tour we recommend to start with would be our Medellin City Tour. From rooftop bars to deep house nightclubs, a night out in Medellin will surely be one to remember. On an average Friday night, you'll be likely to find us drinking cocktails in Provenza, Medellín's most up-and-coming neighborhood. On our blog The Best Places to Party in Medellin, you can find our local recommendations.
The villages of Antioquia
Guatapé: If you need some downtime in the countryside to recharge after partying hard in the city, Medellin also has the perfect options. There are many "pueblos" – small towns – located just a couple of hours' drive from the city. Guatapé is a popular destination, famous for its enormous granite rock "El Peñol". This stunning natural formation has 740 zig-zagging steps up to the top. From the top, you can enjoy a refreshing "michelada" beer, and take in the gorgeous view of the lake and green rolling hills surrounding it. The town itself is picturesque and colorful.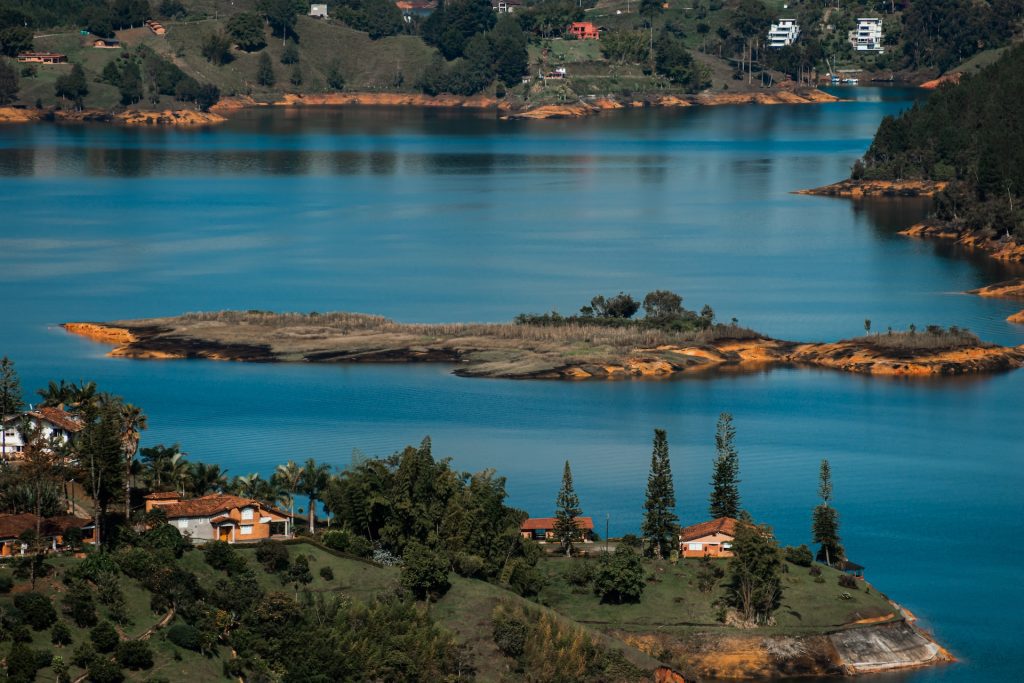 We also highly recommend a trip to Jardín, Antioquia. Its name literally means "garden", and this town does not disappoint. Its temperate climates and green hills make this town feel like a paradise. Stroll through the cobblestone streets, go horse riding, or take a local coffee tour. Ideal to spend a romantic weekend and disconnect from technology.
If the cooler weather in the Medellin hills gets a bit too chilly for you, you can travel for around an hour and a half to Santa Fe de Antioquia. In this postcard-pretty town, temperatures rise to a warm 85°F (29°C), which makes a nice change from the weather in the rest of the region.
The Coffee Zone
The Coffee region of Colombia, also known as the Coffee Triangle, is the area where three of Colombia's departments meet; Caldas, Risaralda, and Quindio. Fly into the city of Pereira or Armenia and take a local bus to one of the quaint towns tucked into the hills. This area is one of stunning natural beauty and is home to the famous Valle de Cocora. Here, you can find some of the tallest palm trees in the world, reaching up to 197 feet. These wax palms are unique in the world and make for an incredible photo opportunity. To reach the trees, however, you must embark on a six-mile hike through a cloud forest, over rickety bridges, and over natural streams. Stop for a hot chocolate in a conveniently-located finca, where you can watch hummingbirds fly above your head.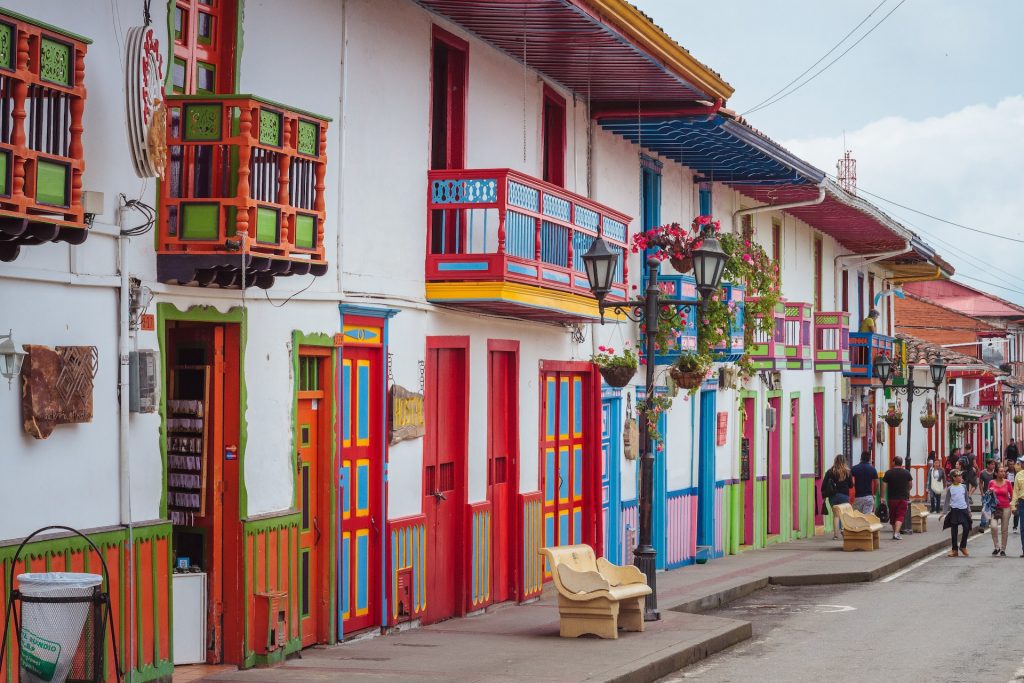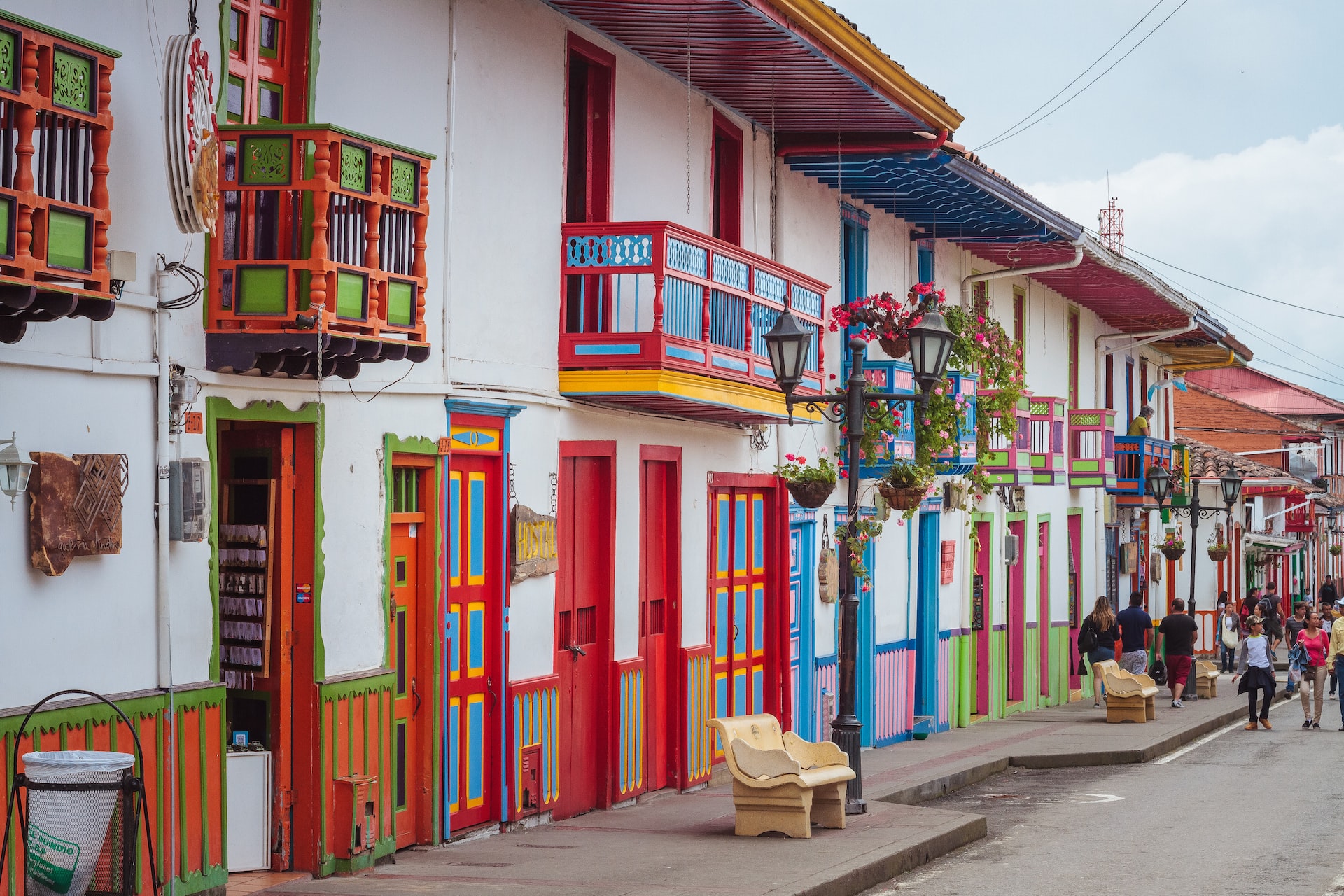 Although visiting the wax palms of the Valle de Cocora is one of the main reasons tourists visit this area, the towns are the other reason why they stay. Salento, now a popular tourist destination in the area, is a must-see. It's also the departure point for the hike to the palm trees. You also mustn't miss Filandia, Salento's lesser well-known sister, but no less beautiful. Come here to get all the same vibes as Salento, with fewer tourists. These colonial, colorful towns feel like something right out of Disney's Encanto. Don't forget to try plenty of coffee, as it can't get fresher than this!
Santander for nature and adventure
The department of Santander is slightly off the beaten path of tourists in Colombia. However, it is an area that has breathtaking nature and endless opportunities for adventure sports and adrenaline junkies. The town of San Gil is often frequented by people who are looking to go parasailing, white-water rafting, or hiking. You can even go ziplining or paragliding over the Chicamocha Canyon, a huge and majestic canyon in the area. At 2km deep, Chicamocha is deeper than the Colorado Canyon, and is the second-largest canyon in the world.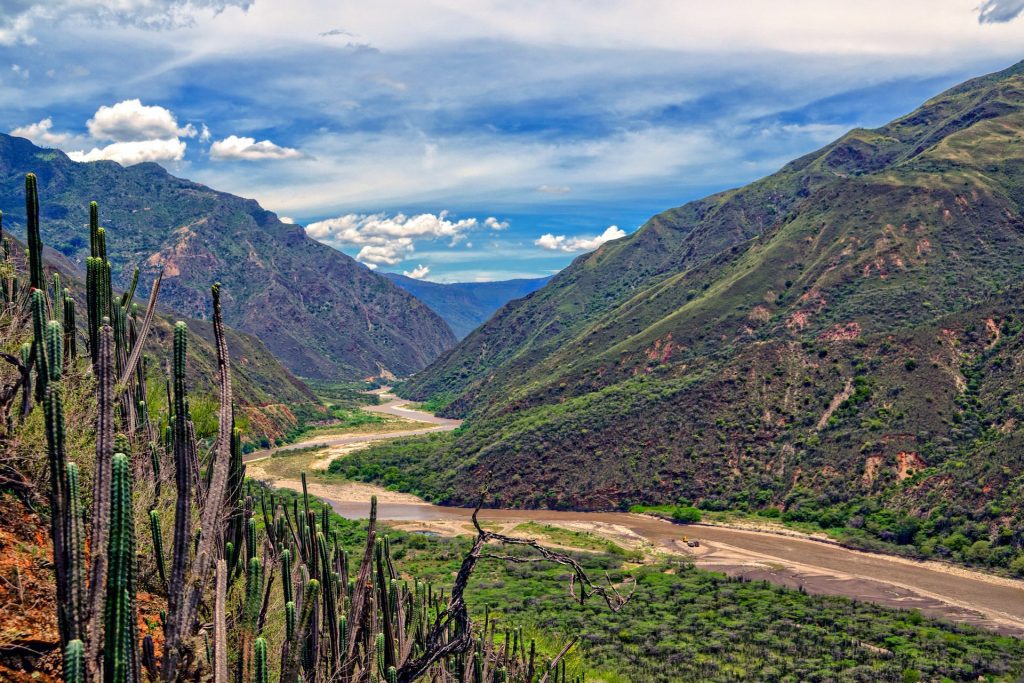 If you need to decompress after all the adventure activities in San Gil, Barichara is the place to head. Deemed "the prettiest town in Colombia", Barichara is a colonial and romantic town. Stroll down the cobblestone streets and visit local artisan shops, marveling at its gorgeous views over the Suarez river canyon. Barichara is said to have hardly changed since its foundation in 1705. These towns and more are just a few hours' drive from the city of Bucaramanga.
Two Travel Tips for a Colombia vacation
Traveling around Colombia is a true privilege, and you will find that coming once is never enough. Don't forget to take into consideration our top travel tips to ensure that you get the best out of your Colombia vacation.
Airports and Immigration
When you travel to Colombia, flying into the capital city, Bogotá, is cheaper and more convenient than other airports. The airport is well equipped for receiving international arrivals. Immigration queues at regional airports can sometimes be long and tedious, so avoid if possible. If you do fly direct to Cartagena, spend extra to get on the front of the plane, so you're at the front of the immigration queue. Have on hand your physical vaccine card and the CheckMig app.
Cash and Card transactions
In the bigger cities, card payments are totally common and accepted. Keep in mind that if you are given the option of paying in local currency (Colombian pesos) or USD, always select local currency. In the smaller towns, villages, or islands, cash is king. You can use an ATM to take out pesos rather than an exchange house, and make sure to decline the conversion rate offered – your bank will give you a better rate.
Getting one step ahead with your vacation planning
Speak to the travel advisors at Two Travel to help build an itinerary customized to your needs. We have the best direct contacts and know the best places to visit in Colombia. We can get you everything you need for your Colombia vacation – accommodation, airport transfers, transport during your stay, the best activities, and bar, club and restaurant reservations. Cut out the stress and hustle of your vacation. Let us plan your trip, so you can sit back and enjoy the best bits. Not everything in Colombia can be booked online, or simply may not be advertised or accessible online. Our concierge and travel advisors are happy to do the hard work for you!
Get in touch with us today for a personalized itinerary and a full quote for your trip to Colombia!